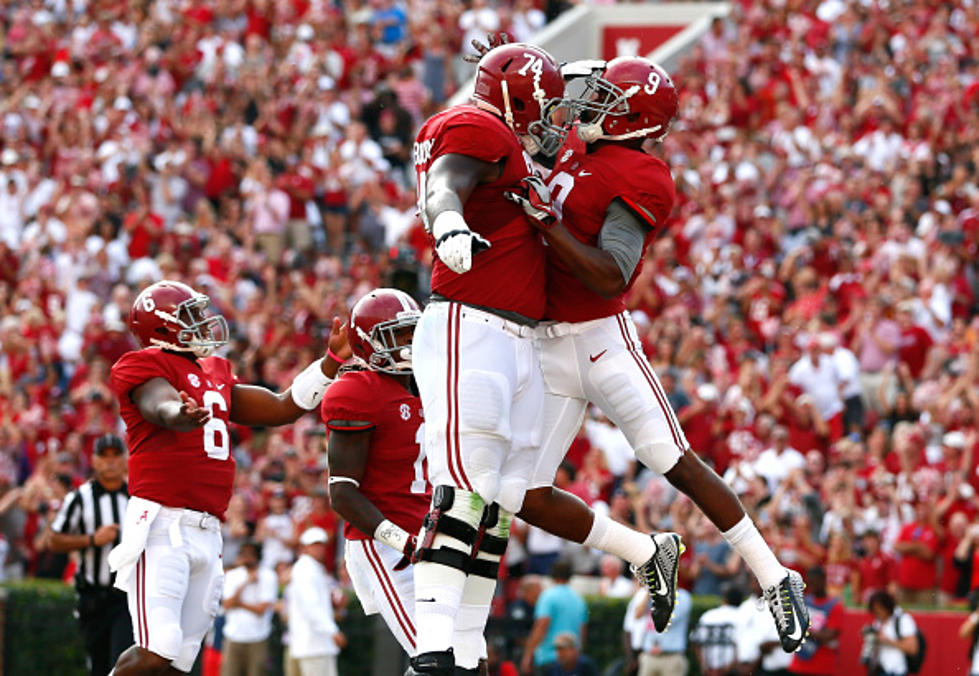 Alabama Position-By-Position Breakdown: Offensive Line
(Photo by Kevin C. Cox/Getty Images)
It's only spring, but it's never too early to look ahead to the fall. In the fifth installment of a position-by-position breakdown of the Crimson Tide's 2015 roster heading into spring practice, Tide 99.1 looks at the offensive line.
-Arie Kouandjio (graduated/NFL Draft)
-Austin Shepherd (graduated/NFL Draft)
-Leon Brown (graduated/NFL Draft)
-Austin Peavler (left program)
-Paul Waldrop (left program)
-Bradley Bozeman (redshirt sophomore)
-Josh Casher (redshirt freshman)
-J.C. Hassenauer (sophomore)
-Dominick Jackson (senior)
-Ryan Kelly (redshirt senior)
-Isaac Luatua (redshirt senior)
-Ross Pierschbacher (redshirt freshman)
-Cam Robinson (sophomore)
-Alphonse Taylor (redshirt junior)
-Will Davis (walk-on junior)
-Brandon Moore (walk-on senior)
-Chris Posa (walk-on junior)
-Andre Sims (walk-on junior)
-Dallas Warmack (early enrollee)
-Brandon Kennedy (early enrollee)
Keep an eye on: Grant Hill. Though he was marred by an undisclosed illness that kept him out of practice and a few games for a long stretch last season, the rising junior was still able to show that he was a first-choice backup at several offensive line positions, mainly at either left or right tackle. Yet as Alabama coach Nick Saban announced after the team's first spring practice this past Friday, Hill is again on "medical leave," providing an extra element of intrigue about the Huntsville product's future.
Nonetheless, even if he was fully healthy this spring, it's not hard to imagine Hill still finding himself in a role as Alabama's most versatile backup, despite three openings on the offensive line this spring. Robinson and Kelly are virtual locks at left tackle and center, while Jackson, like Hill, also played a fair amount as a backup tackle last season and holds a seniority edge as a rising senior, for whatever that's worth. And though he may be capable of playing guard, it seems that both positions will be filled by others. Regardless, no Hill at all leaves the Tide somewhat thin in experience overall and particularly at tackle.
Overview: Losing three starting offensive linemen in a single offseason is never an easy replacement, though at least one of the likely new replacements was a part-time starter at several different times last season and another a starter for two games due to injury.
Entering spring (and through one practice), Taylor and Bozeman look to be Alabama's surest bets to fill the two guards voided by Kouandjio and Brown. Taylor battled Brown at right guard for much of last season, and while Brown ultimately started 12 of 14 games to Taylor's two, the competition never truly ended. Bozeman held his own for the most part as a starter at Ole Miss and Texas A&M in place of an injured Kelly. The other opening, right tackle, will likely come down to Jackson or Hill. Both appeared in seven games last season.
Robinson and Kelly will return as starters at left tackle and center, respectively. Robinson was a freshman All-American after starting all 14 games last season, while Kelly will be the seasoned veteran of the entire offensive line coming into his third year as a starter.
Excluding Robinson, the other freshmen offensive linemen from a year ago – Pierschbacher, Hassenauer and Casher – should all be in line for second-string jobs, if not a potential starting role.
Predicted 2015 Post-Spring Depth Chart:
-Lester Cotton (The Tuscaloosa native, who projects as an offensive guard with the Crimson Tide, was a consensus top-five player in the state of Alabama and at his position in the 2015 class.)
-Richie Petitbon (The grandson of Richie Petitbon, the former three-time Super Bowl-winning Washington Redskins defensive coordinator and one-time head coach, was also a consensus top-five guard nationally.)
-Matt Womack (Though lowly rated by Alabama's standards, the three-star prospect, who at one time signed a financial aid agreement with LSU, was Alabama's only offensive tackle of the five overall offensive linemen it signed in the 2015 class.)