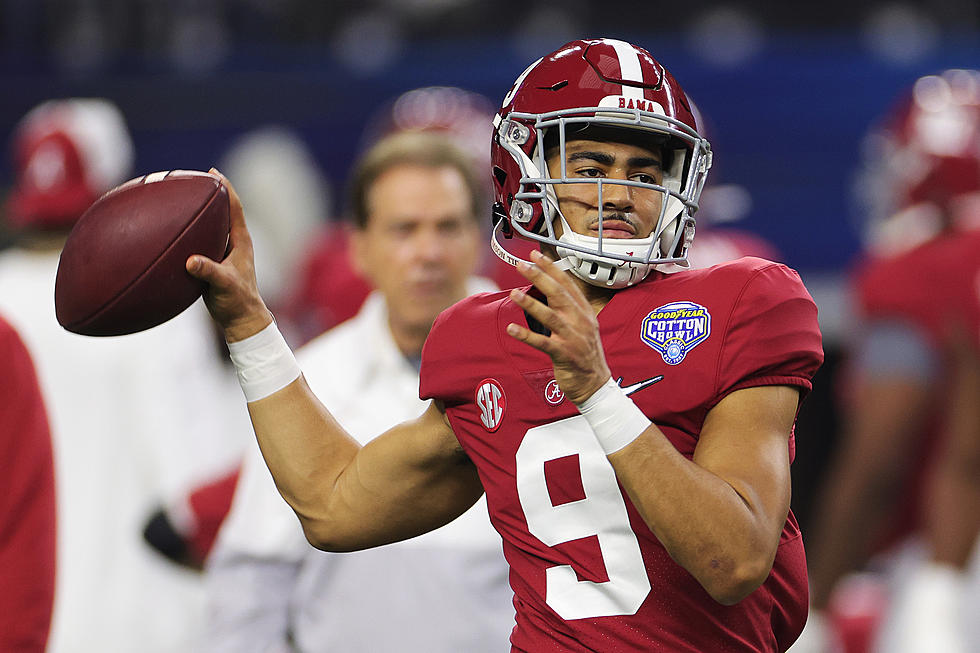 Bryce Young Honored at Alma Mater
Getty Images
Alabama quarterback Bryce Young was honored at his alma mater — Mater Dei High School in Santa Ana, Ca. this week. Young had his name added to the "Heisman Lane" sign at the school and his jersey retired.
He joined former Monarch quarterbacks John Huarte and Matt Leinart to win the prestigious Heisman trophy in 2021. Mater Dei is the only high school in the country to produce three Heisman winners, Huarte won the award at Notre Dame in 1964 and Leinart at USC in 2004.
In two seasons at Mater Dei, Young compiled 8,374 passing yards and 92 touchdowns. He led the Monarchs to a state championship in 2018 and a berth in the state championship game in 2019. Young was the No. 1 dual-threat quarterback and No. 2 overall recruit in the 2020 recruiting cycle per the 247Sports Composite Rankings.
"What he accomplished is remarkable and should be celebrated," said his father Craig Young. "Bruce Rollinson is an amazing coach and he allowed Bryce to be Bryce."
The Alabama signal caller put together a stellar sophomore campaign this past season. Young completed 66.9% of his passes for an Alabama single-season record 4,872 yards and 47 touchdowns. He became the second consecutive Crimson Tide quarterback to win the Davey O'Brien and Manning Awards, joining Mac Jones and the second consecutive Alabama player to win the Maxwell Award, joining DeVonta Smith.
Young returns to Tuscaloosa for his junior season with an opportunity to become the first player to win the Heisman in back-to-back seasons since Ohio State's Archie Griffin in 1974 and 1975.
Meet The 2021 Alabama Offense
The 2021 Alabama offense only brings back three returning starters from the 2020 squad. Get ready for the new season by getting familiar with this year's Crimson Tide offense.
2021 SEC Championship Game Alabama vs. Georgia
The Alabama Crimson Tide defeated the No. 1 ranked Georgia Bulldogs 41-24 to win the 2021 SEC Championship.