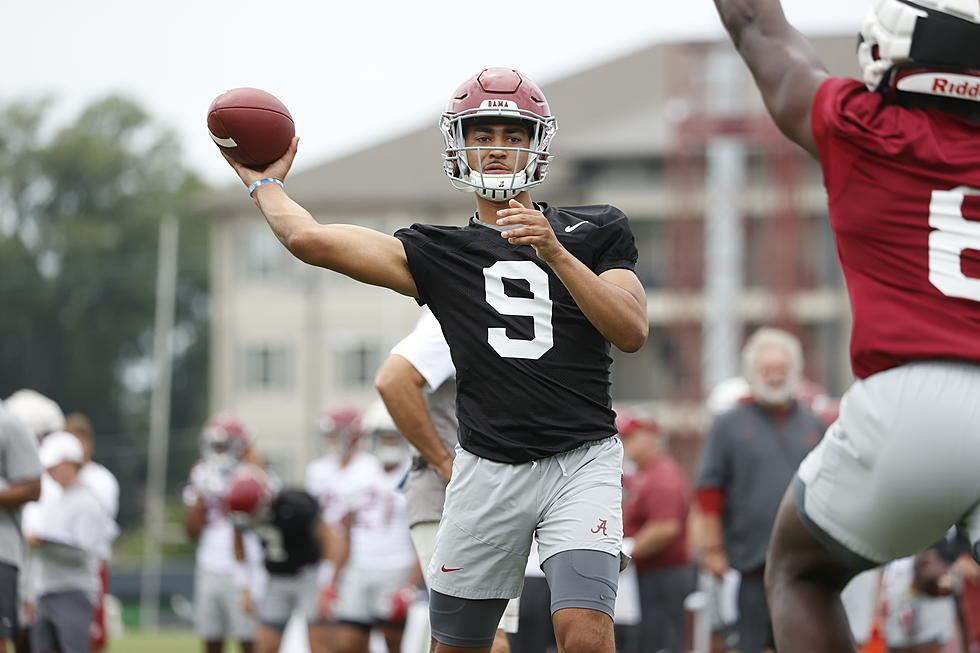 Bryce Young Impresses With Cool Demeanor
Crimson Tide Photos / UA Athletics
For the first time in his young career, Alabama Crimson Tide quarterback Bryce Young spoke with the media Wednesday, answering questions about the tremendous expectations and crushing pressure before him in the 2021 season.
He took on 12 questions in roughly 11 minutes with a calmness in his voice with each response. Don't mistake that calm presence as a weakness. He knew what he signed up for when he committed to Alabama in September of 2019.
"There obviously are expectations, but regardless of what happened in high school are any past experiences I've had, coming to Bama is where you come for
pressure and come for expectations," Young said. "Everyone here when they signed on the dotted line and decided to come here we knew it was going to come with expectations. Saban sets that standard for us immediately during recruiting and when we step into the building, so it's not something I was blindsided by, and, honestly, I don't think it's something that is unique to me."
Anyone that comes to Alabama has to be ready to take every opponents' best shot, week in and week out. That means staying laser-focused on improving every single day. Young, who said he watches Aaron Rodgers and Russell Wilson to add to his game, is focused on leadership at the forefront.
"Me really, I just try to be a leader on the field," Young said. "My goal is to really craft my game around what we need as a team, whatever Coach O'Brien or Coach Saban wants me to do, that's what I'm going to do. I'm someone who tries to work hard on and off the field and really I want to do whatever it is that's best for the team."
Even still, Young said his biggest focus during the offseason was to continue to grow as a leader on and off the field.
But to improve leadership in the midst of an evolving college football landscape, especially one where Young himself has benefited so much off the field, dismissing the distractions is a big role for the quarterback of the Alabama Crimson Tide.
"Coach Saban from Day 1 when all the external stuff started to pop up, and it's been going on for a while with their being whatever distractions there may be, that's something we preach a lot about making sure we keep the main thing the main thing," Young said. "We've talked a lot about that in-house, and that's something that we live by. So for us, really motivated by working hard and making sure we attack the challenges the way we want to. Really those distractions, whatever they may be, they're always going to be there. Really the culture that we have is something that's really strong, and I'm glad to be a part of it and it really just keeps us focused on what we need to be focused on."
None of it comes easy. Despite following in the footsteps of many great quarterbacks and teams at Mater Dei, Young knows the process is only amplified at Alabama.
"I wouldn't say my motivation is necessarily driven off oh I've done it in the past or I've been in a similar situation," Young said. "For me, I really get my confidence and my drive really in my work ethic. For us it's about being prepared about working hard, day-in and day-out, on the field and off the field, making sure that we're pushing ourselves as hard as we can and when you work hard and you push yourselves and try not to cut any corners or skip anything or take any easy way outs. That's where the confidence comes from and, for me, it's less on leaning on previous experiences or comparing other things.
"For me, it's more about how hard I can work, how hard I can push myself, in practice and the offseason and that's really where the confidence comes from for me."
Young may be a true sophomore, but his maturity jumped through the computer screen of the Zoom call. Any and all concerns in that category can confidently be put to rest.
Alabama Crimson Tide All-Time Passing Leaders
The 2021 Alabama Football Schedule in Photos
Meet The 2021 Alabama Offense
The 2021 Alabama offense only brings back three returning starters from the 2020 squad. Get ready for the new season by getting familiar with this year's Crimson Tide offense.