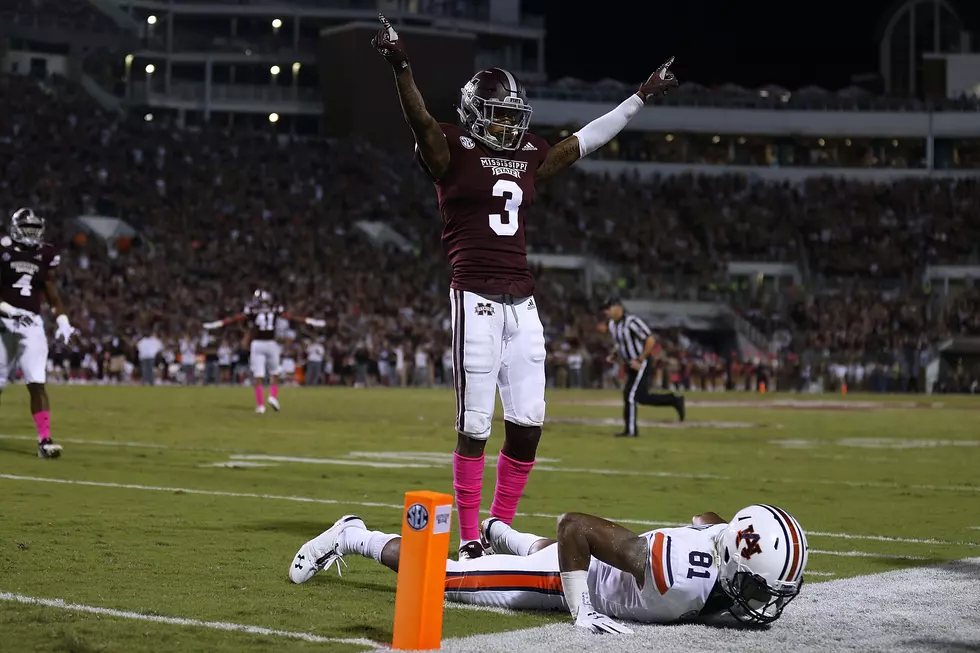 College Football around Alabama: Auburn Falls in Starkville
Getty Images
As college football flipped the calendar to October, Alabama's offense continues to roll with a season-high 65 points against the Arkansas Razorbacks.
Including the Crimson Tide, most teams from the Yellowhammer State began the month with rock solid performances except for one prominent SEC squad.
Auburn's Lackluster Outing in Starkville
The Auburn Tigers played their first Southeastern Conference road game of the season to Starkville and saw their offense once again spin their wheels in the mud.
Auburn dropped their second SEC contest 23-9 to Mississippi State in large part due to their inefficient offense. The Tigers managed just 90 yards on 21 rushes while the Bulldogs netted 349 rushing yards on 57 carries.
Two big plays also kept the momentum on the Mississippi State sideline. On the final play of the first half, Bulldogs quarterback Nick Fitzgerald was hit at the goal line, but officials ruled the ball broke the plane of the end zone to put Mississippi State up 13-3 at halftime. Down 16-6 late in the third quarter, Auburn's Jatarvoius Whitlow took a third down and two carry for what appeared to be a 43-yard scoring run, but the officials ruled that on reaching the ball for the goal line, Whitlow fumbled the ball and was recovered by Mississippi State for a touchback.
Due to the huge disparity in rushing yards, Gus Malzahn's offense was on the field for just 18:07 while Mississippi State's offense was on the field for 41:53.
Troy Defeats Georgia State
In front of an ESPNU audience, the Troy Trojans extended their Sun Belt Conference winning streak to nine games with a 37-20 win over Georgia State.
Troy pounced on Georgia State early scoring the first 23 points of the game including three first quarter touchdowns to put the game away early.
For the second consecutive week, a pair of Trojans rushers exceeded 100 yards. B.J. Smith led the way with 140 yards on 17 carries with two scores while Kaleb Barber added 111 yards on five tries.
Barker also completed nine of his 10 pass attempts for 136 yards with two touchdowns.
Troy hits the road next Saturday for a 1 PM non-conference clash at Liberty.
Record Setting Day for Samford's Devlin Hodges
The Samford Bulldogs stopped their recent slide in a big way with a record setting performance from quarterback Devlin Hodges.
Samford's senior quarterback set or tied six school records and established the Southern Conference's new single game passing mark with 562 yards passing in a 66-28 smashing of Western Carolina.
For the game, Hodges was 44-60 for 562 yards with six passing touchdowns and a rushing touchdown. The 66 points also was a new Samford record for points in a SoCon game.
The Bulldogs remain at home Saturday as VMI heads to Birmingham for a 2 PM kickoff.
#1 Alabama    65    Arkansas    31
Mississippi State    23    #8/9 Auburn    9
UAB    28    Louisiana Tech    7
Troy    37    Georgia State    20 (Thursday)
Georgia Southern    48    South Alabama    13
Samford    66    Western Carolina    28
Jacksonville State    56    Eastern Kentucky    7
West Florida    24    North Alabama    19
Alabama State    28    Alcorn State    25 (5 OT)
Alabama A&M    42    Texas Southern    21
West Alabama    48    Shorter    17
Miles College    41    Central State    20
Morehouse College    30    Tuskegee    24 (3 OT)
Birmingham Southern    57    Hendrix    41
Maryville    42    Huntingdon College    13
Keiser    19    Faulkner    14