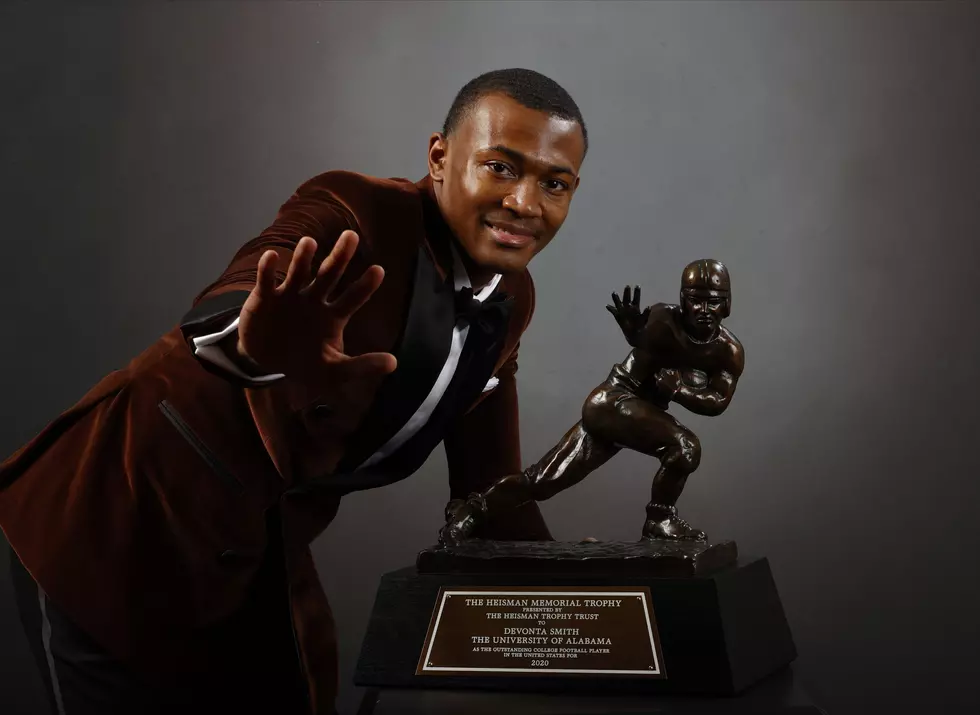 Does Winning Heisman Mean National Title Success?
Getty Images
On Tuesday Alabama wide-receiver Devonta Smith was announced as the 2020 Heisman Trophy winner. Throughout college football history there have been many to win the Heisman and also have their team win the National Championship. Here is a list of the top 5 Heisman Trophy winners to go on to win both awards.
 Images
1. Mark Ingram- Running Back (Alabama)- In 2009, Ingram had a phenomenal season for the Crimson Tide. Rushing for an impressive 1,542 yards and 15 touchdowns as a sophomore while catching 30 passes for 322 yards and 3 touchdowns. The biggest part of Ingram winning, was being the first Alabama player to win the coveted trophy. In the National Championship game Ingram rushed for 116 yards and two touchdowns on 22 carries to lift Alabama past Texas in the BCS National Championship game.
2. Davey O' Brien- Quarterback (Texas Christian)- In 1939, O' Brien had amassed 110 of 194 passes for 1,733 yards and 19 touchdowns to win the Heisman Trophy. He was also the first player to win from the then named Southwest Conference. Texas Christian would go on to defeat Carnegie Tech 15-7 to win the Sugar Bowl. O' Brien still holds the record for most rushing and passing plays in a single season. The Davey O' Brien award is given to the best QB in the nation, which will be awarded on Thursday night.
3. Tony Dorsett- Running back (Pittsburgh)- Dorsett was a wrecking ball on the field. He would go on in the 1976 season to set the NCAA career rushing record with 6,082 yards.  That record would stand until 1998 when running back Ricky Williams would break it. Pittsburgh would go on to win the National Championship over then powerhouse Notre Dame. Dorsett would not only win the Heisman as a senior, but would go on to the NFL as a rookie with the Dallas Cowboys and win the Super Bowl.
4. Charles Woodson- Cornerback/Wide-Receiver (Michigan)- This choice is special because it is a Heisman win that has stood the test of time. Woodson is the only defensive player to win a Heisman trophy and was voted ahead of Tennessee quarterback Peyton Manning. Interestingly, the National Champion would be shared in this year by both Michigan and Nebraska. Michigan would defeat number 8th ranked Washington State 21-16.
5. Derrick Henry- Running back (Alabama)-While it is still early in his NFL career, Henry started making waves during the 2015-2016 season. Henry won the Heisman over Christian McCaffery and Deshaun Watson. Henry would go on to the National Championship and during Alabama's 45–40 victory over Clemson, he rushed for 158 yards on 36 carries with three touchdowns. Henry would also rush for 2,219 yards and 28 touchdowns on 395 carries and set those as SEC records.
Enter your number to get our free mobile app
The National Championship will be decided Monday night at Hard Rock Stadium in Miami. Will Devonta Smith and Alabama be able to defeat a tough Ohio State program? Keep it tuned into Tide 100.9 for coverage of the 2020 National Championship game beginning with the Tide pre-game show starting at 3 p.m. Monday afternoon.