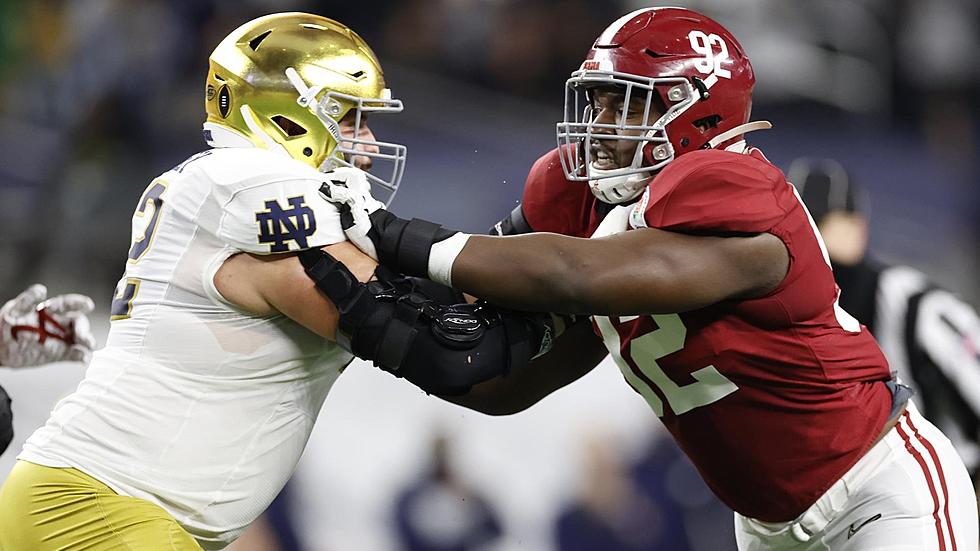 Eboigbe Ecstatic to be Back With Brothers
Crimson Tide Photos / UA Athletics
Alabama senior defensive end Justin Eboigbe had some high praise this week for the pride of Reform, Ala., aka fellow defensive lineman Jah-Marien Lattham of Pickens County High School Here's a look at that and more that Eboigbe had to say during a Wednesday media session
On what he's seen this year from Jah-Marien Latham
"Jah-Marien Latham, aka 'Zeebo' is a great guy. He comes to work each and every day. He's from right down the road in Reform, Alabama. Not  lot of people know about Reform.
"Great guy, on and off the field. He's improved tremendously. Each and every day he's getting better. He works through knicks and knacks, injuries and all that.
"His time is coming."
On his return from last year's season-ending neck injury
"This time last year, just recently had surgery, still up in the air of whether I'd be able to play again, seeing my brothers out there and not being able to get the job done in Knoxville. To be out there on the field with them, to get that get back with them in a sense and just being able to go out there each day and work for what I've been working for since I was five years old and just see how far I've come from a situation that was up in the air and just seeing how things have changed in a year's time.
"Just a long road."
On how he's been able to get his game back on track after sitting out
"I feel like it's just preparation," Eboigbe said. "Anybody knows me, in the meeting room, I'm always watching film on my iPad. Whether I'm at home watching film of them, looking at little things, looking at screens, looking at run plays, looking at passing sets, looking at a lot of things.
"And then just understand like just having the opportunity to be one of the 11 guys out there, you've got take that as a responsibility to give it your all. So I'm trying to give it all I've got when I touch the field."
On the team's motivation next week vs. LSU
"I would say that any game is extra motivation, but especially games that we didn't get the job done last year is a little bit extra motivation," Eboigbe said. "I feel like it's no need for any external motivation that's needed between coaches or media or anything the opposing teams said or has done.
"I feel like every time we get to step on that field, especially myself, it's just a blessing and opportunity not only for myself but my team, especially the defensive side of the ball. And I'm looking forward to it."
."}" data-sheets-userformat="{"2":769,"3":{"1":0},"11":3,"12":0}">
Alabama Football Players in the Hall-of-Fame
."}" data-sheets-userformat="{"2":513,"3":{"1":0},"12":0}">
The 10 Greatest Athletes from Alabama