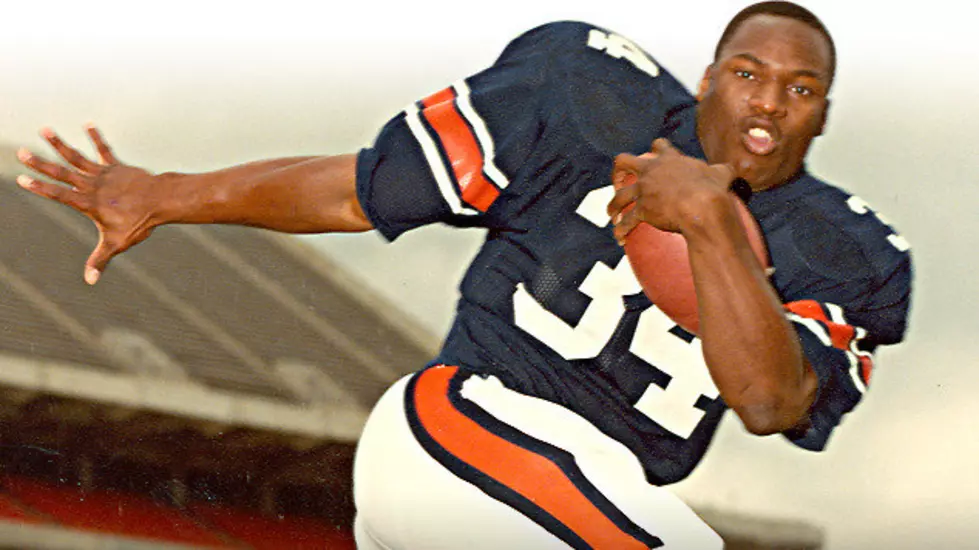 Happy 35th Anniversary, Bo!
Photo courtesy of Auburn University Athletics
Love him, or hate him, Alabama-native-Bo Jackson is one of the most polarizing figures in SEC football history. If you ask any fan, Alabama or Auburn, they will surely have an opinion on the duel-sport athlete and his impact on the sporting world. On the 35th Anniversary of his Heisman trophy being awarded to him, let's remember the greatness that was Bo Jackson.
Born in Bessemer, Alabama in 1962, Jackson started with sports young. As he got into high school, Jackson began his career at McAdory High School.
According to Bleacher Report, "Jackson rushed 108 times for 1,173 yards, which comes out to 10.9 yards per carry, and 17 touchdowns.
In the ensuing spring, Jackson moved on to baseball, hitting 20 home runs, which tied the national record."
Instead of playing professional baseball after being drafted by the New York Yankees in 1982, Jackson stayed in his home state and began his collegiate career at Auburn University.
As a freshman, Jackson saw significant snaps in 11 games. Still, Jackson rushed for 829 yards and nine touchdowns.
In 1983, when Jackson was a sophomore, he continued an incredible pace with 1,213 yards and 12 touchdowns. That year, Jackson helped the Auburn Tigers reach third place in the final national polls with a record of 11-1.
Jackson's junior season was shortened by injury, but somehow the dual-sport superstar managed 475 yards and five touchdowns.
Enter your number to get our free mobile app
Everything changed in 1985- Jackson's senior season. In 12 games, the Bessemer native rushed for 1,786 yards and 17 touchdowns. He also averaged 6.4 yards a carry.
For reference, senior Alabama running back Najee Harris has 1,038 yards after nine games for the 2020 season. If Harris wanted to pass Jackson's pace, he would need to rush for about 375 yards in the next two games.
While Auburn went 8-4 in '85, losing to Tennessee, Florida, Alabama, and Texas A&M in the Cotton Bowl, Jackson made the trip to New York City for the Heisman trophy ceremony.
Jackson defeated Iowa quarterback Chuck Long by a small margin to win Auburn their second Heisman trophy, the first of which going to Pat Sullivan in 1971.) Jackson finished his collegiate tour by lettering in football, track, and baseball. In fact, Jackson left the Tigers with 28 total home runs, 70 RBIs, and a batting average of .338.
After his college career, the Auburn Tiger alumnus was drafted first overall by the Tampa Bay Buccaneers. He turned down the invitation and decided to play for the Kansas City Royals, the defending World Series Champions.
Continuing his dual-sport prowess, Jackson decided to play for the Los Angeles Raiders of the NFL in addition to the Royals of the MLB. He suffered a hip injury in January 1991, which ended his football career, but the Alabama native continued playing baseball until 1994.
While Bo Jackson might not have played for your favorite college team, he was still a trailblazer for duel-sport athletes everywhere. From Deion 'Primetime' Sanders to Tim Tebow, the Auburn legend inspired rising athletes everywhere.
Happy 35th Anniversary Bo, and "Roll Tide!"
Alabama Football Players in the Hall-of-Fame