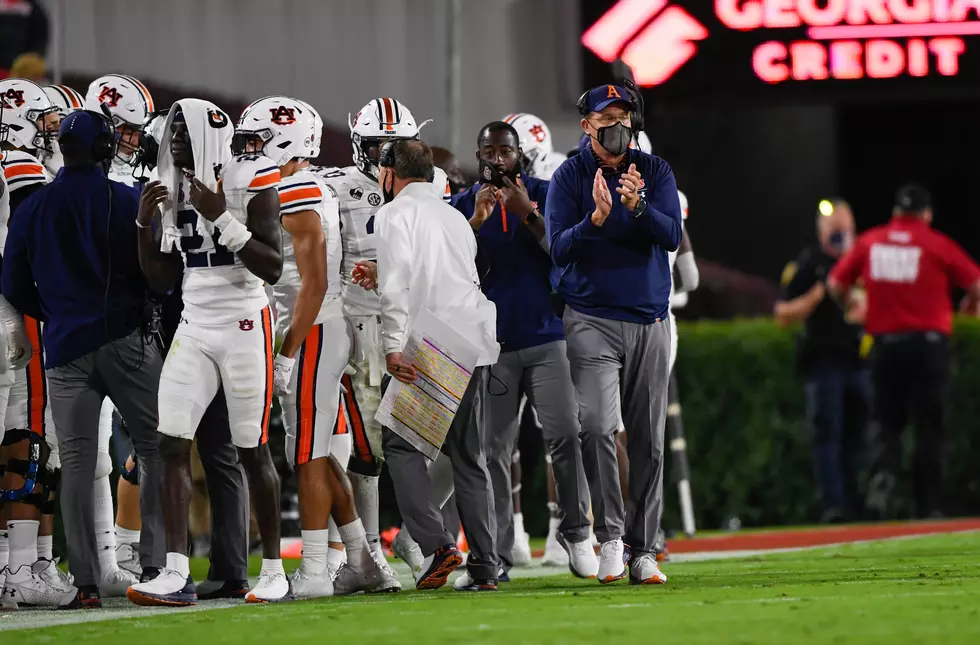 Has the Time Run Out for Gus Malzahn
Todd Van Emst/AU Athletics
This is an opinion piece.
We are almost halfway through the college football season and it's that time of year again where college football coaches are questioned about their capabilities to lead a sports team to a victory. The Auburn Tigers head coach Gus Malzahn needs to be called out after his embarrassing loss to the South Carolina Gamecocks in Columbia. For the sake of Auburn, the decision to buy out Malzahn needs to happen sooner rather than later.
We can all admit that Gus Malzahn has brought some memorable games to the Plains over his time as head coach.  However, the losses continue to pile up and equate to more than the few memorable moments.  Malzahn did lead Auburn to BCS National Championship in 2013.  He has a record of 3-4 against Alabama in his time on the Plains as head coach.  Not much has happened with improving the team to win championships.
Malzahn also a miracle worker by taking first round star players and turning them into fourth or fifth round picks. Jarrett Stidham, Nick Marshall, Jeremy Johnson, Sean White all of these names just keep piling up.  Gatewood transferred from Auburn and played for Kentucky Saturday night.  Malik Willis is a playmaker at Liberty.  Malzahn never takes the blame for how poorly his team look.  The team appears undisciplined.
The Tigers bring in top 10 recruiting class every year and realistically should be top four every year. Malzahn needs to admit that not everyone is meant for the head coaching positions.  It is time for Auburn to choose a real coach after all these years.
Auburn has a list of formidable coaches to choose from PJ Fleck, Hugh Freeze, Mike Tomlin, Kevin Steele, and the list could go on.  Auburn needs to get a coach known for building teams from the ground up.
The biggest problem Auburn faces is the $21 million buyout that must be paid to fire Malzahn.  The buyout hangs over the Tigers as a death sentence. However, fans and alumni are ready to donate money to get rid of Malzahn. Coaches are ready to save the day.
Auburn is a team that deserves better. It is time for the Gus Bus to leave the Plains and never come back.
Enter your number to get our free mobile app
2020 SEC Football Coaches