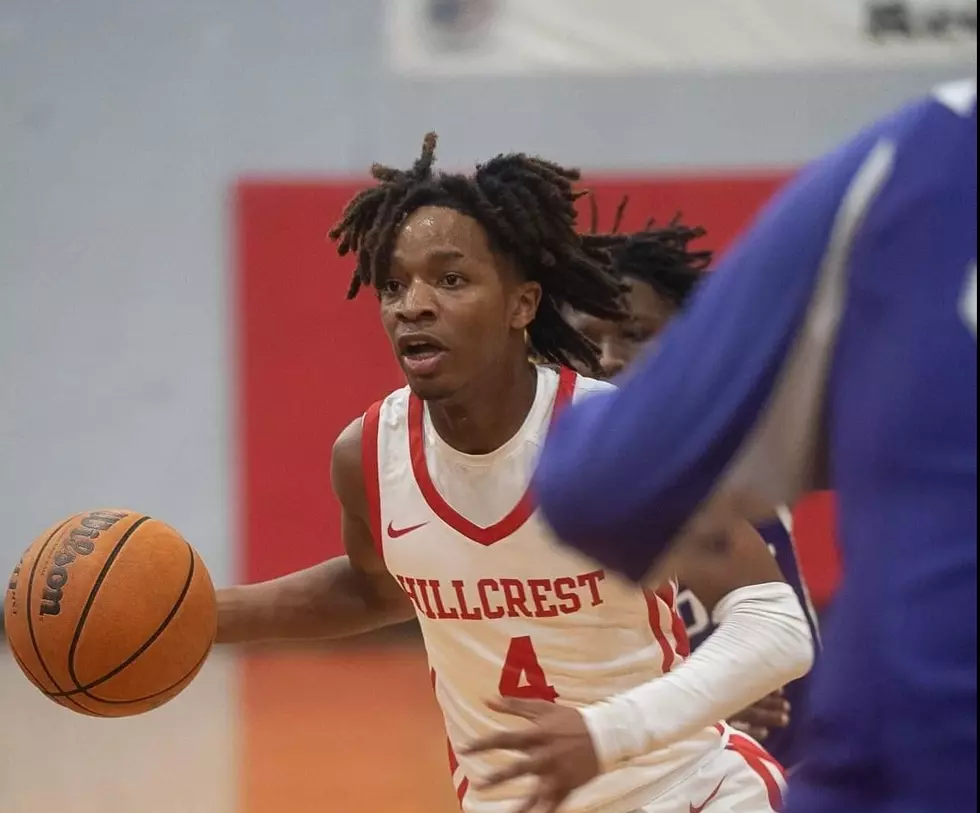 Hillcrest Routes the Ironmen
Photo Courtesy of 2Realmedia.
The Hillcrest Patriots defeated the Holt High School Ironmen 75-40 in a cross-town contest. Senior Shah Hall, junior DJ Hamlett, and sophomore Osa Alohan, who transferred from Holt, led the Patriots. Hillcrest dominated by playing solid defense and outrebounding the competition.
Hall finished with a game-high 22 points, numerous rebounds, and a couple of blocks. Hamlett scored 11 points and established his dominance by commanding the offensive end with a few assists and forcing several steals on the defensive end. Alohan had a couple of standout plays against his previous squad, finishing with 12 points, two three-pointers, and a slam that energized the home fans.
Holt was led by Julian Whitfield (12 points) and Jaylen Vaughn (ten points). Both sides struggled from beyond the arc, but the Ironmen could not hit a three in the first half. Hillcrest led by as many as 22 points in the third quarter before Holt went on a 7-0 run to cut the gap to 15. When the fourth quarter arrived, the Ironmen were out of gas as Hillcrest forced turnover after turnover, resulting in points. Hall had the slam of the night with a thunderous two-handed dunk that sent the home fans into a frenzy.
Alohan discussed how he felt about facing his old team and how much he values what he learned from Holt coach Steven Watkins: "When I was at Holt, coach Watkins always used to tell me to play hard."
He also stated that before moving to Hillcrest, he wasn't the type of player who looked to score first. Now, Osa wants to help the Patriots go far, and he talks about how great this team could be: "We got a really good team, so I feel like we'll go far.  I can take this… Far."
Patriots head coach Scott Suttles discusses how patient he will be with his club. "We have a lot of guys that don't have a lot of varsity experience," coach Suttles said. "We haven't played well in either of our first halves of our games this year, but I thought in the second half defensively we were a little better and took better care of the basketball and better shots."
Hillcrest is replacing four major leaders from last season, and Coach Suttles is hoping that the new leaders will fill the void left by the departure of the previous ones. "Well, I think there are a few guys who can step up, Shah Hall, Davion Wilkins, a junior DJ Hamlett, and Osa [Alohan]."Hillcrest will compete in the Fairfield Heritage Classic next week in Fairfield, Alabama. Coach Suttles is looking forward to seeing his team face "stiff" competition. Holt will welcome another area opponent, Northside, this Thursday at 7:00 p.m.
Credit by 2Realmedia
Notable Bama Players to Play in the WNBA
[/caption]
Alabama Women's Basketball Photo Shoot 2022-23
2022 Black History Makers of Alabama