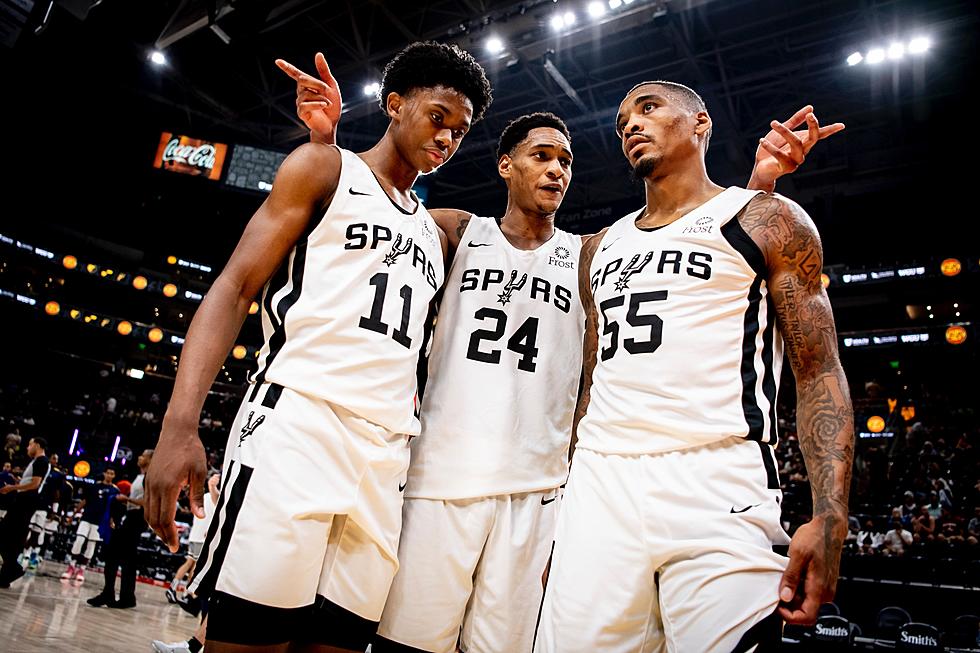 Is It "Three-Mo" Time in San Antonio?
Photo Courtesy of @Spurs on Twitter
Just over a week after the Alabama star was selected by the San Antonio Spurs in the first round of the NBA, Joshua Primo is proving his value in the NBA's summer league. In his first game of the summer, he managed a stat line of 11 points, three rebounds and two assists in 20 minutes of game time against the Utah "Blue." In Primo's second game, against the Memphis Grizzlies, Primo looked even better by recording a stat line of 17 points, one rebound and three assists in 31 minutes. The Spurs are currently 0-3, but the Toronto native is showing positive progress during his first two games in the NBA.
While his stats weren't the most impressive, especially for a player that looked the way he did in college, Primo already has a reputation as a deadly three-point shooter. In fact, his first professional points came as a contest three.
One of the most notable talking points is Primo's young age of 18. Still, NBA players are starting to take notice of the guard.
In fact, the Spurs' social media accounts have dubbed him, "Three-mo."
Before he was selected 12th overall, the Canadian spent one season with the Crimson Tide. Not only did Alabama arguably have their best season since the 1980s' Wimp Sanderson-led teams, but Primo stepped up and helped led 'Bama to their first "Sweet 16" since 2004. Through 30 games, he scored a total of 244 points and shot 43.1% from the field. By season's end, he was named to the SEC's All-Freshman team.
In addition to Primo, Herb Jones was drafted 35th overall by the New Orleans Pelicans, where he joins Kira Lewis. John Petty Jr., Alabama's current school leader in three-pointers made and attempted, joined the Detroit Pistons' summer league team.
The San Antonio Spurs' summer league team will next be in action on Monday night when they take on the Minnesota Timberwolves.
As for the regular season, the NBA will tip off their season on Oct. 19th. Alabama fans will surely be looking for the Spurs to take on Collin Sexton and the Cleveland Cavaliers and Kira Lewis' and Herb Jones' New Orleans Pelicans.
For more news on the former Crimson Tide in the NBA, stay tuned to TIDE 100.9.
Men's Basketball's Career Leaders in Made 3-Pointers
Highest Rated Recruits in Bama Hoops History
Take a look at the highest rated recruits to play for Alabama since 2000 according to 247Sports.
The Crimson Tide in the Tokyo Olympics
The University of Alabama has produced many Olympic athletes over the years, and this Olympic cycle is no different. Here are the 20-plus current or former members of the Crimson Tide in the Tokyo Olympics.