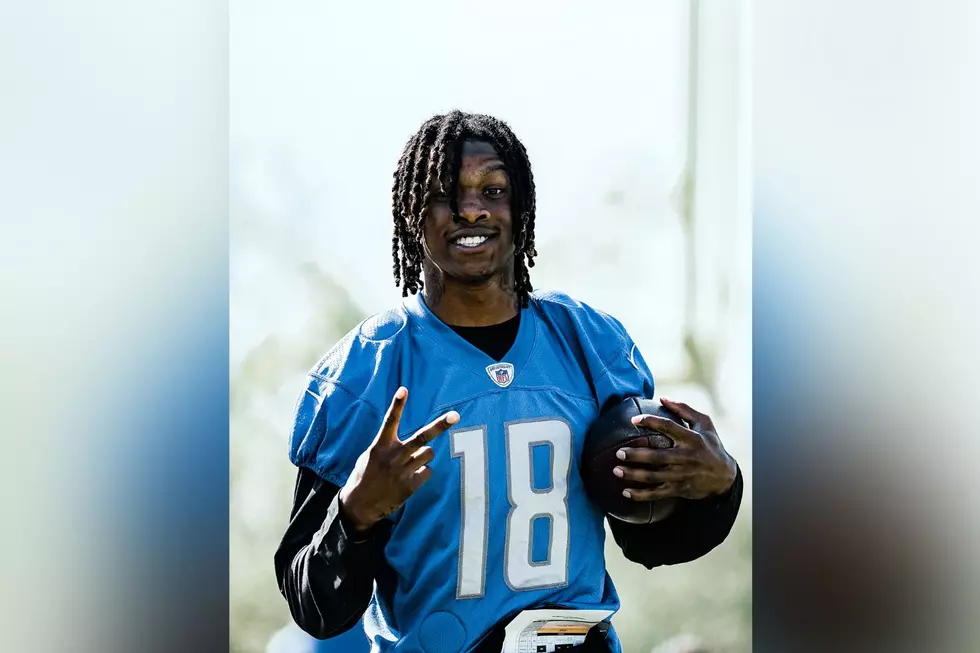 Jameson Williams Not Expected to be Ready for Training Camp
Photo Courtesy of the Detroit Lions via Twitter, Canva
The Detroit Lions are being very cautious with first-round pick Jameson Williams. Head coach Dan Campbell spoke to reporters on Thursday and said he doesn't expect Williams to be ready for training camp.
"I don't see him being ready for training camp. I don't see that," Campbell said. "I'm very hopeful, but I don't see it. We're going to do this thing the right way and when he's ready, he'll be ready. But, no, I don't feel like you're going to see him out there Day 1."
Williams suffered a torn ACL on Jan. 10 in the national championship game and had the procedure on Jan. 18. That didn't stop the Lions from trading up 20 spots with the Minnesota Vikings to get the No. 12 pick in the 2022 NFL Draft and selecting the Alabama All-American.
"We'll have a plan for him moving forward," Campbell said. "He's going to be around here with us and the short period of time, at which he does go home, we know where he's going to be and who those people are. So, we're going to have a plan for him."
Despite not being able to do anything on the field, Williams has been engaged in practices, soaking up knowledge. He walks around with a football in his hands, eager to get back on the field.
"Very excited. He's a special talent and I just keep [saying] like 'get him back, get him back,'" said quarterback Jared Goff. "And, I know they're going to make sure he's as healthy as possible, but selfishly, I want him back as soon as possible, but he's staying engaged. He's got the script in his hand, he's seeing the plays, he's doing a good job. Obviously, he's a great talent, but a great part of our team so far as well and I expect him to grow into his role nicely."
He has already made an impression on a number of people in the building, including special teams coordinator Dave Fipp who raved about Williams.
"I mean, a lot of it is just kind of seeing what the guy's role is on offense or defense first. And then how much can you get out of him," Fipp said. "I would say the one thing I would say for him, just individually. What he put on film on special teams, to me, speaks volumes. We all know he's a great wideout. But, when you're covering kicks the way he does and playing those special teams plays the way he does. I mean, it tells me the guy loves football. He's not in it for catching the ball, the statistics and all that stuff. He's got a love for the game, and he plays those plays that way.
"But, yeah, he's definitely special. I know he was one of my favorite guys in the draft. Because of what he did on teams. Glad to have him."
Williams was viewed as long-term investment by many organizations because of the fifth-year option attached to first-round picks. It remains unclear when the speedy wideout will be back on the field, but thing is one certain, he will be ready when the time comes.
Nick Saban's Coaching Tree: Where Are They Now?