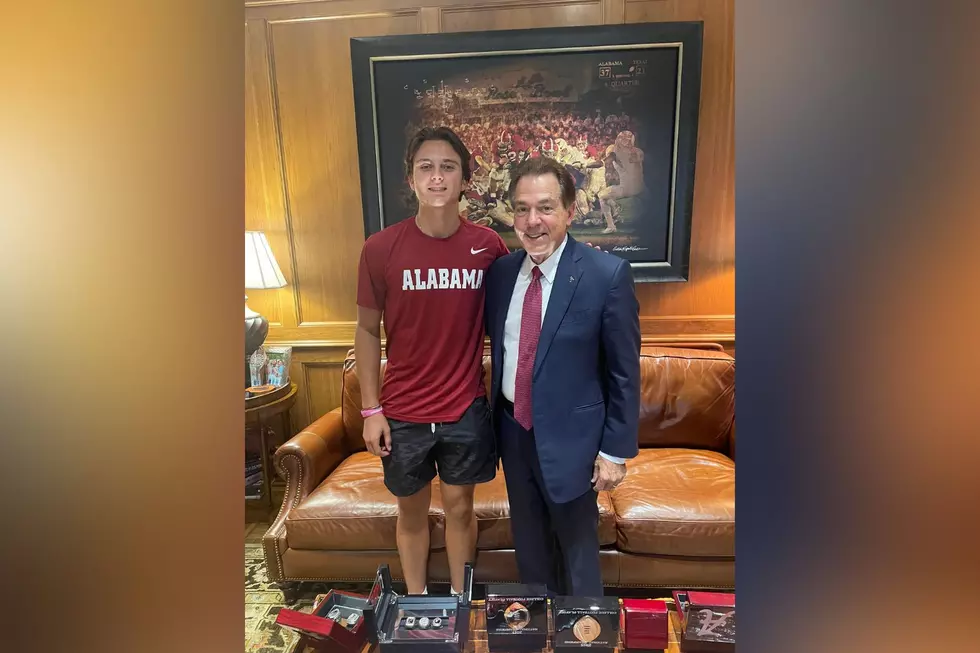 Julian Sayin Explains Why He Chose Alabama
Photo Courtesy of Julian Sayin via Twitter, Canva
Five-star class of 2024 Alabama commit Julian Sayin joined Tide 100.9's The Game with Ryan Fowler on Tuesday afternoon.
During the interview, he was asked why he chose to come to the Capstone over other top programs.
"My process, it started a little bit early, when I was a freshman. I was getting scholarships and then, I was really looking at, growing up my dream school was always Texas but I really looked at Texas and Alabama kind of came in my sophomore year and I was looking at Alabama and LSU too. So I went out and I visited during my junior season at Alabama. I've been there a couple of times before I really liked it. But the trip that really solidified it for me was the trip, I think it was the end of October for my junior year, I went and saw Alabama play Mississippi State and it was a great visit and just seeing the atmosphere out there, it really made me feel at home and I really just had a great time. The thing with Alabama it's just the consistency that have there. With Coach Saban he's gonna hold you the highest standard. You're going to be coached hard and you're gonna be, the best thing is brought out of you and then, you know, just the talent that they're, you're playing against the best players every day," said Sayin.
He was asked how the success of recent quarterbacks also impacted his decision.
"Yeah, definitely you see the, you definitely see the track record and history of Alabama producing big time quarterbacks, a lot of first round picks in there. And, you know, just the most recent guy to Bryce Young, Southern California guy going out to Alabama, had a lot of success. So you definitely see the history and the track record and that's exciting and makes you feel more comfortable," said Sayin.
Listen to The Game with Ryan Fowler on Tide 100.9 every weekday from 2 p.m.- 6 p.m. CT to get the latest information on the Crimson Tide and hear exclusive interviews you don't want to miss.
Nick Saban's Coaching Tree: Where Are They Now?