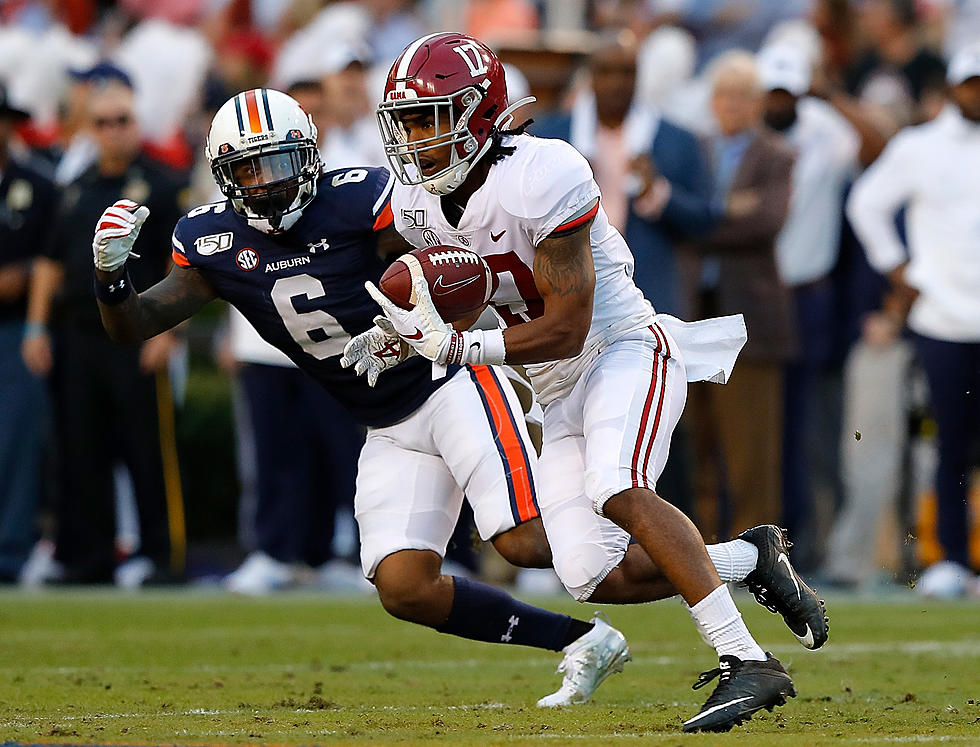 Opinion: Auburn's Fair Foolishly Calls Out Alabama, Ignores History
Getty Images
Really? No, like really. It never ceases to amaze me when teams call out Alabama. I'm not even trying to be biased, either. Auburn's Tony Fair made headlines Sunday when he tweeted that the Tigers were going to "comin to take the head off the ELEPHANT."
Like previously mentioned, this type of trash talk isn't uncommon for the Crimson Tide. Whether it be LSU's Coach Orgeron stating that they were going to beat Alabama in recruiting - which resulted in a landslide loss to the Crimson Tide in 2020 - or a Vanderbilt player telling Alabama that they were "next" - which resulted in a 59-0 'Bama victory, this isn't new.
Currently, Alabama is riding a one-game win streak against their cross-state rivals. They have also beaten the Tigers in five of the last seven matchups.
Fair, a recent addition to Auburn, spent his first two seasons playing defensive line with the Blazers of UAB. During his time in Birmingham, Fair recorded 56 total tackles, one sack and a fumble recovery. Now, he will join Coach Brian Harsin's squad as a graduate transfer.
When Fair announced his commitment to Auburn, he doubled down on wanting to take down Alabama. In an interview with Auburn Undercover, Fair stated, "It's in the SEC. And they compete against Alabama and that's what I want to do. It's everything."
Since Nick Saban took over at Alabama in 2007, the nation championship-winning coach is 9-5 against Auburn. During that time, the Tigers have had four different coaches. Saban has only lost to an Auburn first-year coach one time - 2013's loss to a Cam newton-led Tigers team. That year, Auburn lost to Florida State in the BCS National Championship.
In the entire history of the Alabama-Auburn rivalry, a first-year Tigers' coach has beaten the Crimson Tide seven times out of their total 26 coaches in school history. Harsin will take his shot as "Coach 27" later in the year in Jordan-Hare Stadium.
Coincidentally, five of those Auburn victories with new coaches over Alabama came before 1905. During the 20th century, only one first-year Auburn coach took down the Tide, Terry Bowden.
All this to say, it is unlikely that Fair will get the chance to claim that his team beat the Crimson Tide.
Still, some stats lie in Auburn's favor. This year's edition of the Iron Bowl will occur on the Plains. Four of Saban's five Iron Bowl losses came in Jordan-Hare Stadium.
I'm addition, first-year coaches that beat Alabama tend to succeed in year one. The seven coaches that took down the Tide had a collective record of 39-7-3, so maybe Coach Harsin's squad will find some luck.
Four months and 11 games for each team lie before this statement will come to a head, so only time will tell whether Fair's comment will be true or not. Here's a fair warning for Tony Fair and the rest of the college football world, though. When teams call out the Crimson Tide, it often doesn't end well for the opponents of 'Bama.
The 2021 Alabama Football Schedule in Photos
Crimson Tide's NFL Draft First-Rounders During Saban's Tenure
Take a look back on the Crimson Tide's first round selections under head coach Nick Saban.
Alabama Football Players in the Hall-of-Fame