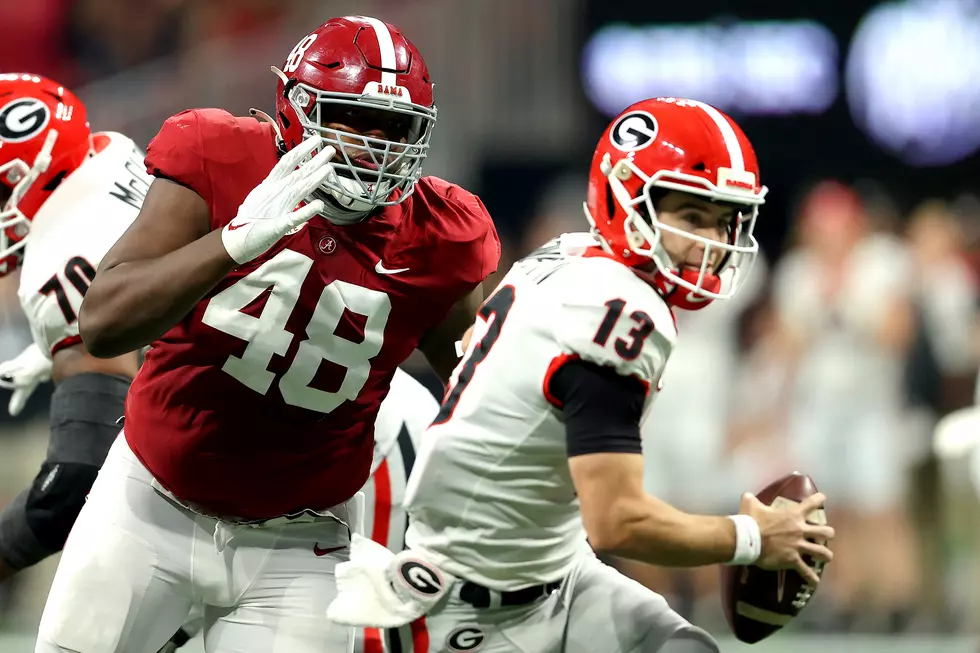 Phidarian Mathis Carted Off the Field in DC
Getty Images
Former Alabama defensive tackle and Washington Commanders rookie Phidarian Mathis was carted off the field early in the first quarter of the Commanders' home opener against the Jacksonville Jaguars after suffering a leg injury.
Mathis needed the help of two members of the Commanders' medical staff to get to the cart.
On the Jaguars second offensive possession, Mathis was working inside on a carry by James Robinson and appeared to hyperextend his left knee. Mathis had hurried Jaguars quarterback Trevor Lawrence early on the first Jacksonville possession.
Mathis was taken in the second round of the 2022 NFL Draft with the 47th pick by the Commanders after recording 53 solo tackles and 10.5 sacks in his time in Tuscaloosa while also being a part of the 2020 College Football Playoff National Championship team.
Looking For an Amazing Job? Here are Alabama's Largest Employers
Ten Year Throwback to Tide's WCWS Title
In honor of the 10 year anniversary, let's take a look back at the Alabama Crimson Tide's 2012 Women's College World Series championship.
Crimson Tide Dads
Take a look at these Alabama dads and wish each of them a Happy Father's Day!