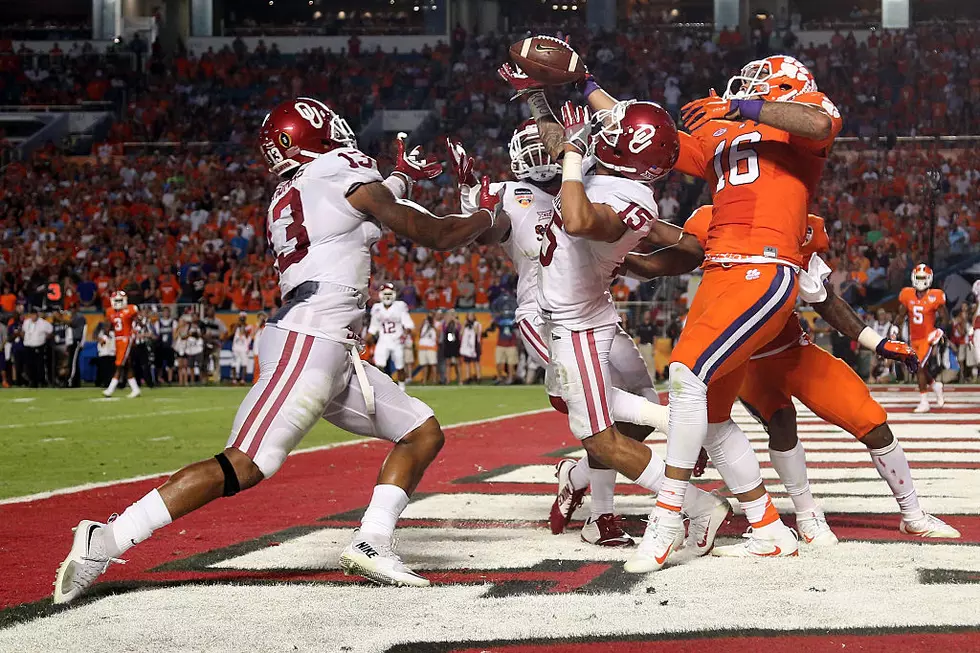 Re-visiting the Big 12 and ACC's Non-Conference Opponents
Getty Images
Enter your number to getour free mobile app
Just nine days ago, the attention of the college football world was fixed on which conferences would allow a non-conference game and which would not. Now, after one of the most tumultuous weeks in the history of the sport, 40% of the Power Five and FBS schools have chosen not to play football this spring.
Three of the Power Five conferences are, at this point, moving forward with football in 2020: the SEC, the ACC and the Big 12. The SEC announced it will play a 10-game, conference-only schedule, while the ACC and Big 12 will both allow teams to play on non-conference opponent each.
Tide 100.9 wrote about the ACC and Big 12's non-conference schedules last week, but much has changed since then. The Mountain West and Mid-American Conferences also postponed their fall sports seasons, and all 13 FCS conferences have canceled their conference schedules for the spring with six retaining the option to play non-conference games.
So, with this in mind, let's re-visit a potential non-conference opponent for every ACC and Big 12 team, starting with the ACC. Non-conference opponents could come from one of the six FCS conferences (Big Sky, CAA, Missouri Valley, Ohio Valley, Southern, Southland), three Group of Five conferences (Sun Belt, Conference-USA, American Athletic), or the opposite Power Five conference.
CLEMSON: The Tigers were one of only two ACC teams that had not yet announced their non-conference opponent by Aug. 6. According to a report in The State, The Citadel athletic director Mike Capaccio expects to be that one opponent. PROJECTION: The Citadel
FLORIDA STATE: FSU was scheduled to play Samford, a member of the FCS Southern Conference in Birmingham, Alabama. The SoCon is allowing its teams to play non-conference games, but Samford is not taking the option. Mercer, however, is, and it could be looking to replace the Power Five game against Vanderbilt that it lost.  PROJECTION: Mercer
WAKE FOREST: The Deacs' initial opponent, Old Dominion, canceled its fall season despite the Conference-USA allowing it to play non-conference games. Wake Forest's new opponent needs to have a spot open on Oct. 10. Temple is a possible Group of Five opponent on that date, but Campbell is an FCS opponent that needs the game more from a financial standpoint and is closer in proximity. PROJECTION: Campbell
N.C. STATE: Liberty was the planned opponent here, but that could change after reports that the Flames' three ACC opponents are concerned about their COVID-19 testing protocols. N.C. State needs an opponent with an open date on Nov. 21. In-state FCS opponent Elon had its conference season canceled, so it works well here. PROJECTION: Elon
LOUISVILLE: Western Kentucky is scheduled to play at Louisville, and, unless the Conference-USA changes course, the Hilltoppers will remain the choice here. PROJECTION: Western Kentucky
SYRACUSE: Syracuse also has Liberty scheduled, but the Orange could be looking at a backup plan if the Flames' testing is insufficient. That plan could be Army, which is less than 200 miles away, is scheduled to play a four-game series against Syracuse from 2023-26, and only has five opponents as of Friday, according to the Times Herald-Record. PROJECTION: Army
BOSTON COLLEGE: The initial opponent for Boston College's season opener was Ohio, but the MAC went on to cancel its fall football season. Another opponent in the state of Ohio, Cincinnati, has only scheduled one of its four allotted non-conference games. PROJECTION: Cincinnati
NORTH CAROLINA: UNC was the only other ACC team that didn't announce its non-conference opponent on Aug. 6. The Tar Heels announced two days later, though, that they agreed to a home-and-home with Charlotte from Conference-USA. They'll play the game on Sept. 19. PROJECTION: Charlotte
DUKE: Duke had already scheduled Charlotte on Aug. 6 before rival UNC scheduled them two days later. Duke is scheduled to play Charlotte on Oct. 31. PROJECTION: Charlotte
VIRGINIA: VMI was scheduled to be the Hoos' season-opening opponent but, like Samford, it is not taking the non-conference option. No in-state schools are available anymore, so Virginia could look for another FCS opponent in North Carolina. PROJECTION: Western Carolina 
VIRGINIA TECH: Liberty's third scheduled ACC opponent could also need a backup plan. One of the closest Group of Five teams to the Hokies, Marshall, has an open date on Nov. 7 and only has one non-conference game scheduled right now. PROJECTION: Marshall
GEORGIA TECH: UCF was the scheduled opponent here on Sept. 19, and the American Athletic Conference is moving forward with its fall season, including non-conference games. PROJECTION: UCF
MIAMI: The Canes are slated to open their season by hosting UAB on Thursday, Sept. 10. UAB, which has made back-to-back Conference-USA championship games, will be looking to open the 2020 season with a signature win over a storied program. PROJECTION: UAB
PITTSBURGH: With Miami-Ohio no longer an option due to the MAC's cancelation, the Panthers could look to fill that gap with another Group of Five nearby, and Middle Tennessee fits that mold. If they go the FCS route, Chattanooga could be an option. PROJECTION: Middle Tennessee
NOTRE DAME: A matchup against the MAC's Western Michigan was called off, so the Irish will now be looking for a non-conference opponent on Sept. 19. They've played BYU six times since 1992, and the Cougars, who aren't a member of a conference, are looking for opponents to add to their current four-game schedule. PROJECTION: BYU
Nine of the 10 teams in the Big 12 have already announced their non-conference opponents. Baylor is the only one that hasn't.
OKLAHOMA: Missouri State, a member of the FCS Missouri Valley Conference, has been on the schedule all along.
OKLAHOMA STATE: The Cowboys have played Tulsa 75 times in their history, holding a surprisingly close 42-28-5 advantage. This is the third matchup between the two in the the last four years,
TEXAS: UTEP, which went 1-11 overall last year and 0-8 in Conference-USA, shouldn't be much of a challenge for the Longhorns.
TEXAS TECH: The Red Raiders are scheduled to host in-state opponent Houston Baptist, from the FCS Southland Conference.
KANSAS: Les Miles' Jayhawks booked one of the longer trips in the Big 12 by scheduling Coastal Carolina, a 2-6 team in the Sun Belt in 2019.
KANSAS STATE: K-State won't have to travel far to play Arkansas State, one of the stronger non-conference opponents in the Big 12 this season.
TCU: This game, the 100th installment of a historic rivalry, should be pretty close. SMU took down the Horned Frogs last season for the first time since 2011.
BAYLOR: The only Big 12 team that has yet the schedule its non-conference opponent, the Bears have a prime in-state option in North Texas, which has an opening on Sept. 12.
IOWA STATE: Louisiana-Lafayette nearly won the Sun Belt last season en route to an 11-3 season. The Ragin' Cajuns are one of the best Group of Five teams around.
WEST VIRGINIA: The Mountaineers's matchup with Eastern Kentucky was in doubt as the Ohio Valley Conference considered postponing its fall season, but the game appears to be all set.
2020 SEC Football Coaches