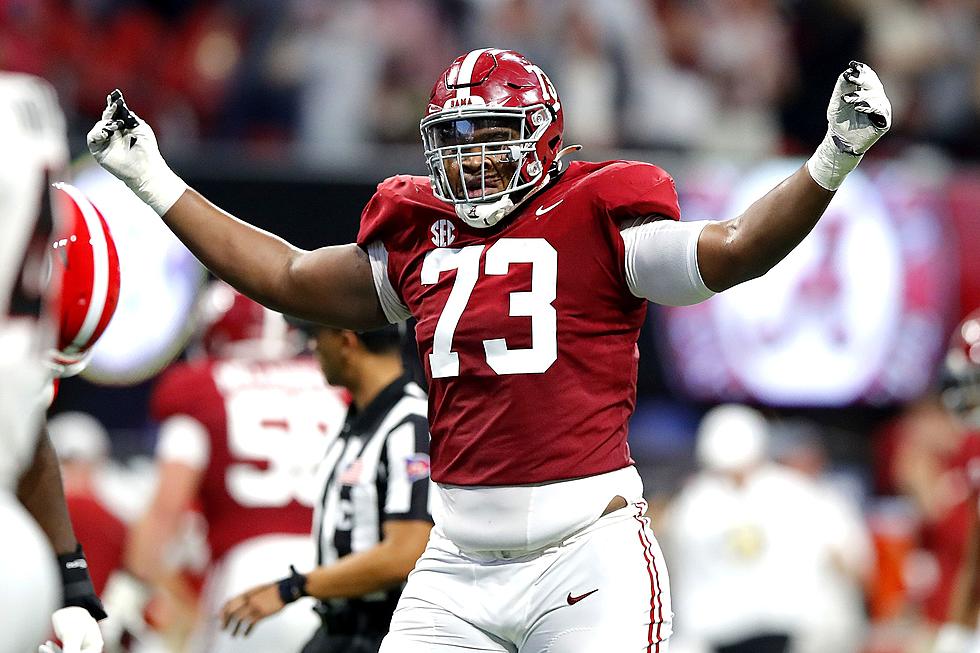 Scouting Report on Bama Pro Prospects from The Athletic's "Beast"
Getty Images
I gotta give massive props to Dane Brugler. The NFL Draft analyst for The Athletic unleashed one of the most insanely comprehensive draft guides I've ever seen Thursday morning. Brugler is a respected voice in the community and is a known film junkie.
With less than three weeks to the 2022 NFL Draft, let's see what Brugler's Beast has to say about the Crimson Tide prospects in this year's class.
To read the entire scouting report for each prospect, you'll need a subscription to The Athletic. The post can be found here.
Evan Neal
There's nowhere better to start with this class than with offensive tackle Evan Neal. A potential first-overall pick, Brugler ranks the 6-foot-7, 345-pound behemoth as his No. 3 overall player in the draft and second offensive lineman behind North Carolina State's Ikem Ekwonu.
"Overall, Neal lacks elite lateral agility and needs to clean up his leaning, but he is an effective blocker thanks to his rare mix of size, athleticism and flexibility" Brugler wrote. "He projects as an immediate NFL starter with Pro Bowl potential and multi-position versatility."
It's becoming more likely with each passing day that the Jacksonville Jaguars won't be selecting Neal with the first overall selection, and Brugler seems to agree with Michigan's Aidan Hutchinson and Ekwonu topping his board.
Brugler didn't explain why he went with Ekwonu over Neal, but did mention that while Ekwonu's weaknesses come down to being a raw prospect with a ton of room to grow, Neal's weaknesses are centered around the big man's inconsistency with his leverage in the trenches.
Jameson Williams
Brugler put Jameson Williams second behind Ohio State's Garrett Wilson on the receiver board, but No. 13 overall. Despite Williams's torn ACL, there's plenty to love about the the deep threat with what Brugler called "see-ya speed."
Brugler did highlight Williams's weaknesses surrounding his 180-pound frame, small sample size of production and the knee injury. Still, the uncontested speed, his after-catch ability and the promising outlook of his rehab make Williams a tempting prospect in the top-15 selection frame.
John Metchie
John Metchie comes in as Brugler's No. 11 wide receiver and No. 71 player overall. With a third-round grade, Metchie could benefit from a heavy serving of receivers being selected in the first round to artificially raise his stock into the second round.
Brugler sees Metchie's ceiling in the NFL as a "quality No. 2 receiver."
"Overall, Metchie has only average size and speed, but he is a seasoned route runner who understands how to manipulate coverage and be a quarterback's best friend," Brugler wrote.
Like Williams, Metchie is ahead of schedule in his rehab which will make teams a bit more confident in calling his name on draft night. With 96 receptions in 2021 before his injury in the SEC Championship, Brugler's right, Metchie will make for a fantastic outlet option for any quarterback in the league.
Brian Robinson
Brugler gives running back Brian Robinson a 4th-5th round grade as his No. 7 overall running back.
He compared Robinson to long-time running back Latavius Murray, who has enjoyed success with the Raiders, Saints and Ravens. Robinson likely won't be a feature back in the NFL, but being a bruising change of pace guy like Murray is a role the 11th-leading rusher in Alabama history could secure very quickly.
Still, with a 4.53 40-yard dash at the NFL Combine, Robinson is faster than he's given credit for. He's a patient person, but his play punches everyone in the mouth unapologetically. While Brugler certainly praised Robinson and gives plenty of reason to show how he can be successful, it proves why Robinson shouldn't be doubted.
Phidarian Mathis
Phidarian Mathis is Brugler's No. 6 defensive lineman and No. 68 overall player.
Brugler spoke to Mathis's leadership capabilities and his strength against the run, but seems to lean toward the veteran's ability to clean up the pass rush lanes rather than being a true interior threat.
"Overall, Mathis' inconsistent pass rush skills are notable, but he is a physically impressive big man with power and disruptive qualities," Brugler wrote. "He should be part of a rotation as a rookie and grow into an NFL starter."
Brugler gave Mathis a 2nd-3rd round grade, so he should hear his name on Day 2 of the NFL Draft.
Christian Harris
Brugler's No. 5 linebacker and No. 46 overall player is Christian Harris.
Brugler pointed out Harris's biggest hindrance being his eyes, meaning he doesn't read plays quite as fast as he needs to.
"He has a good feel for play direction but needs to pull the trigger a half-second quicker and better leverage his gaps as a take-on player," Brugler wrote.
While Brugler certainly has a point, the NFL loves speedy linebackers these days. There's only one off-ball linebacker in this class faster than Harris in the 40-yard dash. It may take Harris a bit longer to become a full-time starter, Harris will be a key player in passing situations for the team that drafts him later this month.
Jalyn Armour-Davis
The No. 15 cornerback on Brugler's board, Jalyn Armour-Davis has upside the NFL will like.
Brugler mentioned Armour-Daivs's injuries and small sample size of production as the biggest factors against him. Truthfully, Armour-Davis showed impressive traits in man and zone coverage, was one of the fastest players at his position at the Combine and is even a respectable prospect in run fits.
Armour-Davis checks a lot of boxes, and while he'll likely hear his name late on Day 2 of the NFL Draft, he's a quality prospect.
Josh Jobe
Josh Jobe lands three spots after Armour-Davis at No. 18.
Brugler, much like Alabama fans that have watched Jobe the past several seasons, both praised and questioned Jobe's aggressive playstyle. While he doesn't give up much in coverage, he falls out of position and draws penalties at far too high a clip.
Whichever team drafts him, likely on Day 3 of the draft, will have to reign in Jobe to have a quality prospect.
"Overall, Jobe is inconsistent in zone and lacks ideal suddenness, but he is at his best in man-to-man coverage because of his athletic, competitive play style to be disruptive up and down the field," Brugler wrote.
Chris Owens and Daniel Wright were not included on the scouting report.
To read each prospects full report with a subscription to The Athletic, click here.
Crimson Tide's NFL Draft First-Rounders During Saban's Tenure
Take a look back on the Crimson Tide's first round selections under head coach Nick Saban.