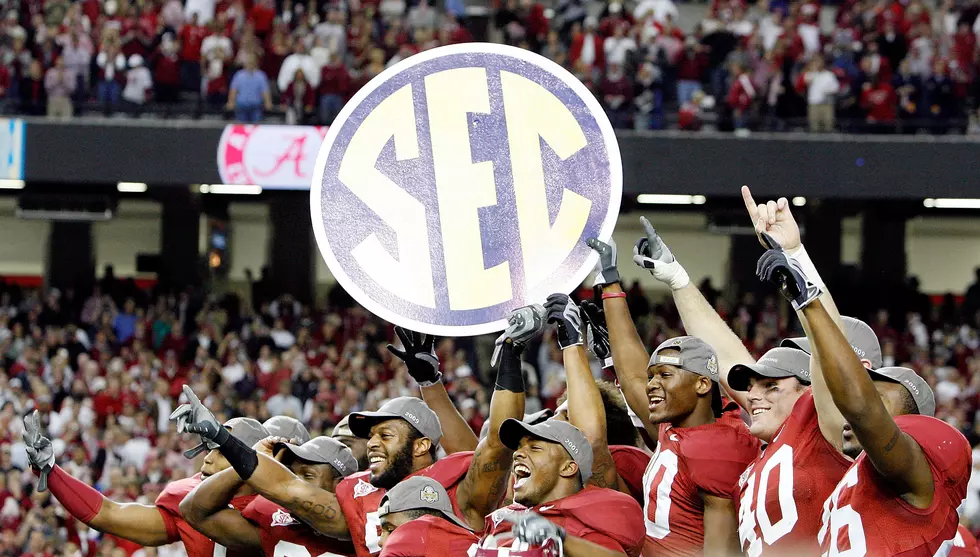 SEC Championship Flashback: Alabama Vs Florida 2009
Getty Images
On Saturday Alabama will face the Florida Gators for the SEC Championship. Throughout the week, Tide 100.9 will highlight past SEC Championship victories under Alabama head coach Nick Saban. Let's begin with a special and first SEC title victory in the Nick Saban era, the 2009 SEC Championship game.
Coming into this game against Florida, Alabama held a record of 2-4 in SEC Championship games in program history including a loss in 2008 against Florida. The game was a big one for both teams as Florida, behind senior quarterback Tim Tebow, were the number one ranked team in college football against the second ranked team in Alabama. Another interesting story in this game was in all 6 appearances for Alabama in program history, all of them were against the Florida Gators.
Alabama held a 3-0 lead after a 48 yard field-goal from kicker Leigh Tiffin, Alabama would score the game's first of many touchdowns with a hand-off to running-back Mark Ingram to take a 9-0 lead in the first quarter.
Tiffin would kick another field goal to take a 12-3 lead in the second quarter after a 70 yard drive for McElroy and company. Alabama would go into halftime with a 19-13 lead after another touchdown run from Ingram on a 3 yard rush.
After a personal foul penalty against Florida, McElroy would throw a perfect pass to tight-end Colin Peek to give the Tide a 26-13 lead. Ingram would add another touchdown on a 3 yard run to add to the Alabama lead 32-13.
Defensively, Alabama cornerback Javier Areans would stop a long Florida drive intercepting the ball in the end-zone to stop the Gators and Alabama would go on to win the SEC Championship game 32-13 over Florida.
The Tide held the ball for nearly 40 minutes and piled up 490 yards against a defense that was ranked No. 1 in the country, allowing less than 10 points and about 233 yards per game. Alabama would go on win the 2009 BCS National Championship over the Texas Longhorns and finish the 2009 season undefeated.
Enter your number to get our free mobile app
Alabama and Florida will once again play each other for an SEC crown this Saturday. Coverage on Tide 100.9 begins at 2 p.m. with the Tide Tailgate show. Download the FREE Tide1009 app for coverage throughout the week and on Saturday.