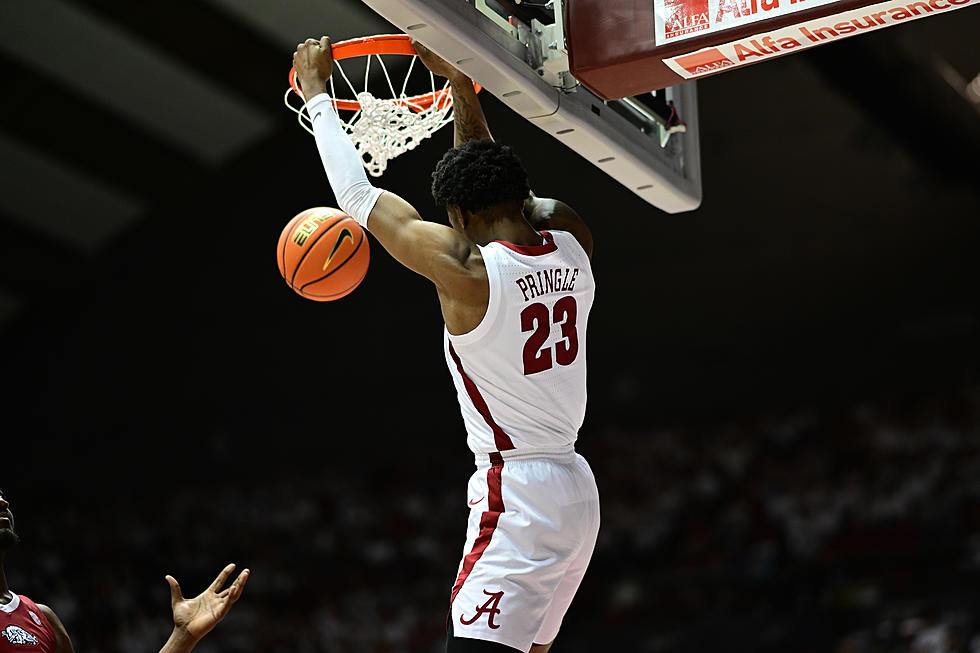 SEC Tournament Projections: Who Will Alabama Play?
Crimson Tide Photos / UA Athletics
Whether you realize it or not, March is just around the corner. The SEC Tournament is just over a week away, and while Alabama's spot as the number one overall seed is very close to being solidified, let's take a look at who the Crimson Tide might draw.
If the conference standings hold firm, it would be a pretty brutal draw for the Crimson Tide. Alabama will earn a double-bye in the SEC Tournament and would draw the winner of Florida against Arkansas.
Having to play a team as talented and well coached as Arkansas would be a nightmare for Nate Oats' crew for their first game. Just last week we saw this on display, as Alabama edged out Arkansas on their home floor, 86-83.
Usually when you earn the one seed in the SEC tournament, you don't have to worry about playing guys like Nick Smith, Anthony Black, and Ricky Council IV.
Unfortunately for Alabama, this scenario seems more likely than not.
If the Tide are able to get past the Hogs in this scenario, the team they would face next would be the one team they have lost to all year in SEC play, the Tennessee Volunteers. Not exactly the draw Nate Oats and company were looking for in Nashville.
All of this comes before potentially facing a team like Kentucky in the finals, who has been Alabama's Achilles heel in past SEC tournaments, and, like always, is seemingly getting scorching hot at the right time.
Nevertheless, this Alabama Crimson Tide team is more than capable of cutting down the nets in this tournament.
While the last two games against South Carolina and Arkansas have been more of a fight than Alabama would have hoped for, there have certainly been some promising moments.
It seems that certain players on the roster are starting to get really comfortable at the right time. Dom Welch has finally began hitting some shots for Alabama, something Nate Oats has been waiting on all year. Nick Pringle seems to be getting everything out of his insanely athletic 6-foot-10, 230 lb. build, and has caused absolute chaos down low for the Tide. Jahvon Quinerly appears to be settling into his March form. Somehow, someway, Brandon Miller has looked even more impressive and dominant for the Tide these past few games than he has all year.
If Alabama can get a couple guys out of their slumps, namely Mark Sears and Jaden Bradley, this team will continue to make noise in Nashville and all throughout the month of March.
Alabama fans can only hope that rides in to April as well.
Alabama v. Arkansas - 2/25/23
Photos of Alabama's February 25th game against the Arkansas Razorbacks
Alabama vs South Carolina Men's Basketball
Alabama vs. Georgia
No. 1 Alabama basketball defeats Georgia.