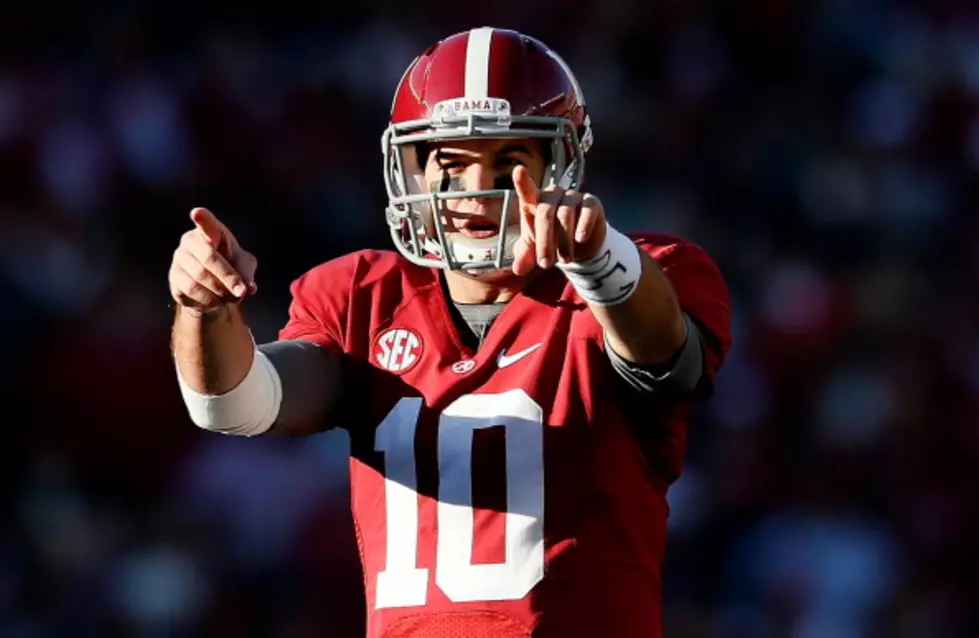 Staff Predictions for Alabama vs Texas A&M
Photo by Kevin C. Cox/Getty Images
We've been waiting 10 months for this game. All of the distractions from autograph signings and Yahoo Sports can be put aside. At 2:30 p.m. on Saturday, Alabama and Texas A&M will buckle the chinstraps and play some football.
Every week, we'll bring you predictions from the staff of Tide 99.1 with one final analysis to get your ready for the Alabama game. Chris Stewart won't give his score since he'll be on the sideline for the game, but he'll provide some insight into the matchup.
Here's what we think about Alabama/Texas A&M:
Baron Huber - Alabama finds the running game and executes the year-long plan to shut down Johnny Manziel. The Tide rolls and 'Mr. Clutch' Kevin Norwood is the unsung hero. Alabama 34, Texas A&M 17
Martin Houston - I believe that Alabama will want to set the tempo with a downhill running game. I think this opens up the playbook, and AJ and that deep WR corp goes off for 3-4 touchdowns. I don't think Johnny Manziel can be completely stopped, but I think he can be frustrated and will begin to push and will account for 2-3 turnovers. Expect a big special teams play as well. Alabama 42, Texas A&M 24
Chris Stewart - Alabama will do a much better job of possessing the football in the first half than they did the last time these two teams met. The Tide may be held to field goals early, but I do think they will ultimately be able to put the ball in the end zone by the middle of the 2nd quarter. Look for the Bama defense to remain patient and frustrate Manziel by limiting, if not totally eliminating his explosive plays.
Ryan Fowler - Alabama will get off to a quick start; expect the offensive line to reestablish confidence early in this game, which will pay dividends late in this game.  Alabama has played in many big games, which is the difference in this game. Texas A&M will start off sluggish and will dig a hole too deep to dig out in of in 60 minutes. The score will be closer in the end.  Alabama 31, Texas A&M 24. 
Chad Haynie - Nick Saban's record in "revenge" games has been well noted and most of those wins come in a dominant way. While the coach speak might say this is "just another game," you know it is not. You know the image of Johnny Manziel going up and down the field in the fourth quarter is burned into Saban and the Bama defense's memory just as Tebow was after the fourth quarter of the 2008 SEC Championship Game. I think Alabama will take the ball to start the game if they win the toss, drive for a touchdown, take control of the game and never look back. Alabama 41, Texas A&M 24