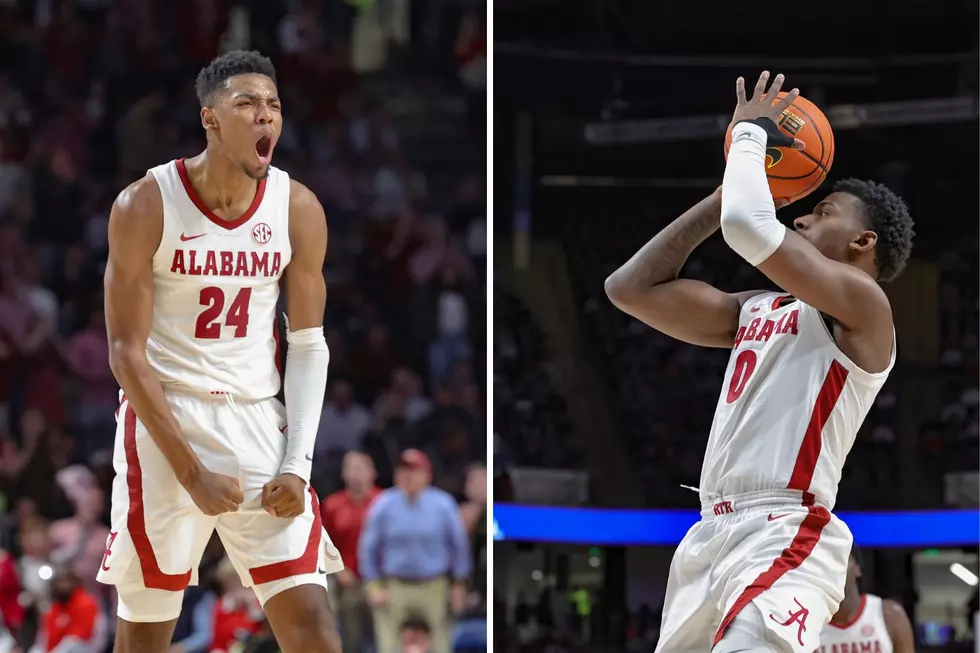 Two Alabama Freshmen Record Career-Best Games
Getty Images, Canva.
Two Alabama men's basketball freshmen had career-best games in the Crimson TIde's 100-90 loss against Gonzaga.
Brandon Miller recorded 36 points, six rebounds, and an assist. He went 12-of-22, 6-of-11 from behind the arc, and a perfect 6-of-6 from the free throw line.
The Tenn., native's previous best was 28 points against Jacksonville State.
Miller recorded multiple career-highs against the Bulldogs, including field goals field goals made and attempted, as well ad three-pointers attempted.
However, he was not the only player with a career-high afternoon.
Jaden Bradley, who saw his second start of his career as he fills in for Nimari Burnett, recorded 18 points, two rebounds, and four assists. He went 6-of-12, 0-of-1 from behind the arc, and shot a perfect 6-of-6 from the free throw line.
The New York native broke his previous best of 12 points, which he recorded twice against UConn and Memphis.
Bradley also had career-best minutes played, field goals made, field goal attempts, free throws made, and blocks.
"We've got young guys playing, I think putting them in some big games like this gives them a lot experience early on. Both these guys are freshmen, we're in the middle of December and look at how many big games they've already played in their careers as freshmen. You know, that's goes a long way as they start performing more like upperclassmen by the time you get to SEC play," said Alabama basketball head coach Nate Oats.
The Alabama Crimson Tide men's basketball team plays Jackson State on Tuesday, December 20, 2022, at 6 p.m. CT. Coverage will be on Tide 100.9.
Alabama vs Gonzaga Basketball 2022