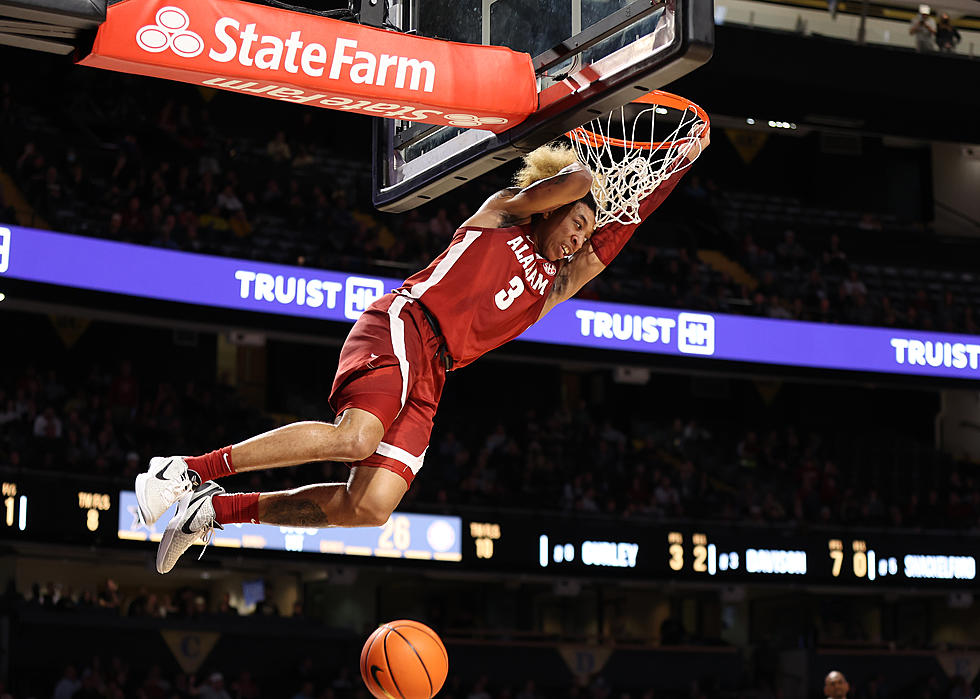 What Makes JD Davison a First Round Pick?
Crimson Tide Photos / UA Athletics
JD Davison is one of the most confusing pieces on Alabama's roller coaster of a basketball team.
The 6-foot-3 guard from Letohatchee, AL has shown flashes of utter brilliance this season, but has also given Crimson Tide fans endless headaches with his propensity for turning the ball over.
Through 31 regular season games, the former five-star has 88 turnovers and has appeared downright lost at times, never being able to take a game over like he was known for in his time at Calhoun High School.
Despite the turnovers and apparent struggle with the speed of the college game; however, Davison is still regarded by many as a first round pick and pops up near the end of the round in nearly every single mock draft and for good reason.
Davison has something that simply cannot be taught: elite athleticism.
In the NBA, players can be taken based off of their potential, and near limitless potential is what a team will get with Davison.
As a prospect, Davison is an extremely raw, ultra-athletic, strong guard that can jump out of the gym and has shown flashes of being an elite passer. Digging deeper reveals his horrendous turnover numbers and inability to create shots for himself, but both are issues that can be coached away.
Unlike the NFL where polished prospects are the name of the game, the NBA has the luxury of the G-League. Teams can select players based off of their intangibles and send them to develop before ever stepping foot on an NBA court.
Take a look, for example, at the career for Spurs' rookie and former Crimson Tide star, Josh Primo.
Primo was selected in the 2021 NBA Draft by the San Antonio Spurs, but has split time in the G-League in order to develop through his rookie season. The Ontario native, from the start of the year, has been sent down and recalled from the G-League multiple times, ultimately helping his development along the way.
For Davison, the question is no longer that of if he will be drafted, but rather when. His athleticism alone will take him to the NBA, it's just a matter of fine tuning once he gets there.
Highest Rated Recruits in Bama Hoops History
Take a look at the highest rated recruits to play for Alabama since 2000 according to 247Sports.
Alabama Basketball Players Who've Played in the NBA
Alabama Basketball All-Time Scoring Leaders