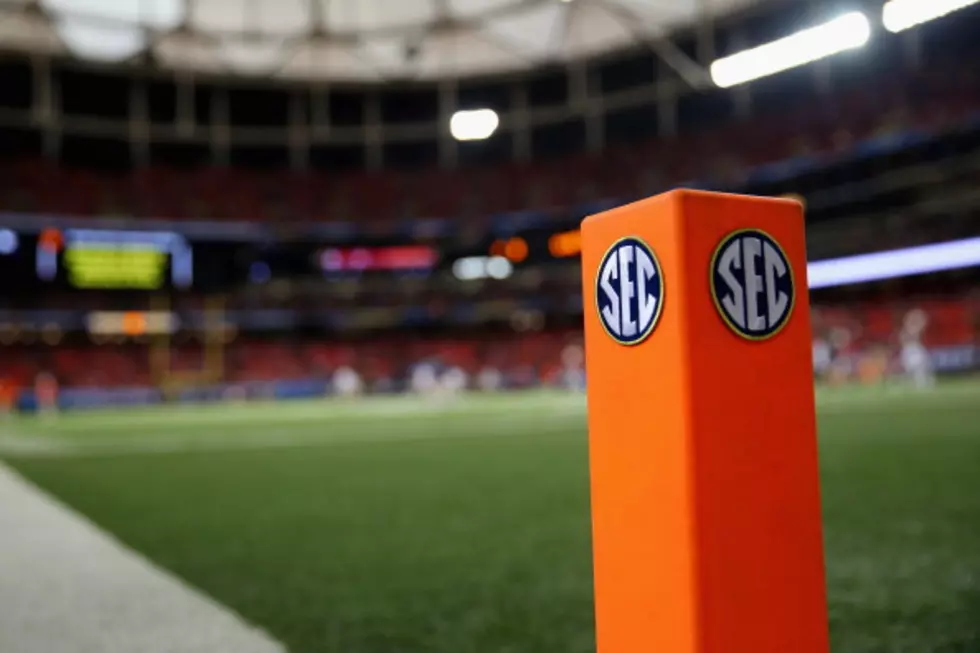 Who's taking on who? SEC Slate of games for Week 10
Getty Images
The SEC schedule goes on this weekend, and it's completely possible that we have the SEC Championship match-up set this week! With excitement building, what could happen in the conference this weekend? Here are the week 10 match-ups in the SEC.
South Carolina at Ole Miss- 11:00 AM (CST)
Where you can watch: ESPN

The Gamecocks barely skated by the Vols last weekend. Meanwhile the Rebels lost to Auburn. Both of these teams could use a win for bowl eligibility, especially Ole Miss, who are one win away from possibly making a bowl. Who will come out on top in Oxford?
Charlotte at Tennessee- 3:00 PM (CST)

Tennessee welcomes the 49ers to Neyland this weekend. After almost besting the Gamecocks last weekend, the Vols are getting dangerously close to missing the bowl season. They hope to get a win over Charlotte this weekend.
#20 Texas A&M at Auburn- 11:00 AM (CST)
Where you can watch: ESPN

These two teams have had some stellar match-ups in the past, and this meeting promises to just as fantastic. Texas A&M faltered against Mississippi State, and look to get back on track. While Auburn would love nothing more than to get a win against a ranked team. Who will prevail in Jordan-Hare?
Louisiana Tech at #18 Mississippi State- 6:30 PM (CST)
Where you can watch: SEC Network

Mississippi State welcomes LA Tech to Starkvegas this weekend. Mississippi State has had some ups and downs this season, but they upset Texas A&M and now have some confidence. However Louisiana Tech sits at 6-2, and probably isn't looking to play around. Which Bulldog will own the football field?
Missouri at #11 Florida- 3:00 PM (CST)
Where you can watch: SEC Network

A SEC East meeting is in store for the Tigers and Gators this weekend. With the SEC East title effectively gone, both teams are simply playing for pride. Florida is bowl eligible and could technically still make the playoff, while Missouri needs 2 more wins for bowl eligibility. Can Missouri escape The Swamp with a win? Or will Florida control their home turf easily?
#6 Georgia at #9 Kentucky- 2:30 PM (CST)
Where you can watch: CBS

At the beginning of the season, nobody could have predicted this one. Georgia and Kentucky, and this game decides the representative for the SEC East in the championship. Both teams are fired up, and with one loss to each, the winner stays alive in a possible CFB Playoff berth. Slide the chips to the center of the table, and throw the marbles in there as well, because it's all or nothing for these 2 teams!