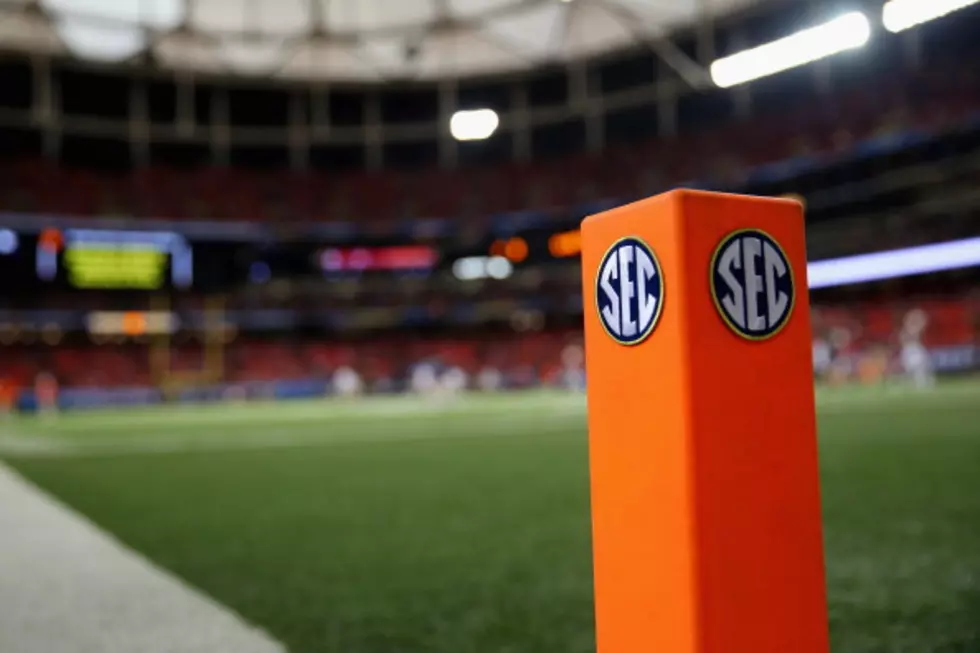 Who's Taking on Who? SEC Slate of Games for Week 3
Getty Images
Week 3 in the SEC and we're finally starting to get into conference play, while some still have some tune-up games to play. That being said, here's what week 3 looks like in the SEC.
Louisana at Texas A&M- 11:00 AM (CST)
Where you can watch: SEC Network
Texas A&M still has a mountain to climb if they want to contend in the SEC West. While they beat Nicholls 24-14, it's still not a good sign for the Aggies. They'll try to improve against the Ragin Cajuns of Louisana.
Purdue at Missouri- 3:00 PM (CST)
Where you can watch- SEC Network
Missouri got off on the wrong foot in conference play, losing to South Carolina in their first SEC matchup of the season. While not ideal, Missouri still has time to recover in the East. The opportunity to fix issues comes this week, as the Tigers take on the Boilermakers.
Ole Miss at California- 9:30 PM (CST)
Where you can watch: ESPN
Ole Miss started slow against UT-Martin and Rebel fans were left worried for one half. But Ole Miss woke up and took care of the Skyhawks. This week however, they go across the nation to take on the Golden Bears of Cal.

Kentucky at South Carolina- 6:30 PM (CST)
Where you can watch: SEC Network
South Carolina beat Missouri last week and got off to a good start in the SEC. This week, Kentucky comes to South Carolina hoping to knock off the Gamecocks. Can Kentucky make a statement this game or will South Carolina reign supreme?
#23 Tennessee at #24 Florida- 2:30 PM (CST)
Where you can watch: CBS
Our first rivalry game comes in form of The Third Saturday in September, the annual match-up between Tennessee and Florida. Both teams have struggled starting their seasons, and hope to get their first SEC win this weekend. Will the Vols get started the right way? Or will the Gators find their offense?
#18 Kansas State at Vanderbilt- 6:30 PM (CST)
Where you can watch: ESPNU
Vanderbilt, so far, has looked good in their first 2 games. But this weekend provides a challenge in a ranked Kansas State team coming to town. If the Commodores can defeat the Wildcats, the SEC East might take notice.
Mercer at #15 Auburn- 3:00 PM (CST)
Where you can watch: SEC Network
Auburn still has a lot to work on. While the score against Clemson shows a close game, the Tigers offense could not get it going at all, with Stidham being sacked 11 times. A game with Mercer should help the Tigers find and fix some issues.
Samford at #13 Georgia- 6:30 PM (CST)
Where you can watch: SEC Network
Georgia came away with a huge win over Notre Dame last week in South Bend. However, it was a one point win and far from what the Bulldogs wanted. They get an opportunity to gain more experience before SEC play with a game against Samford.
#12 LSU at Mississippi State
Where you can watch: ESPN
This matchup looks to be better than tape shows. Miss State's offense is explosive and puts up points on the board, while LSU's defense seems to be stout and not willing to budge for anyone. Could the Bulldogs pull off the upset? Or with the Tigers handle them easily?