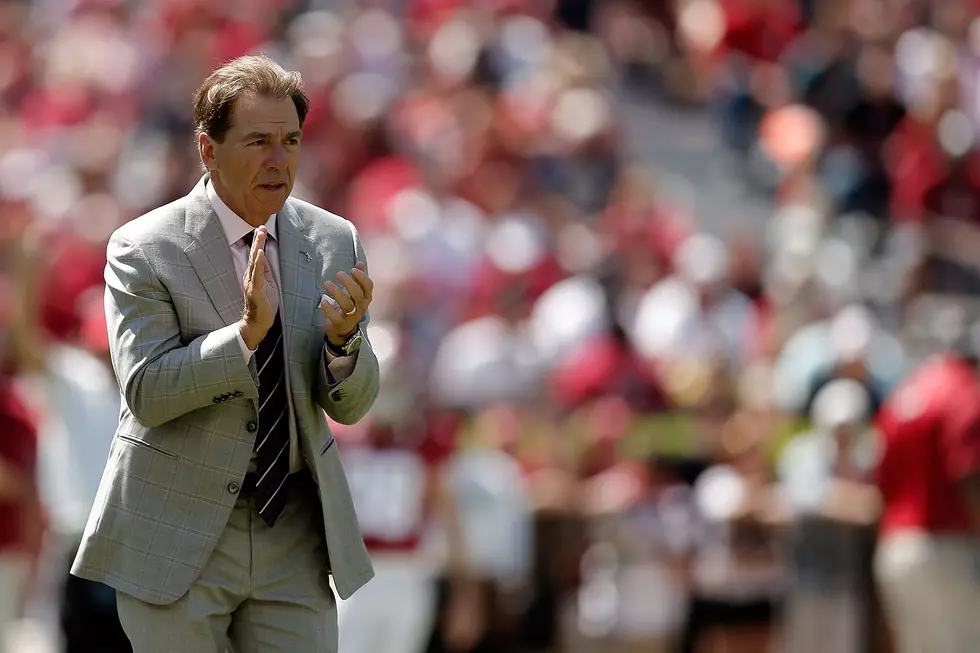 2021 Freshmen Most Likely To Make an Immediate Impact
Getty Images
As Nick Saban wraps up the 2021 recruiting class on national signing day, the focus for the Alabama Crimson Tide is now fully aimed at the 2021 college football season. On the back of an 18th National Championship and the highest-rated recruiting class in history, the next campaign begins September 4 in Atlanta for the Chick-Fil-A Kickoff Game.
With eight starters on offense and three on defense moving on, which of the freshman could aim to begin the 2021 season with an immediate impact?
Enter your number to get our free mobile app
JC Latham
The number two player in the nation and the top offensive tackle, JC Latham has it all. With the departure of Alex Leatherwood, Evan Neal is expected to become the left tackle protecting the next starting quarterback for the Crimson Tide. That leaves an opening at right tackle, an opening that will be fought for by several players.
As far as recruiting ratings go though, he and Tommy Brockermeyer are the only 5-star talents vying for the position.
Latham is a strong pass blocker, something the next starting quarterback could enjoy as a revamped offense gets going next season.
Ga'Quincy McKinstry
The name Ga'Quincy "Koolaid" McKinstry carries quit a reputation. Thanks to serious ball skills and superb athleticism, McKinstry is 2021's highest rated player in the state of Alabama.
An opportunity to get immediate reps is present for McKinstry. Patrick Surtain is off to the NFL and Josh Jobe will assume the top role at corner. Both Malachi Moore and Brian Branch saw a bulk of reps at slot corner as freshmen, with Moore seeing the lion's share of the playing time. Whether Moore moves outside could determine the ultimate look of the secondary next season, but the opportunity still awaits McKinstry nonetheless.
McKinstry has the frame to play in the slot and the raw ability to man up outside if need be. Either way, expect to see "Koolaid" on the field early and often for the Crimson Tide in 2021.
The Brockermeyer Twins
Tommy and James Brockermeyer are Texas Longhorn legacies, but both spurned the burnt orange in favor of crimson. Considering the timing, it's a decision that could pay off for the twins early.
There are three open spots on the offensive line heading into the new season: left gurad, center and right tackle. Chris Owens is expected to be the starting center next year, but seniority to stave off Landon Dickerson in 2020. While intelligence is a vastly more important attribute for a center than any other spot on the line, James Brockermeyer wasn't rated the nation's highest center for nothing. Furthermore, James Brockermeyer is already on campus taking in Bill O'Brien's new playbook. He's viable to fight for the opening at guard just as well.
As for his 5-star brother, Tommy Brockermeyer is a top-5 player nationally, with only one offensive name slotted ahead of him: JC Latham. Brockermeyer will join Latham in the battle for right tackle. Brockermeyer is a bully of a tackle, burying players routinely in the run game and stopping pass rushers cold. His competition level wasn't quite as high compared to Latham, but his size and ability will keep him in the race for the starting right tackle position.
Terrence Ferguson
Speaking of bullies, Terrance Ferguson is one mean dude and his eyes are aimed at that left guard position left by Deonte Brown.
Ferguson played left tackle in high school, as well as defensive tackle, but his build is that of a mauling guard. His strengths at run blocking over pass blocking and his athletic build would indicate his success will come earliest at guard. With a chance to get on the field, that's all that matters at this point anyway.
Darrian Dalcourt is the man Ferguson will likely see the biggest fight out of for the position.
JoJo Earle
Slade Bolden and John Metchie are great players, but finally following up the 2017 Ryde Outs is going to be a tall task.
Enter JoJo Earle. Though Metchie will be the number one option, his ability to get open comes from physicality and route running. As for Bolden, it's all about calculated feet in his routes.
With Earle though, it's blazing speed. Regardless of how the offense changes under Bill O'Brien, no one is turning down the speed that Earle brings to the table. While he isn't Jaylen Waddle yet by any means, Earle's playstyle is as close as it gets to replacing him.
The hurdle for Earle is that he is the only one of the four top-10 receivers the Crimson Tide signed this year not yet on campus. When he does arrive to Tuscaloosa, he'll need to prove immediately that he isn't a one-trick pony stallion.
2021 Alabama Crimson Tide Recruiting Class Signees