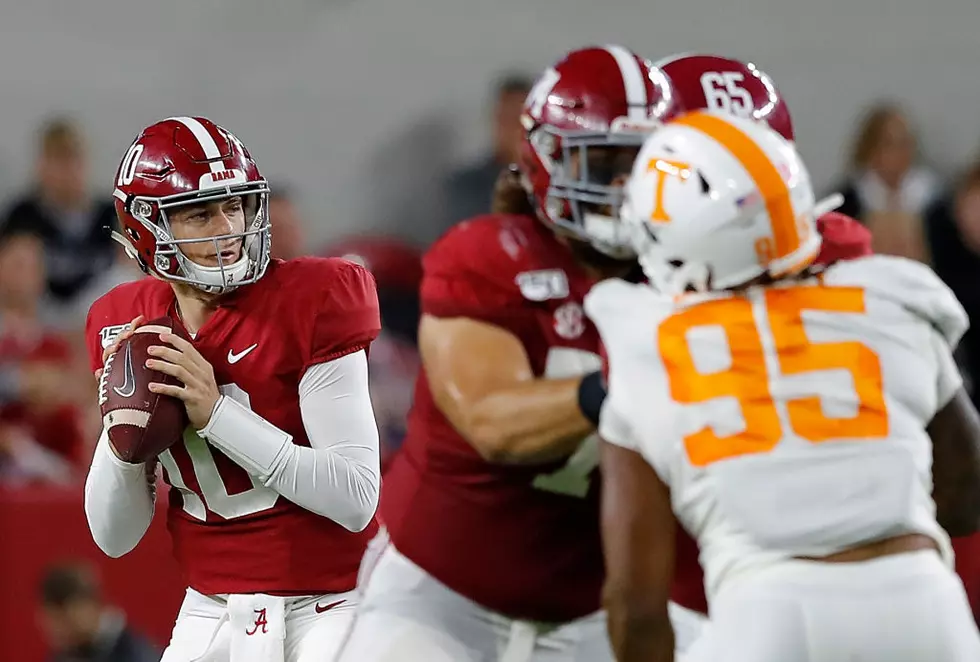 Alabama and Tennessee Square off This Saturday
Getty Images
Another week brings another rival and another former assistant trying to outclass the master. Jeremy Pruitt will be newest challenger to Nick Saban's 22-0 record against former assistants.
The Tide is rolling in Neyland Stadium after an impressive 41-24 win versus Georgia, the Volunteers look to bounce back from a 34-7 beat down courtesy of Kentucky. The Third (fourth) Saturday in October is here, and the "rivalry" continues.
Yes, there is a quotation around rivalry being that Alabama is 56-38 in these meetings and the last time Tennessee picked up a victory against the Tide was on Oct 21, 2006.
That's four presidential terms ago, I was in elementary school, and Sexy Back by Justin Timberlake was the No. 1 song in the world.
To Pruitt's credit he did post a respectable 8-5 record (5-3 in conference) last year while pulling in the No. 10 recruiting class coming into the 2020 season.  With a quality win versus South Carolina and a solid first half versus Georgia, Pruitt's teams has flashes though their record my not suggest that.
Coming from the smack down where the offense only put up 7 points, ESPN is only giving the Volunteers a 7.6% chance to win the game and on paper it makes sense. The Crimson Tide double the Vols in points per game and passing yards along with a 30-yard advantage in the rushing department, but fortunately for the Vols the game isn't played on paper.
The game will be broadcast a 2:30 p.m. CT on CBS, you can find pregame coverage beginning at 9:30 a.m. right here on Tide 100.9 FM.
Enter your number to get our free mobile app
13 Things That Didn't Exist the Last Time Tennessee Beat Alabama