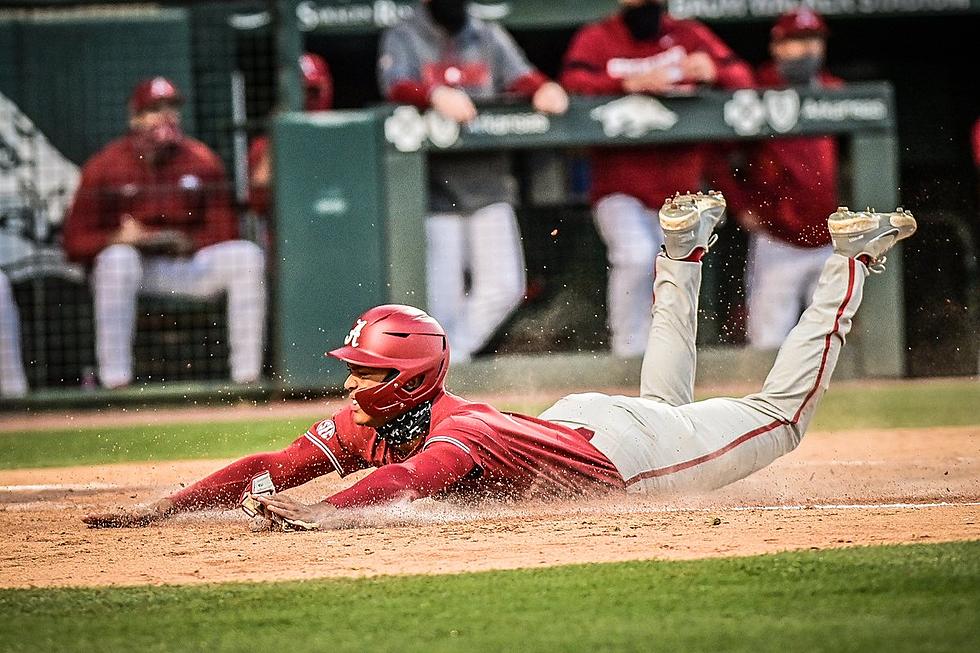 Alabama Baseball No. 23 This Week
@AlabamaBSB Twitter
Alabama fell one spot in Baseball America's rankings from No. 22 to 23 after going 1-2 against the Arkansas Razorbacks this weekend.
In Friday's game, the Crimson Tide proved they belong with the elite competition in the SEC this season. Posting a 10-run second inning, the Crimson Tide won 16-1 behind a great pitching performance from junior Tyler Ras. Alabama put the league on notice, having 10 different players record RBIs in the blowout win. Stringing together hits and Connor Shamblin holding strong out of the bullpen were the keys for 'Bama.
Saturday, Alabama fell 9-1, scoring only off of a sacrifice fly from Peyton Wilson and having two hits. Starting pitcher Dylan Smith gave up three runs in nearly five innings of work, so not a terrible start if there had been some offensive production. The bullpen gave up six more runs after Smith exited the game as Arkansas put The Tide away in game two.
On Sunday, Alabama once again proved their ability to compete with the best team in the nation. Left-hander Antoine Jean was dealing, giving up only one run through five innings. His good start set Alabama up to be able to win the game, but the offense was stifled by Arkansas's pitching, totaling only four hits. Pitcher Landon Green allowed two runs in the sixth inning, and the Crimson Tide did not get on the scoreboard until a Sam Praytor home run in the top of the ninth. Alabama could not rally behind Praytor's shot, and the game ended in a 3-1 Arkansas win.
Overall, the first SEC series for Alabama this season can be counted as a success. The Crimson Tide outscored Arkansas 18-13 on the weekend. The team is on its way up, and it is encouraging to see them blowout the No. 1 team in America. Alabama, despite not having their main starting pitcher, Connor Prielipp, still managed to win one of three games. The players will get more comfortable in SEC play as the season goes on, so it will be exciting to see the consistency improve and an identity form.
Alabama welcomes some Mississippi opponents to Sewell-Thomas Stadium this week. The Crimson Tide take on Southern Miss Tuesday at 3 p.m. CT, and No. 4 Ole Miss in a three-game series starting Thursday at 6 p.m. CT.
Alabama Baseball's Career Batting Average Leaders