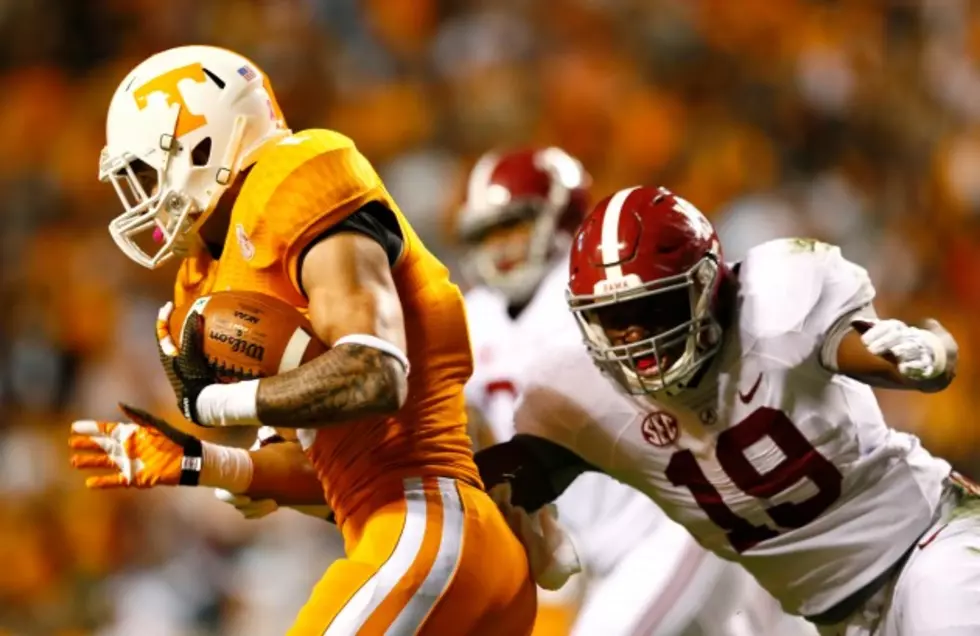 Alabama Position-By-Position Breakdown: Linebackers
(Photo by Kevin C. Cox/Getty Images)
It's only spring, but it's never too early to look ahead to the fall. In the seventh installment of a position-by-position breakdown of the Crimson Tide's 2015 roster heading into spring practice, Tide 99.1 looks at the linebackers.
-Trey DePriest (graduated/NFL Draft)
-Xzavier Dickson (graduated/NFL Draft)
-Josh Dickerson (graduated)
-ILB Reuben Foster (junior)
-ILB Shaun Dion Hamilton (sophomore)
-ILB Keith Holcombe (redshirt freshman)
-ILB Walker Jones (redshirt sophomore)
-ILB/OLB Dillon Lee (senior)
-ILB Reggie Ragland (senior)
-ILB Gussie Busch (walk-on redshirt freshman)
-ILB Paden Crowder (walk-on senior)
-OLB Ryan Anderson (redshirt junior)
-OLB Denzel Devall (senior)
-OLB Rashaan Evans (sophomore)
-OLB Christian Miller (redshirt freshman)
-OLB Tim Williams (junior)
-OLB Jamey Mosley (walk-on redshirt freshman)
Keep an eye on: Reuben Foster. The former No. 1 unanimous inside linebacker prospect who famously chose Alabama over Auburn has been the Crimson Tide's worst kept secret in his first two seasons with the team. Unlike many top recruits who have to wait their turn before earning a starting role, it's never been about if his time will ever come but when. Now a veteran, Foster is the favorite to replace DePriest at the "Mike" linebacker position next to Ragland, the team's returning "Will" starter. As a freshman and sophomore, the rising junior quickly became one of the team's most feared hitters on special teams, as best seen through his momentum-building shot on LSU running back Leonard Fournette at the end of regulation last season. Yet, at the same time, that hit and many other hits were one of many where Foster led with his helmet, which has resulted in several neck stingers in his Tide career. Foster has more than enough ability to succeed as a player but potentially serious neck issues cast at least a little doubt.
Overview: Barring any unforeseen circumstances, Ragland will lead the linebacker corps – and the entire defense – as one of the entire team's most significant returnees at his inside linebacker position this spring and fall. Last season as a junior and his first as a starter, Ragland was a semifinalist for the Butkus Award, an award he should again be in position for in 2015.
Alongside Ragland will be one of a few worthy potential candidates. Foster is the favorite to win the other inside linebacker job but Lee, who may also play some on the outside, and Hamilton, a talented rising sophomore, will also have an opportunity for a starter's role.
On the outside, the Crimson Tide doesn't return any definite starter like it does with Ragland, though it does have assortment of options with varying degrees of experience at its disposal. Besides the departed Dickson, no outside linebacker consistently saw more playing time last year than Anderson, the team's leading returner in sacks (three) among linebackers. Overall, Devall is the most experienced, a regular in the lineup since he was a freshman in 2012, but a foot injury held him out much of last season and will likely force him to miss all of spring, Saban announced last Friday. In his absence, Williams and Evans will help solidify their places in the rotation, if not compete for a starting job, after seeing meaningful snaps at times a year ago.
Predicted 2015 Post-Spring Depth Chart:
-ILB Keaton Anderson (The three-star player from Florence will provide depth as a freshman at inside linebacker, a position group that sorely needs it.)
-OLB Mekhi Brown (Brown was one of the Tide's first verbal commits in the 2015 class and also has the potential to play defensive end in the future.)
-OLB Anfernee Jennings (One of six Alabama natives in this year's class, Jennings already has the size to play defensive end, too, if needed.)
-LB Adonis Thomas (The Georgia native, who chose the Tide over in-state Georgia, could play either inside or outside linebacker at Alabama.)
-LB Joshua McMillon (The only Tennessee native in this year's class, McMillon already has the size to play either inside or outside linebacker at Alabama, as well.)