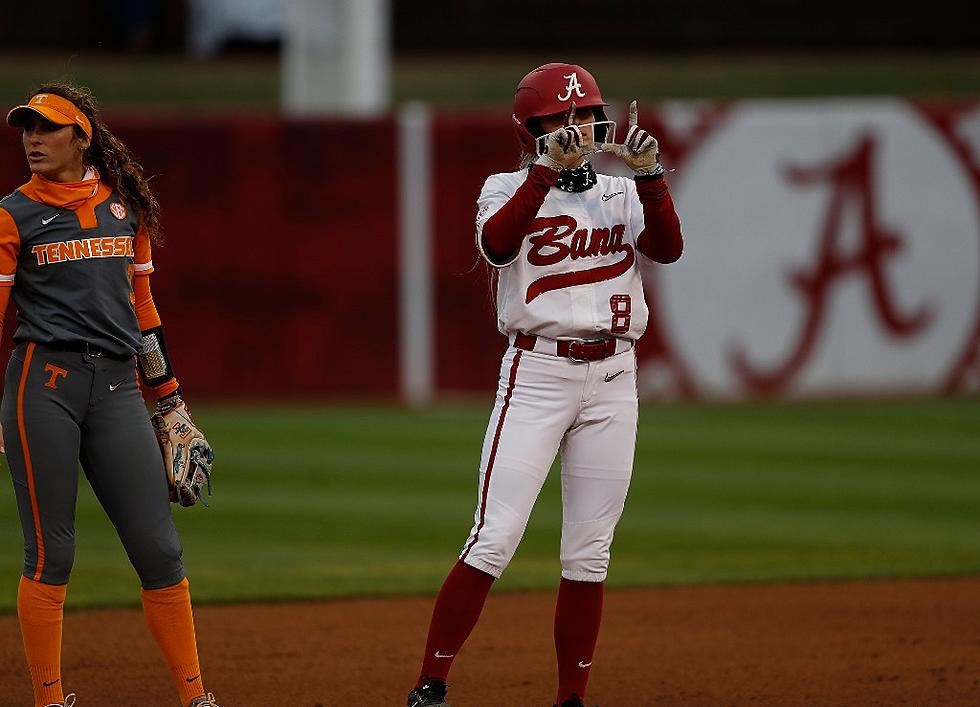 Alabama Softball Injury Report before facing No. 8 Arkansas
Crimson Tide Photos / UA Athletics
After sweeping Texas A&M, No. 4 Alabama Softball  (29-4) has a full head of steam heading into their weekend series against the No. 8 Arkansas Razorbacks (32-3) in Fayetteville, Arkansas.
 Alabama hits the road with even more positive news as both of the Crimson Tide's questionable injury situations look positive heading into their first game with the Razorbacks on Friday night.
Right fielder KB Sides needed to sit the bench in the fourth inning of Saturday's game against Texas A&M after sustaining what appeared to be a slight lower leg injury after baserunning on a single to center field. Fortunately for Alabama, Sides' injury won't hamper her availability. Sophomore Jenna Johnson also might be available for the action this weekend.
"She just tweaked her ankle, no big deal, she will be fine," head coach Patrick Murphy said in his midweek press conference. "Jenna Johnson is a possibility this weekend, we won't know for sure till after practice and then tomorrow, so she could be a big bonus for us. Obviously Dowling is out, but everybody else should be good to go."
Sides, a senior from Dora, Alabama, is top six on the team in several batting statistics despite only playing in 21 of Alabama's 33 games due to an injury sustained in late February. Sides holds a .344 batting average, which is fourth-best for the entire team. 
Johnson suffered a knee injury on February 24th against UAB and has been limited to action in only twelve games so far this season. Before her injury, the outfielder tallied three RBI's and five hits with a .294 slugging percentage. 
The only player confirmed out for the weekend series is freshman Bailey Dowling, who suffered a season-ending ACL/MCL injury during the series with Tennessee in mid-March. 
The Crimson Tide will need excellent batting performances this weekend as they prepare to face a fast-scoring Arkansas squad that leads the SEC in wins with 32, and home runs with 69.
Alabama Crimson Tide Softball Record Book