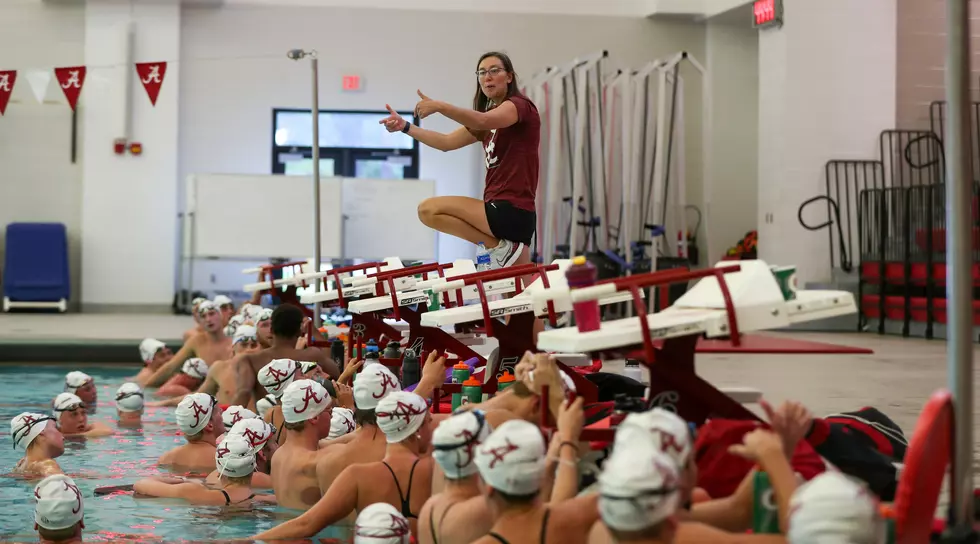 Alabama Swimming and Diving Teams Set to Swim in September
Photo Courtesy of Alabama Swim and Dive on Twitter
The Alabama Crimson Tide Swimming and Diving team set to begin there season on Sept. 30 with a meet at Arkansas.
The team is coming off a historic 2021-22 season where they finished a program-best fourth in the nation.
The men will start on the same date with a meet on the road at Delta State in Mississippi. The group finished in 14th place last year at the 2022 NCAA Championships.
The first time fans can catch the swimming and diving teams at home will be on Oct. 15 when the Crimson Tide welcome in South Carolina to the Alabama Aquatic Center.
The other home meet for Alabama will take place in January when the Crimson Tide hosts the Texas Longhorns and The Ohio State Buckeyes.
The Southeastern Conference (SEC) Championships will take place in College Station, Texas this year and will be held from Feb. 14-18.
The season will wrap up in March with the Diving Championships and the Women's NCAA Championships taking place in Knoxville, Tennessee. The Men's NCAA Championships begin on March 22 and will be hosted in Minneapolis, Minnesota.
Following its top-five finish in 2022, the women's team will welcome back one of its standout performers from last season, graduate student Morgan Scott.
Scott set the school record for 50 and 100 meter freestyle races. She also was part of a four woman group that swam the fastest time in school history for a 200 and 400 meter freestyle relay. In addition, Scott was one of four women to participate in the 200 and 400 meter medley relay which set an SEC record for fastest time.
The teams' first official practice took place on Aug. 29 as Alabama looks to continue its success in the water this season.
Alabama's First Fall Camp Practice 2022
The Top 10 Hottest Alabama Players from the 2021 Season
Alabama has seen its fair share of smoke shows and the 2021 team is no exception. We look back on the season and rank our top 10 hottest players; some we will see next year, and others we will mourn not seeing in Crimson again.