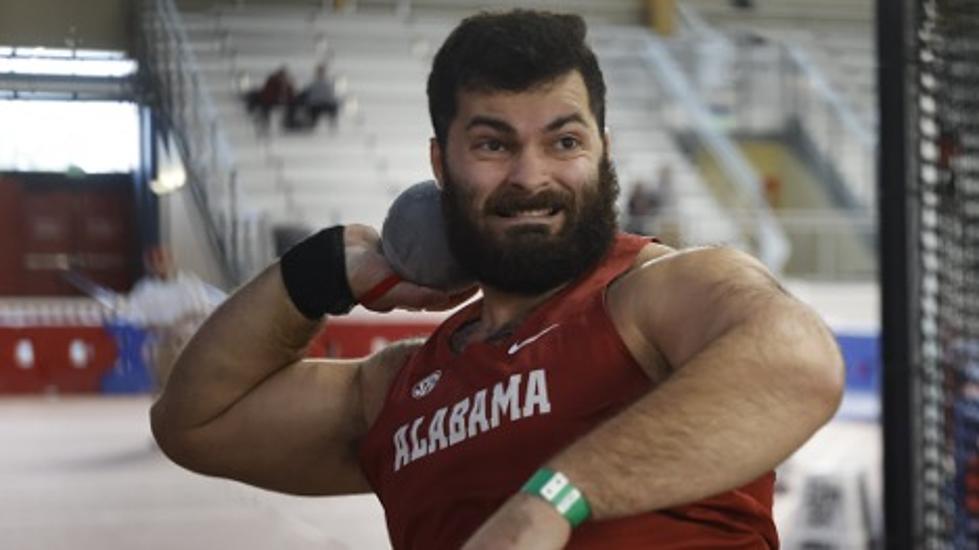 Alabama Track and Field Runs Up Its Wins This Weekend
Courteous of AlabamaTrack via Twitter
At a school "Where Legends are Made", the University of Alabama Track and Field really made legends on Friday, shattering the school record in the distance medley relay also picking up four more wins to close their indoor regular season.
The Crimson Tide's Hillary Cheruiyot, Khaleb McRae, Jacob Lamb and Eliuid Kipsang had a time of 9:22.43 combined in the distance medley relay. Not only shattering the school record, but also posting the second fastest time in the nation this season. The Tide's time for this race is also the fifth-fastest in the collegiate history on a record- eligible track.
This group of Alabama athletes also won four events at the LSU Twilight in Baton Rouge, LA., while also setting two facility records.
Bobby Colantonio Jr. threw 23.70 meters and captured first in the men's weight throw. With this throw, Colantonio Jr. went to take first place with a facility record. Kieren Mckeag, throwing 21.16m went on to take second place in the same event. In the women's weight throw, Chelsea Igberaese won with a toss of 21.81, bettering the facility record in the process.
In the men's shot taking all top three places, which was led by Jerimiah Evens who threw a 18.61m. Followed by Chago Basso who threw a 18.50m, and concluding with Alan de Falchi who threw a 17.62m. Along with the women's shot put Nickolette Dunbar took first with a throw of 16.61m and Chelsea Igberaese taking third with her throw of 15.22m
The Crimson Tide Track and Field will be traveling to the Southeastern Conference Indoor Championships Feb. 25-26 to conclude the regular season in College Station, Texas.
Starting Alabama Quarterbacks Under Nick Saban
Here is every quarterback that has started for the Crimson Tide under Nick Saban.
Crimson Tide's NFL Draft First-Rounders During Saban's Tenure
Take a look back on the Crimson Tide's first round selections under head coach Nick Saban.
The Anti- Alabama Team
Alabama has lost 23 games while Nick Saban has been in charge. These athletes were pivotal in helping to secure a rare victory for their teams.