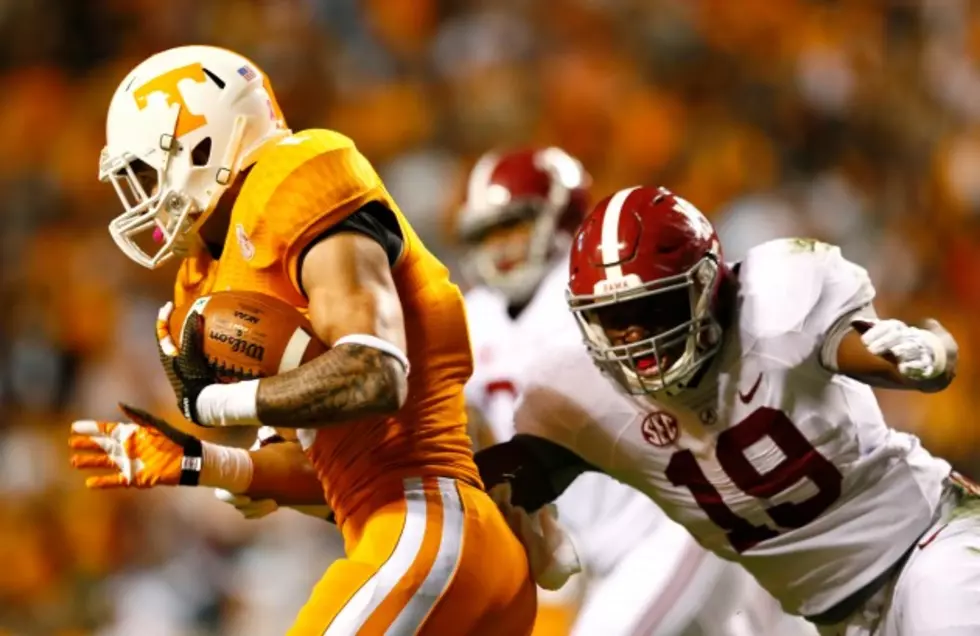 Alabama vs. Tennessee Game Preview: Everything You Need To Know Before Kickoff
(Photo by Kevin C. Cox/Getty Images)
Tennessee (3-3, 1-2 SEC) at No. 8 Alabama (6-1, 3-1 SEC)
When: Saturday, Oct. 24 at 2:30 p.m. CT
Where: Bryant-Denny Stadium in Tuscaloosa, Alabama
TV: CBS (Play-by-play: Verne Lundquist, color analyst: Gary Danielson, sideline reporter: Allie LaForce)
Spread: Alabama (-15), according to OddsShark. After one week as a marginal underdog against Georgia on Oct. 3, the Crimson Tide has now been the favorite in three consecutive games. Prior to its road game against the Bulldogs, the Crimson Tide was favored in 73 consecutive games, or the 2009 SEC Championship Game.
Series History: Alabama leads the all-time series, 52-37-8 on the field. The Crimson Tide has won the last eight meetings in a series that dates back to 1901, a 6-6 tie in Birmingham. Its streak of 11 straight wins from 1971-81 in the rivalry's history.
Derrick Henry rushed for a career-high 236 yards and two touchdowns, and Alabama's defense scored three more on interception returns in a 41-23 win over Texas A&M.
Alabama led 28-6 at one point in the second quarter – its largest lead of the game – and only briefly held a margin fewer than 10 points after taking a 14-0 lead on Henry's 55-yard score with 5:26 to go in the first quarter.
True freshman Minkah Fitzpatrick scored twice on interception returns in the win on runbacks of 33 and 55, scoring the first and last touchdowns in the win. Eddie Jackson's 93-yard return in the second quarter was the other interception returned for a touchdown.
Fitzpatrick's second touchdown with 5:18 left to go in the game put Alabama up 41-23.
Prior to the game, Kyle Allen, who completed 20 of 40 passes for 263 yards and a touchdown against Alabama, had gone 79 passes without an interception. His three against the Crimson Tide was a career high.
Jake Coker was a steady 19 of 25 for 138 yards, not needing to do much after Henry and the Alabama defense took over.
Tennessee had a bye last week but did rally from a 24-3 deficit to upset then-No. 19 Georgia, 38-31, two weeks ago.
The Volunteers trailed by as much as 21 late in the second quarter before quarterback Joshua Dobbs led them back.
The junior had a career-high 312 passing yards and three touchdowns to go along with his 118 rushing yards and two more scores in the win. His 5-yard run with 5:48 left in the fourth quarter put the Vols up for good.
Tennessee (3-3, 1-2 SEC), which had previously blown leads in all three of its losses this season – Oklahoma, Florida and Arkansas – flipped the script against the Bulldogs.
Dobbs threw two touchdown passes in the span of 37 seconds to cut the lead to 24-17 just before halftime after Georgia went up 24-3 on Reggie Davis' 70-yard punt return with 3:27 left.
After the Vols took its first lead of the game up 31-24 late in the third quarter, it was Davis who scored again, this time on a 48-yard touchdown from Greyson Lambert to tie the game at 31-31 at the start of the fourth.
Yet it wasn't enough, as Tennessee held on for the win, the third-largest deficit the Vols had ever overcome in a victory.
Ryan Kelly (J.C. Hassenauer), center: Will he actually play? That remains to be seen. Kelly left during the first half of last Saturday's game against Texas A&M with a concussion, and the Alabama offense instantly took a swift nose dive over the next several drives. His backup, Hassenauer, a redshirt freshman, eventually settled into the game, but it's no secret that the Tide is better off right now with Kelly, who's been arguably the team's top offensive lineman this season.
Reggie Ragland, linebacker: While Minkah Fitzpatrick and Eddie Jackson stole the show last week against Texas A&M, Ragland, too, had yet another standout performance with nine tackles and a sack. The senior has improved on his range this season – with help coming from some lost weight over the offseason – which should come in handy against a dual-threat quarterback like Tennessee's Joshua Dobbs.
Joshua Dobbs, quarterback: During the week, Saban pointed out the junior quarterback as a "diverse" player when it comes to throwing and running the ball and for good reason. Two weeks ago, Tennessee's last game, the junior had a career day, completing 25 of 42 passes for 312 yards and three touchdowns, as well as an additional 118 yards and two scores on the ground. Against Alabama the past two seasons, the Volunteers elected to burn his redshirt twice midgame, with success in each appearance.
Alvin Kamara, running back: The former Alabama running back will face the Crimson Tide for the first time since transferring from the school two seasons ago, and he's certain to see plenty of on-the-field action. Though not the starter, Kamara has proven a versatile backup for Jalen Hurd, with notable production rushing and receiving already this season, his first with the Vols. His style of play may be slightly more difficult for the Alabama front seven to handle than Hurd's.
- Center Ryan Kelly (concussion) is questionable. Coach Nick Saban has not said whether the senior will play after leaving last Saturday's win over Texas A&M with the head injury. He practiced in a black, non-contact jersey this week, but did not do any physical blocking during the media viewing periods while the rest of the offensive line did.
- Starting right tackle Brett Kendrick missed the Vols' game against Georgia due to an elbow injury. His status is listed as questionable, though he returned to practice this week.
- Starting wide receiver Marquez North is questionable with a back injury. He has missed each of the last two games.
- Starting left guard Jashon Robertson is questionable with a high ankle sprain. He has struggled with injuries all season.
- Starting running back Jalen Hurd had flu-like symptoms earlier this week but is expected to play against Alabama.