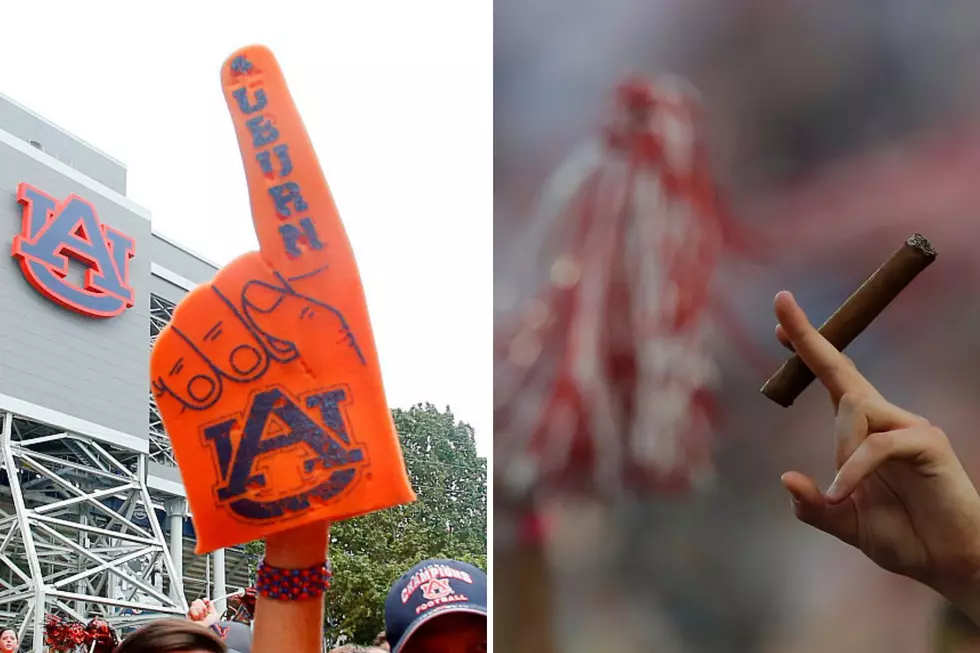 AUBURN stands for "Alabama Usually Beats Us Round November"
Getty
Every year since I moved to the Yellowhammer State, I live for the trash-talking leading up to the Iron Bowl. That includes me, I'll talk a little smack. You must admit, it is the best and pretty hilarious.
Currently, Alabama leads in wins in the yearly Iron Bowl matchup. In 2021 both sets of fans were on the edge of their seats. The game went into overtime and Alabama won 24 to Auburn 22.
Disclaimer, if you haven't figured it out by now, I'm an Alabama fan.
For a long time, I would cheer for Alabama until they played Florida. Since I'm from Florida, I felt a sense of obligation to root for them. I got into a bet with a good friend who is an Alabama grad over the 2009 Florida game. Let's just say I know the Alabama fight song by heart now.
BTW, I no longer cheer for the Florida Gators. My Florida family & friends, DO take issue with this choice. LOL
The Iron Bowl really is the biggest game of the year. The rivalry between Alabama and Auburn fans is contagious.
From the Facebook posts, TikTok Videos, and in-person debates, it seems this year is a little bit more elevated. Is it because Alabama is lower ranked in the polls than in previous years? Is it the coaching situation at Auburn?
I will admit that I am excited about the energy that former Auburn running back and now interim head coach Carnell "Cadillac" Williams has brought to the Tigers. This should make for an exciting Iron Bowl. I've always said, that sometimes you win based solely on leadership.
Wait, back to trash-talking.
AUBURN stands for "Alabama Usually Beats Us Round November."
Did I lie?
NO!
But, here are some lies that Auburn fans say out loud each year that are hysterical.
Lies Auburn Fans Tell Themselves About Bama Football
25 Best Towns to Raise a Family in Alabama
Looking For an Amazing Job? Here are Alabama's Largest Employers