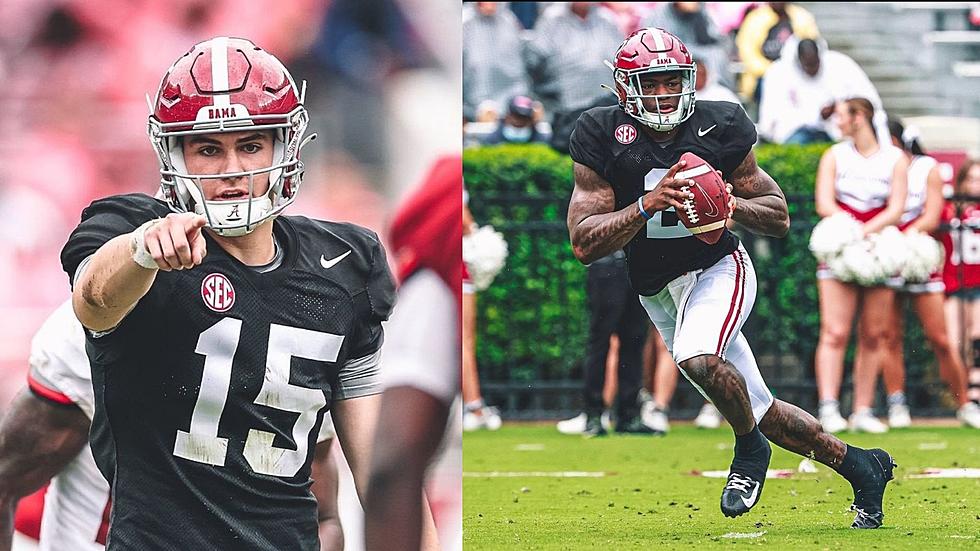 Backup Battle? Alabama Backup QBs Showed Out At A Day
Photo Courtesy of Ty Simpson and Jalen Milroe via Twitter
White dominated Crimson 25-7 in Alabama's annual A Day Game on Saturday afternoon. Alabama quarterback Bryce Young went 14-of-29 for 153 yards and a pick, mostly thanks to the offensive line.
However, there was a bright spot on a field of rain Saturday afternoon... the backup quarterbacks.
Quarterback Jalen Milroe radiated confidence on the field, going 11-of-23 for 149 yards, and one interception. Milroe picked up eight rushing attempts for 32 yards.
Milroe also had a picture-perfect 52-yard touchdown pass to wide receiver Christian Leary, the only touchdown for the white team.
The redshirt freshman had three completions for 41 yards in 2021, along with 57 yards rushing.
Milroe's awareness in the pocket and quick feet both running away from trouble and creating on his own made him such a dominant force on the field.
"In the spring we were going to make him run the offense try to become a better passer or try to become a better pocket presents a better reader of coverages and I think, you know, he made progress in those areas," said Alabama football head coach Nick Saban.
Overall, Milroe looked incredibly impressive. He is a dual threat player with a strong arm and can get a step ahead of the opponents defenders. The awareness he has around him is something usually seen in experienced players. At this moment, he is the favorite for the backup job, in my opinion.
The No. 2 quarterback prospect from the recruiting class of 2022 also had an impressive outing. Ty Simpson went 5-of-12 for 43 yards. He also had eight rushing attempts for 18 yards.
The Martin, Tenn., native showed off his powerful arm, executed positive plays out of what seemed like nothing, and proved he will take off in an instant.
"Ty, for a guy that's only been here in the spring, though he made some, you know, good plays for the first time out. He's a very conscientious guy really works hard at it. Preparation is important, you know, to the development of quarterbacks and those guys have done a good job all spring," said Saban.
Considering Simpson has yet to play an official snap on the field, he looked decent. There were a couple of throws that looked off the mark, both over the heads of targets, and a little short, making receivers reach for a completion. He also looked like he didn't have a lot of control of his feet, moving all over the place while trying to get a play going. Simpson can absolutely be a good quarterback, just has to work out some mechanics.
Most things out of A Day should be taken with a grain of salt. It's one thing to look good in a scrimmage against your team and another to play in an hostile road environment in the fall.
Even for just a scrimmage though, both Milroe and Simpson show a lot of promise with their skills set and can both be big assets to Tide down the road. Plus, possibly adding Arch Manning to the mix? This quarterback room has a bright future.