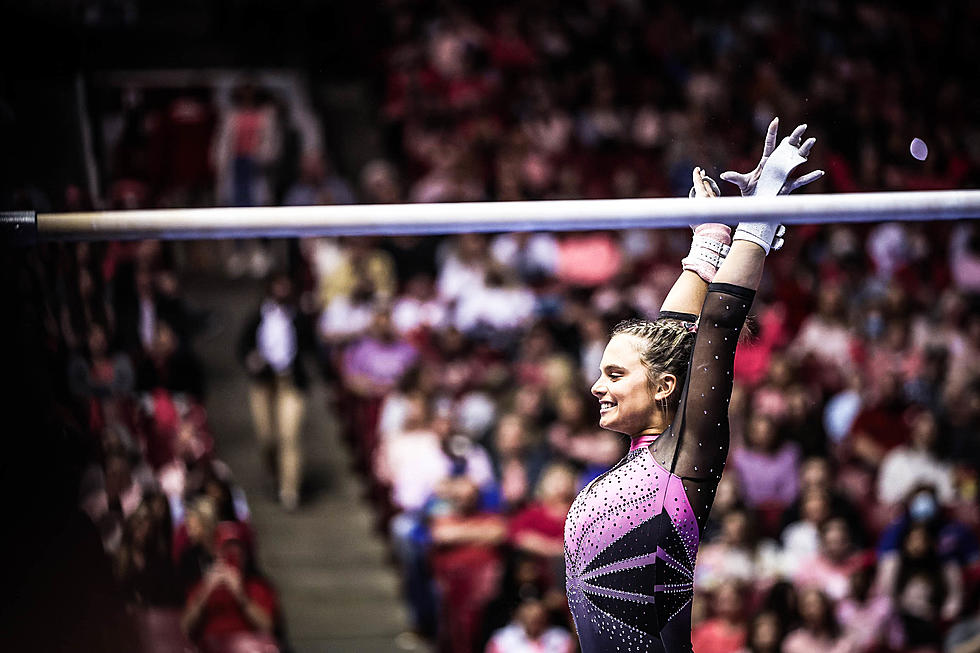 Bama Beats Bulldogs in Gymnastics Rivalry
Photo Courtesy of @BamaGymnastics via Twitter
The No. 8 Alabama Crimson Tide gymnastics team beat the Georgia Bulldogs 197.475-196.800 in the 18th annual Power of Pink night at Coleman Coliseum in Tuscaloosa, Ala.
"Alabama gymnastics is bigger than just gymnastics," said Alabama head coach Dana Duckworth. "I just feel like the unity being created makes the team come alive."
Alabama's vault started a little too strong, with a couple of errors throughout it. Shania Adams missed her landing, receiving the dropped score of a 9.300. Makarri Doggette and Lexi Graber both lost their balance on the landing; however, they scored well. Doggette finished with a 9.825 and Graber with a 9.875, aiding Alabama to the early lead against Georgia 49.250-49.100 after one round. 
Georgia's vault was nearly perfect, each gymnast scoring at least a 9.8 or better. Unfortunately for the Bulldogs, four of the Tide gymnasts scored a 9.9 or higher on the bars, including: Luisa Blanco, Doggette, Lilly Hudson, and Cam Machado. Alabama kept its narrow lead on Georgia 98.750-98.525 after two rounds. 
Georgia and Alabama competed almost evenly on the third event, with Alabama on the beams and Georgia on the floor. The difference, however, was Bulldogs Perez-Lugones missing her landing on her floor flip and stepping out of bounds, forcing her 9.65 to be dropped. Alabama's Shallon Olsen scored a team beam high of 9.9 to help Alabama maintain the lead 147.975-147.725 after three rounds. 
Emily Gaskins led off the floor routine, giving a shoutout to UA, using Alabama-themed songs, and even used the Dixieland Delight dance in it, scoring a 9.875. Hudson and Blanco led the floor routine, Hudson scoring a 9.95 and Blanco a 9.9 to secure the win for the Crimson Tide. 
"On all four events, every single leadoff (gymnast) did its job. The goal is to maintain the momentum, get on that train and get rolling, and when you have a dip, the next second is more important and we did a lot of that tonight. That will make us stronger," said Duckworth. 
Makarri Doggette left the floor with a knee injury. She fell on her first floor flip, landing on her knees. She was carried off, and came back moments later in a boot. 
Alabama travels to Baton Rouge, La., February 18, 2022, to take on No. 5 LSU in a Top-10 SEC showdown. The meet starts at 8 p.m. CST and will be aired on ESPNU.
Alabama Crimson Tide All-Time Passing Leaders
The 2021 season is in the books and after Bryce Young's Heisman campaign, the all-time passing leaderboard requires an update.
Alabama Athletes With NIL Deals
The biggest evolution in college athletics history is here. Check out which current Alabama athletes hold NIL deals in this ever-expanding and changing photo gallery.
Paradise From the Stands, Some of my Favorite Stadiums