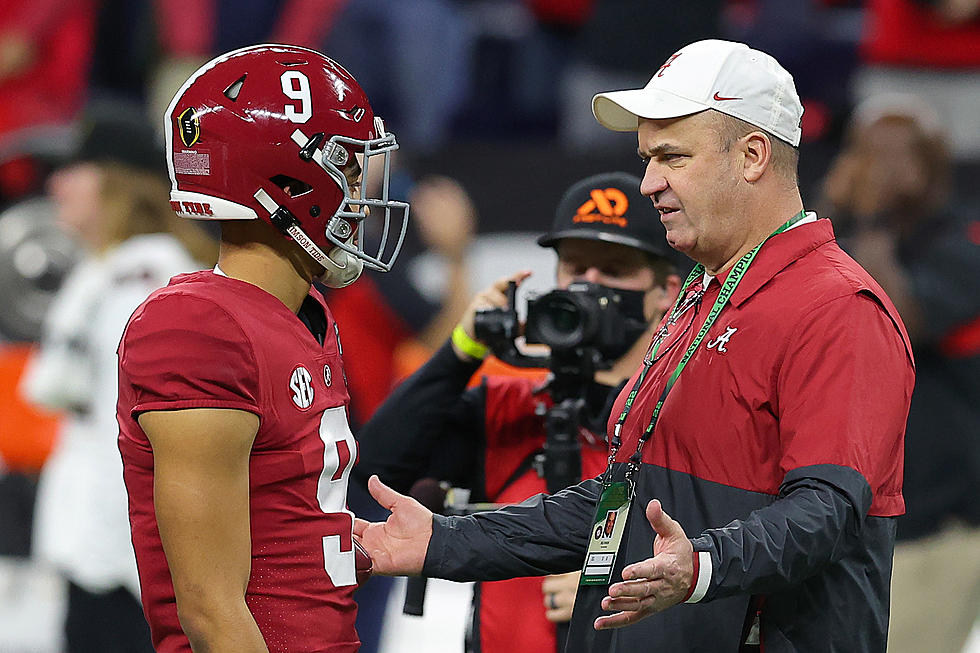 Bill O'Brien is a Better OC Than Bama Fans Think
Getty Images
Nearly a year ago when Bill O'Brien was announced as the new offensive coordinator of the Alabama Crimson Tide, I and many fans were hesitant to be excited about his arrival. He had just had a horrendous calendar year with the Houston Texans as its head coach and general manager after trading DeAndre Hopkins for a couple of draft picks and a 30-year-old running back.
Coupled with his questionable player management was a reputation to be hard and demanding on the practice field. In today's environment, it was easy to see why that may clash with younger football players.
Clearly, all of that was short-sighted thinking. O'Brien learned the playbook from Mac Jones, meshed with Bryce Young and the Crimson Tide offense and helped orchestrate one of the country's most proficient offenses.
Still, as O'Brien prepares to interview for the head coaching vacancy in Jacksonville, many fans of the Crimson Tide are anxious to signal adiós to the 2021 offensive coordinator.
As Lee Corso would say: "Not so fast my friend."
First of all, O'Brien isn't a lock to take over for the Jaguars. Former Jacksonville Jaguars quarterback turned Tampa Bay Buccaneers offensive coordinator Byron Leftwich is a prime candidate to take over in Duval. There are other opportunities such as the offensive coordinator spot with the Carolina Panthers that make some sense too, but his exit from Tuscaloosa isn't guaranteed.
Should he leave, Alabama will be severely behind the eight-ball on finding his replacement simply because it played in the national championship. The best candidates have already settled into their 2022 landing spots. Sure, Saban has the bankroll and backing to have whoever he wants and could pull from the NFL once again, but it's difficult to guarantee an upgrade over O'Brien.
And that's just it, even if Alabama were in an advantageous space to hire a new offensive play-caller, upgrading from Bill O'Brien will be really difficult because he did a really good job in 2021.
Alabama was outgained in yardage by only one team nationally - Western Kentucky.
Alabama scored 69 touchdowns offensively, third-most in the country.
Alabama was one of only eight Power 5 programs to gain at least 6.5 yards per play.
Alabama's 52% conversion rate on third downs was third-best in the nation behind Ohio State and Coastal Carolina.
Alabama scored on 93% of its red-zone possessions, fifth-best in the country.
Bryce Young broke both single-season passing records throwing for 4,872 yards and 47 touchdowns.
All of this was with arguably the worst offensive line Alabama has fielded during Saban's tenure, with very little experience at wide receiver behind John Metchie and Jameson Williams, wildly inconsistent play at the tight end position and debilitating injuries at running back.
Maybe his playcalling wasn't quite as squeaky clean as Steve Sarkisian or as dynamic as Lane Kiffin, but he didn't exactly have the same benefits outside of having the best quarterback, which played a big role in his offense's success.
Besides, if O'Brien really did as bad of a job as some fans seem to think, he wouldn't be getting calls to interview for head coaching positions. Either way, O'Brien's tenure with the Tide should be looked upon with pride.
Iconic Photos From Alabama's 18 National Championships
Claimed or recognized, no FBS football program has more national championships than the Tide. Look back on all 18 titles in Alabama history with these photos.