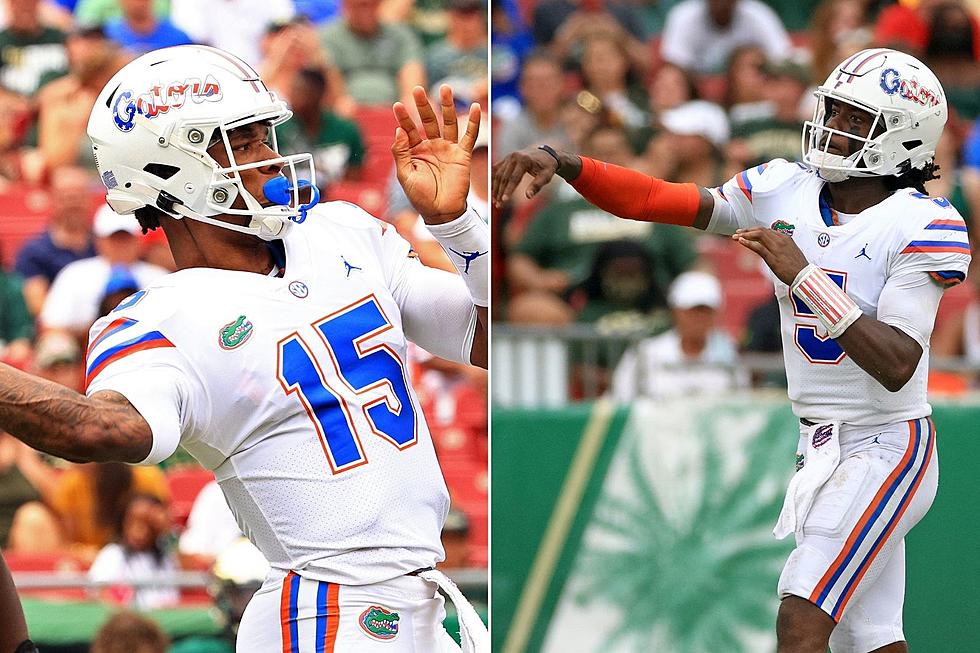 Breaking Down Florida's QB Duo Ahead of Bama's Trip to The Swamp
Getty Images
The Florida Gators are in a state of limbo at the quarterback position, whether head coach Dan Mullen wants to admit it or not. Junior Emory Jones has been the quarterback in waiting the past three seasons, but he could be the odd man out with the 2021 performance of redshirt freshman Anthony Richardson.
Naturally, the Gators have opted to role with the marginally experienced Jones to begin the 2021 campaign, but his job is anything but secure. In two games against the likes of Florida Atlantic and South Florida, Jones has completed 31 of 49 passes for just 264 yards, two touchdowns and a concerning four interceptions.
Jones has long been touted for his athleticism as a runner over his passing skills, but it's become much more clear in the early stages of this season why Mullen kept Jones under wraps with just 84 career passes heading into this season. Jones has always flashed speed and agility when given opportunities, rushing for 669 yards and seven scores at this point in his career.
Still, his carelessness with the ball has to be concerning in the mind of Mullen as his team prepares to host a defense that has already forced five turnovers in its first two contests.
Jones isn't a bad quarterback by any means. He's completed 63% of his passes over his career, as well as through his first two games this year. His problem, though, appears to be consistently reading defenses. If his first read is open, he performs well, but coming to his second read and beyond isn't a strong suit for him.
Neither is looking off safeties or defenders that could disrupt a passing lane. As he does in this next play, if he knows his first read should beat the coverage, he can get too comfortable with waiting for his man to come open.
These are mistakes Florida cannot afford against a team like Alabama. Not only would this defense have a field day with his sloppy passing, the Crimson Tide offense in turn would take full advantage in putting points on the board.
The Gators have a potent rushing attack, and much of it comes from the quarterbacks. But make no mistake, for all of Jones's skill as a runner, he's not nearly as dynamic as his backup, Anthony Richardson.
Jones isn't a hard runner, stacking up at 6-foot-2, 211lbs. His running style is ideal for a quarterback: he goes down when he knows he's been had and he'll use the sideline for protection. The problem for Jones against Alabama is that won't be enough. The speed and pursuit of Alabama's defense is far greater than many of the teams Jones has seen extensive action against, though he did see a  small sample of success against Alabama in the 2020 SEC championship game.
If Jones can't get it done early against Alabama with the advantages The Swamp provides, don't be surprised if Mullen calls on the services of No. 15. The new No. 15.
Anthony Richardson may be inexperienced, but he's extremely dynamic. He deals in big plays almost exclusively. Making lesser competition look as though it doesn't belong on the field with him is routine.
Richardson has thrown 13 career passes, completing just seven. Three of those seven completions went for touchdowns, two this season. This season alone, Richardson is 6-11 passing for 219 yards. Keep in mind, he's splitting duty with Jones, not mopping up.
Richardson has rushed for 275 yards and two touchdowns on 11 carries. He's done more on 22 called plays for himself than Jones has all season, to put it plainly.
Compared to Jones, Richardson is a more aggressive runner and possesses more elite long speed to boost.
If Mullen and the Gators learned anything in the 2020 SEC championship game, its that to compete with Alabama not only will the Gator defense need to improve, but the offense has to be able to score at will to keep up with the Crimson Tide. Replacing Kyle Pitts, Kyle Trask and Kadarius Toney is no easy task, to be sure. But Jacob Copeland at wide receiver is a nice start and Anthony Richardson is the final touch.
Before the murky waters of Gainseville settle, though, Mullen will have a choice to make: Play for a win on Saturday or play to learn about his quarterbacks. The opportunity to beat the Crimson Tide doesn't come around often, especially for an SEC East team, which hasn't beaten the Crimson Tide since South Carolina pulled off the upset in 2010.
Linebacker Brenton Cox said the Gators are ready for Alabama. Whether he was speaking for just his defense or not is left up to question. Because if Mullen isn't ready to make the right call at quarterback, The Swamp is already drained.
The Alabama Crimson Tide 2021 Defense
The Alabama Crimson Tide led the SEC in scoring defense in 2020 holding opponents to 19.4 points per game. The Tide is expected to be even stronger on defense this fall, returning several starters from last year and an impactful transfer.
Alabama Crimson Tide All-Time Passing Leaders
Here's Why Every SEC Team is Inferior to Alabama