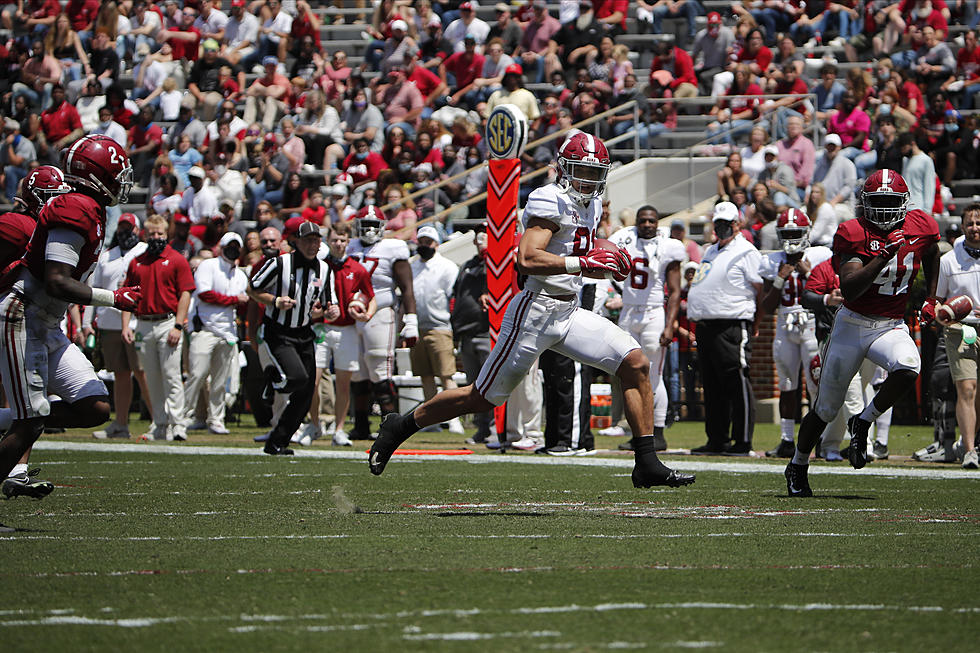 Cameron Latu Impresses in Atlanta
Crimson Tide Photos / UA Athletics
Jahleel Billingsley might be the most talked about tight end at Alabama, but redshirt junior Cameron Latu was also on many people's watch lists coming into the season. He certainly proved those people right on Saturday, contributing three receptions for 43 yards, as well as two touchdowns.
Latu, a four star defensive end recruit out of Utah, joined the Crimson Tide in 2018, even recording a tackle in the season opener against Louisville while still in his defensive role. After redshirting most of that season, Saban came to Latu with a proposition: switch positions to tight end.
At 6-foot-5 and 250 pounds, with serious athleticism and good hands, the switch was one that made sense both for Saban and Latu. He steadily received more playing time as he got more comfortable with this new role, playing 11 games in 2019 and 12 in 2020, mainly on special teams. When the 2021 roster was released a few days ago, many were surprised to see Latu listed over 2020 breakout star Jahleel Billingsley. For Latu though, it was certainly the culmination of years of hard work.
As hinted at by his incredible A-Day scrimmage touchdown, 2021 looked bright for Latu. When it was time to contribute against Miami, he delivered. The first two catches of his Alabama career were both touchdowns, including two vicious stiff arms on the 27 yard rumble to the endzone for his second touchdown. He definitely helped contribute to making first-time starting QB Bryce Young more comfortable, and the development of chemistry between the two will certainly be something to watch as the season progresses.
His breakout performance against Miami seems to be only the beginning for Cameron Latu. Earlier today, the tight end was added to the Polynesian College Player of the Year watchlist. He will look to continue his hot start as the Crimson Tide take on Mercer at home this coming Saturday, Sept. 11.
Alabama vs Miami Week 1 2021
The Alabama Crimson Tide went to Atlanta and beat Miami 44-13 in Mercedes Benz Stadium. Nick Saban is now unbeaten in season openers with Alabama.