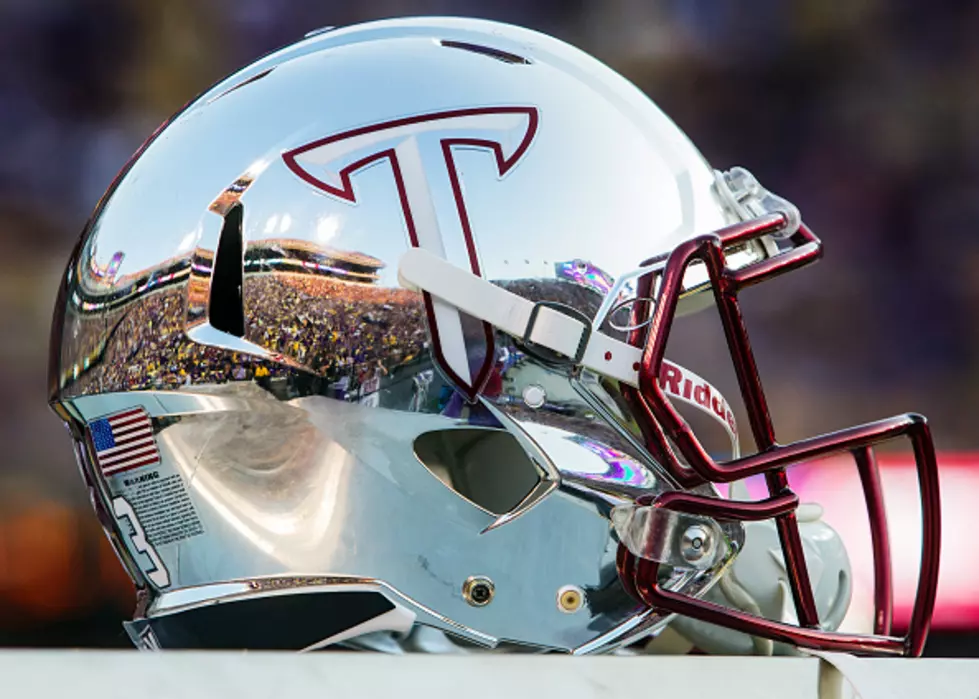 College Football around Alabama: Rivalry Weekend
Icon Sportswire via Getty Images
Auburn's decisive 26-14 victory sent reverberations around college football as the Tigers punched their ticket to the SEC Championship Game on December 2 while the Alabama Crimson Tide will await another week for the release of the final College Football Playoff rankings.
Elsewhere around Alabama, UAB and Troy finished November victorious while Samford and West Alabama battled in their first playoff games of the season.
Troy Humiliates Texas State
The Troy Trojans scored early and often in a 62-9 trouncing of Texas State Friday afternoon.
Troy scored on 10 of their first 14 possessions while never facing much resistance from Texas State's defense.
Trojans quarterback Brandon Silvers completed 22-30 passes for 380 yards with four touchdowns and no interceptions.
While Troy did not commit a turnover, Texas State gave the ball away four teams leading to 24 points for Troy.
The Trojans improve to 9-2 overall, 6-1 in Sun Belt Conference play and will host Arkansas State on Saturday to decide the conference championship.
UAB Sets New Program Record for Wins
In their regular season finale, the UAB Blazers won their eighth contest of the season by defeating UTEP 28-7.
The eight wins for UAB sets a new school record for wins in a season.
UTEP scored their only touchdown of the game late in the first quarter on a two-yard scoring pass from Zack Greenlee to Josh Weeks and led for much of the first half as UAB knocked home two field goals from placekicker Nick Vogel.
With the Miners leading 7-6 late in the second quarter, junior cornerback Broderick Thomas intercepted a Greenlee pass and returned it to the UTEP 30. Three plays later, UAB signal caller A.J. Erdely delivered a 30-yard scoring strike to wide receiver Collin Lisa. Spencer Brown's added a two-point conversion run to make the score 14-7 at halftime.
Erdely added a 10-yard touchdown run and an 11-yard touchdown pass in the third quarter for the final points of the day.
UAB will learn their bowl destination next week while UTEP closes the season 0-12.
West Alabama Advances to Division II Quarterfinals
The UWA Tigers started slow out of the gate but recovered to topple rival Delta State 27-20 in the second round of the Division II Playoffs.
Delta State got out to a hot start scoring a touchdown on their opening drive and a field goal on their second drive while UWA went three and out on their first two drives on offense.
The Tigers turned it around in a hurry as they exploded for 27 unanswered points including 20 points in the second quarter. In that run, UWA signal caller Harry Satterwhite found receiver Donta Armstrong for both of their scoring passes in the game.
After UWA took a 27-10 lead in the third quarter, Delta State scored 10 straight points to cut the lead to 27-20. Late in the fourth quarter, West Alabama cornerback Tevin Madison forced and recovered a fumble from Delta State's Willis Chambers to seal the victory.
West Alabama hosts West Florida Saturday at noon in the NCAA Division II Quarterfinals.
Samford Eliminated from the FCS Playoffs
The Samford Bulldogs traveled eastward for their first round FCS Playoff game and struggled in a 28-17 loss at Kennesaw State.
Samford scored on their opening drive of the game thanks to Jordan Weaver's 40-yard field goal with 9:51 left in the first quarter.
The Bulldogs led 3-0 heading into the first quarter, but the game would quickly change. Kennesaw State scored 21 of their 28 points in the second quarter as Owls quarterback Chandler Burks accounted for all three touchdowns with a rushing touchdown and two touchdown aerials to receiver Justin Sumpter.
In the third quarter, Kennesaw State cornerback Akebren Ralls intercepted a Devlin Hodges pass and ran it back 55 yards for their final score of the day.
Samford had 28 first downs to 15 for Kennesaw State but Kennesaw State's 329 rushing yards was the difference in the game. Also, the Bulldogs cashed in on just two of their four opportunities in the red zone.
Samford finishes the season 8-4.
No. 6 Auburn                     26           No. 1 Alabama                   14
UAB                                   28           UTEP                                   7
Troy                                   62           Texas State                          9 (November 24)
Kennesaw State                28           Samford                             17                            (FCS Playoffs: 1st Round)
West Alabama                  27            Delta State                         20                              (NCAA Division II Playoffs: 2nd Round)
Alabama State                 37             Edward Waters                    3                            (Turkey Day Classic: Thanksgiving Day)