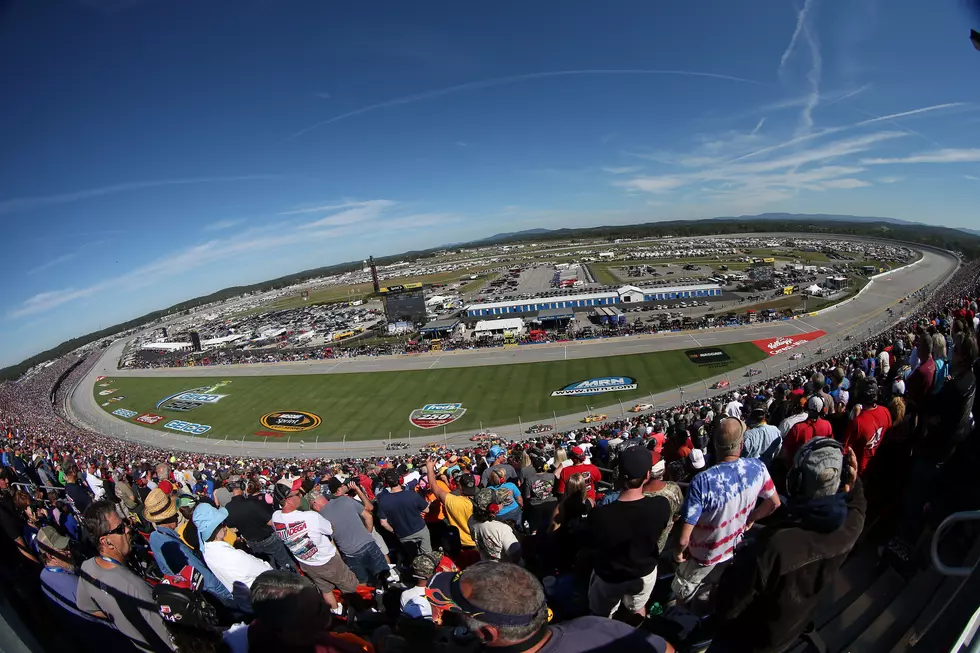 Column: Talladega, Braves Cap Perfect Southern Sports Weekend
Getty Images
Quarter notes and Hank's half time. Are poundin' on this heart of mine. Song to song, I pass my time. With these speakers on ten.
The notes of Eric Church echoed through the airwaves of my car Sunday night.
After watching the Braves reclaim the lead from the Mets at a Pell City Buffalo Wild Wings, I set out on the rest of the trek across the state back to Tuscaloosa.
For I had just witnessed a weekend in which my hometown Atlanta Braves and my favorite NASCAR driver each reached the pinnacle of success for the current tasks at hand. Of course, all of this happened to transpire in the company of my father, who met me halfway between the confines of Atlanta and Tuscaloosa in this little valley field with a race track called Talladega.
Chase Elliott, the son of NASCAR legend Bill Elliott and sport's most popular driver, won a playoff race at Talladega, the track I witnessed my first race at in 2020. Hendrick Motorsports' shining star locked himself into the next round of the playoffs, with my father  and I looking on in the very spot our NASCAR bond began.
Just one week prior to Talladega, Elliott blew a tire and crashed at Texas Motor Speedway, putting himself on the brink of elimination heading into 'Dega weekend.
Would a summer of dominant success and winning slip away after one key mistake? Was this really it for the No. 9 NAPA AutoParts Chevrolet with a wreck at 'Dega on Sunday?
A stage win and 188 side-by-side laps of racing action later, the answer turned out to be resounding no. Elliott chose to stay aggressive at Talladega on Sunday, going for each and every point he could pick up. Sure, this increased the potential of crashing and dashing any hopes of advancing in NASCAR's second-round of the playoffs.
But in life, if there is no risk, often there is no reward at the end of the tunnel either.
As the sun set on a confetti-filled Talladega Superspeedway, another battle was about to take place just down highway I-20 into Georgia.
90 minutes to the East of 'Dega, the Atlanta Braves were about to complete a sweep of the New York Mets, cutting their magic number for a fifth-straight division title down to just one game.
While cars slowly filed out of the vast acreage of grass lots around Talladega, it was time for a quick stop at the semi-annual destination of Pell City's Buffalo Wild Wings.
As annual customers of Talladega's spring and fall racing festivities now, my family and I have made it a tradition to stop at the Buffalo Wild Wings just across the other side of the Coosa river.
What started as a quest to find the nearest sports bar a few years ago, has now turned into a semi-annual tradition in April and October before parting for Tuscaloosa and Atlanta.
For all intents and purposes, this happens to be the halfway point between two places I call home. It was only fitting that a perfect sports weekend included a victory by the No. 9 at Talladega and a Braves comeback from the seats of this corporate American sports bar.
Oh and did I mention hearing the final out from Sunday's game on the radio as I turned towards Tuscaloosa? For anyone as romantic about baseball as I am, you probably know just how special the game sounds on the airwaves of a transistor radio (or in the modern day the Bluetooth app on one's cellphone).
How can you not be romantic about baseball? Sports sure are a beautiful thing.
Just listen to this farewell address from the late Vin Scully after signing off one final time.
Turning on Vin Scully's call of a baseball game before going to bed and having a game of catch with dad may seem so fickle. However, they are just small glimpses into the beauty sports bring to our lives and how important memories can be.
Staying aggressive and at the front-end of the screaming pack of suped-up engines at Talladega proved to be the winning strategy for Elliott on Sunday.
For the Braves, going for the kill and avoiding the typical strategy of playing not to lose, one which so many Atlanta-based teams had perfected to an art, was not an option.
All of these events happened on the same day Alabama reclaimed the No. 1 spot in the AP Top 25 poll after a 49-26 win at Arkansas. Of course, this likely would not have been possible if Nick Saban did not demand better out of the play-calling booth in Fayetteville and turn to the run game to shove it down the Razorbacks's throats.
In short, you could not have scripted a better southern sports weekend for those into the Crimson Tide, Atlanta professional teams and cars that turn left.
Talladega happened. A packed-out crowd witnessed one of the cleanest races in the track's legendary history. The Braves set themselves up to retain their crown atop the NL East. Alabama found an offensive spark plug on the road in a college football game once again with 'Joyless Murderball' as the fans like to call it.
For as chaotic as the world around us may be... as unpredictable as the sports world is on any given day... everything seemed to be perfect by the end of Sunday night upon my return to the Druid City.
Of course, life happens and the same Braves team that looked indestructible vs. Jacob deGrom, Max Scherzer and Chris Bassitt did lose to the Miami Marlins on Monday night.
Sunday showed us a short glimpse into the joy sports bring into my life. As a fan of the game, winning is an added bonus one can feel at the end of the daily experience a competition brings. Witnessing success can bring about some of the highest highs a sports fan can feel.
But if there was no risk factor, no suspense or even a tad bit of occasional losing, the winning would not feel as special as it does when it all does go right.
I've been to thousands of sporting events, competed in hundreds and covered several dozen from a press box or field-level view. Winning as a player or a fan in the stands never truly gets old. Through all of it, the memories made are what I cherish the most.
The character built up from the highs and lows of sports. That thrill of walking into a stadium or race track before the action builds. Heck, even the feeling one gets upon departure is indescribable in its own way.
Sports are one of the most sacred hobbies a man can partake interest in across this thing we call life. For in games such as baseball, one can go through an entire roller coaster of emotion, friendship, bonding and true astonishment in just a few short games.
How cool is it that all of us can get up on a given Saturday or Sunday and gather at a place like Bryant-Denny Stadium, Truist Park or Talladega Superspeedway? Thousands of us, all together, in a place to make memories and experience the wonders of the world.
NASCAR announced that Talladega's Sunday race had fans present from all 48 landlocked states in the grandstands.
Think about that for a second. At least one person from every state in the main chunk of the United States showed up to a race on Sunday.
By now, there are fans from that Sunday race spread across an entire continent once more. But on that afternoon, they were all together, watching cars turn left at Talladega.
No matter what happens in the competition at these events, there's a very good chance you're in a crowd with at least on person you've never met and at least one person you may never cross paths with again.
With each event, comes the opportunity to meet at least one new person or maybe even more. Having attended countless upsets, all-time classics and even blowout wins, as long as there are multiple competitors on the playing surface, history will be made at any event where there is something to be gained.
It has been a true blessing to attend the majority of Alabama's home football, basketball and baseball schedule dating back to last fall. In addition, I have probably hit up around a third of the Braves' home games this season, with half of the postseason home slate seen from The Battery or inside Truist Park last year. NASCAR makes the travel thing a bit more difficult, but I have still managed to hit a third of the races on the schedule this year too.
In the past month, I have driven across the South in every which way. Daytona International Speedway, Bristol Motor Speedway and Talladega Superspeedway check off my 'big-three' of tracks visited in the past five weeks. In between those dates? Oh just a few great weekends spent watching the Tide in Bryant-Denny and with friends for away games.
My hope is that by the time you are reading this conglomerate of words about race cars and stick and ball games, the Braves will have officially clinched the NL East and finished off those pesky Mets.
Despite all the uncertainties life and sporting event outcomes may bring, I will forever smile knowing that whatever 2022 has left in store, it truly was (in the words of Eric Church) a 'Record Year'.
Northridge beats ACA 42-28
Haleyville vs Northside 9/16/22
The Haleyville Lions defeat the Northside Rams in an upset victory on the road.
Hale County @ ACA Football Game 9/16
American Christian Academy takes on Hale County High School for ACA's homecoming game