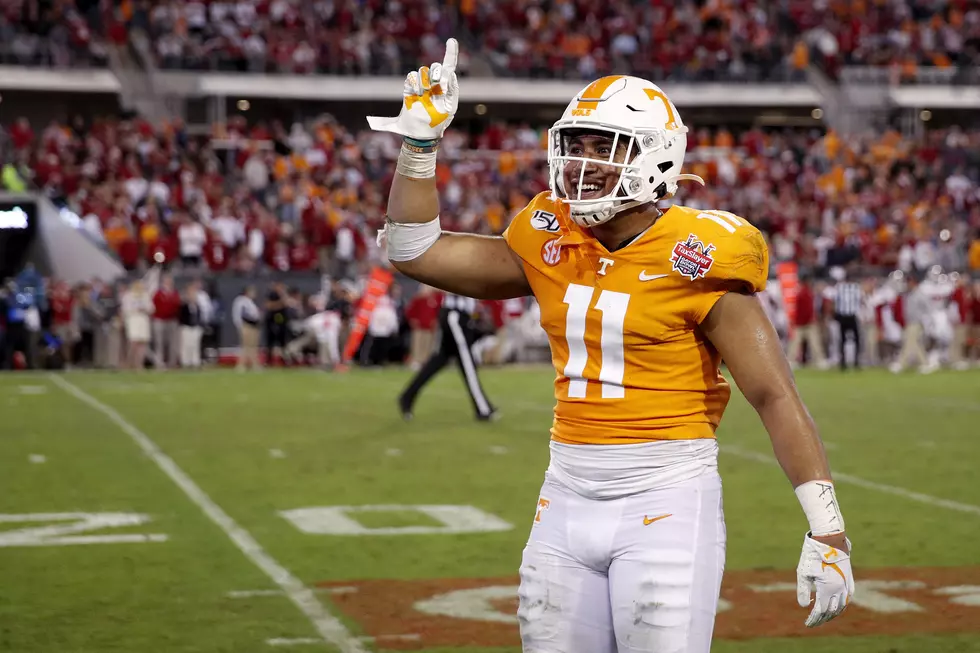 Decorated Tennessee LB Transferring to Alabama
Getty Images
Tennessee Volunteers linebacker Henry To'o To'o announced via social media Saturday morning his intentions to transfer to the Alabama Crimson Tide.
The 4-star linebacker from De La Salle High School in Concord, California joined Tennessee as a part of the 2019 recruiting class. He chose the Vol's over Alabama, Utah and Washington.
To'o To'o (pronounced Toe-o Toe-o) made an immediate impact on the Volunteer defense, taking a starting role as a freshman. He earned Freshman All-American honors in 2019 after starting 12 games as a freshman and recording 72 tackles on the year, good for second on the Tennessee defense. Last season, To'o To'o racked up a team high 76 tackles. In his two years he's responsible for 12.5 tackles for loss, 1.5 sacks, a fumble recovery and an interception which he returned 32-yards for a touchdown against South Carolina.
The idea of To'o To'o transferring to Alabama has been a popular discussion since former Tennessee head coach Jeremy Pruitt was fired amid recruiting violations in the football program. To'o To'o entered the transfer portal just two days after Pruitt was fired, and the longstanding thought was should the NCAA loosen it's transfer rules, he'd head to Alabama and if not he'd return to Tennessee for one last season.
The NCAA formally adopted new transfer rules in April that permit players to transfer to another program without sitting out a year.
To'o To'o figures to step in as a starting linebacker next to Christian Harris in the Crimson Tide defense this season. Still, he won't take the field without competition. linebackers Jaylen Moody and freshman Dionte Lawson were the starting linebackers for the Crimson Team at A Day and performed quite well.
To'o To'o is the second player to transfer to Alabama in the past week, joining wide receiver Jameson Williams from Ohio State, who announced his transfer last Monday.
Read More: Ohio State WR Announces Transfer to Alabama
The 2021 Alabama Football Schedule in Photos
The 10 Greatest College Football Rivalries