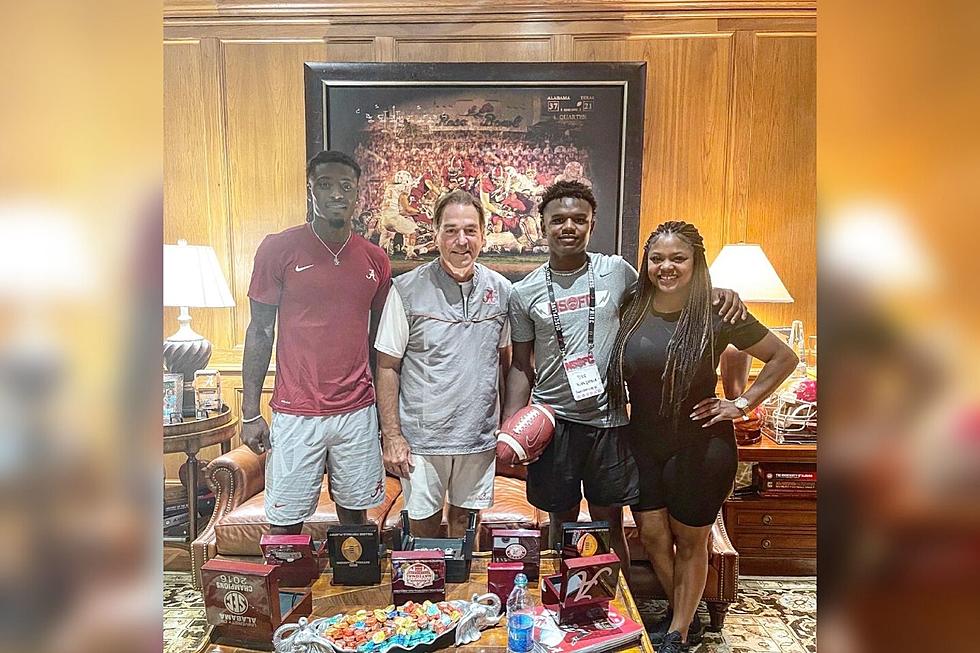 Dre Kirkpatrick's Son Visits The Crimson Tide
Photo Courtesy of Dre Kirkpatrick, Jr. Twitter | @KirkpatrickDre
The Alabama Crimson Tide could soon see its first legacy player from the Nick Saban era join the program. Former Alabama cornerback and current NFL free agent Dre Kirkpatrick joined his son, Dre Kirkpatrick, Jr., on a visit to his alma mater over the weekend.
Kirkpatrick, Jr. is a 2024 athlete prospect from Gadsden City High School, where his father was recruited as a 5-star cornerback in 2009. Kirkpatrick, Jr. also plays defensive back for the Titans, primarily at cornerback. He also doubles as a running back. Kirkpatrick, Jr. lists himself at 6', 175lbs.
"I had a good time," Kirkpatrick, Jr. told Tide 100.9. "Coach Saban is cool."
Kirkpatrick, Jr. shared several photos of his visit to his Instagram account, while his father shared a healthy amount of videos from his camp workout to his Instagram Story.
Just a rising junior for the Titans in the upcoming season, Gadsden City football will lean on Kirkpatrick, Jr. to rebound from a 3-6 record in 2020. The multi-sport athlete also plays basketball, baseball and track.
Dre Kirkpatrick, Sr., played for the Alabama Crimson Tide as a cornerback from 2009-2011, leaving Tuscaloosa with two national championship rings. He was a first-round draft pick in the 2012 NFL Draft, going 17th overall to the Cincinnati Bengals. He played in Cincinnati for eight seasons before heading to Arizona for the 2020 season. He's currently a free agent but still has interest from NFL clubs, having visited the New Orleans Saints earlier this month and the New England Patriots in May 
Kirkpatrick, Jr. is still early on the recruiting circuit and has visited UAB recently. Having attended camp at Alabama and circulated some buzz around his name in the process, don't be surprised to see his name pop up more in the coming months and years.
Crimson Tide's NFL Draft First-Rounders During Saban's Tenure
Take a look back on the Crimson Tide's first round selections under head coach Nick Saban.
Highest Rated Recruits of the Saban Era