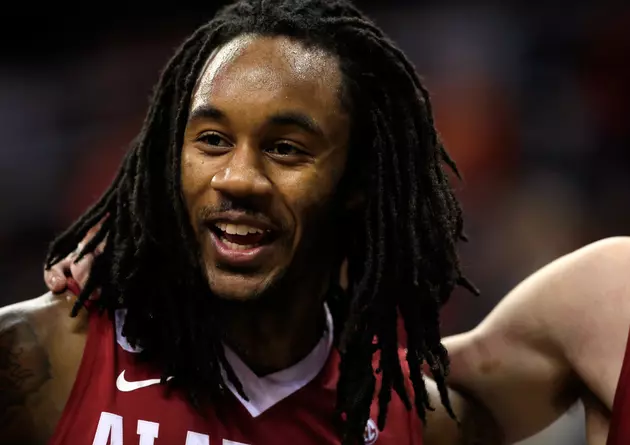 Former Alabama Guard Levi Randolph Will Play in the 2017 NBA Summer League
Getty Images
Alabama's former standout shooting guard Levi Randolph will get another chance to make a NBA roster this upcoming season when he joins two teams in the NBA Summer League.
The NBA Summer League is designed to give upcoming rookies, second year players, unsigned rookies, and G-League (formerly known as the NBA Developmental League) players to showcase their talents to NBA teams and scouts for a possibly roster spot.
This will be Randolph's third stint in the NBA Summer League playing for the Oklahoma City Thunder and Utah Jazz after going undrafted in 2015, and joining the Philadelphia 76ers and Memphis Grizzlies in 2016. Randolph averages 6 points and 3 rebounds in his six summer league appearances including averaging double figures in points last summer.
After the 2015 NBA Summer League, Randolph signed with the Boston Celtics, but was waived after two preseason games. He would join the Celtics developmental team, the Maine Red Claws, and spent the entire 2015-16 season with the team averaging 14.8 points and 4.9 rebounds in 50 games.
Since his NBA exit in 2016, he has played in Italy for the Sidigas Avellino and Dinamo Sassari. Last season, he played 30 games averaging 10.6 points and 3.2 rebounds per game shooting 47 percent from the field, 45 percent from three-point range.
Players have used the NBA Summer League to revive their careers and make it on a NBA roster. Forward Christian Wood was a UNLV Rebels standout, but was undrafted in 2015. After bouncing back and forth from developmental and the NBA, Wood used the summer league platform last year and was signed to the Charlotte Hornets where he played 13 games before going back to developmental.
Randolph could use this summer to get him a spot in the NBA or a developmental team, or develop his skill set to go back to Italy.
The NBA Summer League begins on July 1-6 in Orlando and ends on July 17 in Las Vegas.