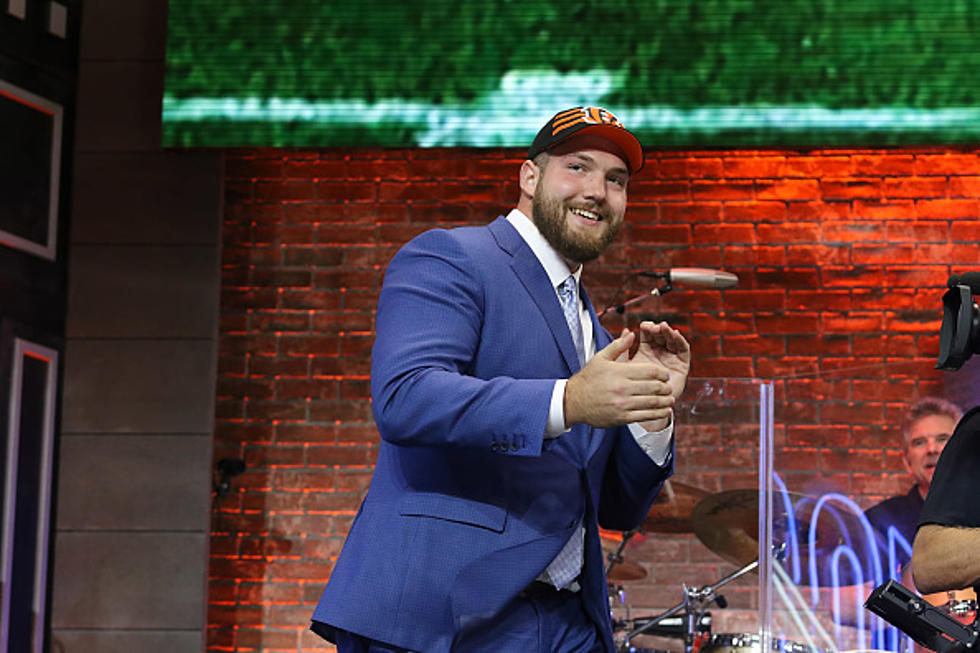 Former Alabama Player Weighs in on SEC Stadiums vs. Arrowhead
Icon Sportswire via Getty Images
Cincinnati Bengals offensive tackle and former Alabama player Jonah Williams spoke on the loudness of SEC stadiums vs. Arrowhead Stadium as the debate grew before their big game Sunday.
After a wild week of divisional round games in the NFL, Cincinnati found out that they had to play at Kansas City in the AFC Championship game. As kickoff to the game at Arrowhead got closer, a quote made by Bengals QB Joe Burrow earlier in the season about SEC stadiums being louder than any NFL stadium went viral over social media and had some Chiefs fans riled up.
Williams, who had seen a fair share of SEC stadiums in his time with the Crimson Tide as well as NFL stadiums, played as the middle ground between his QB and the Kansas City fans. "I think the SEC [stadiums] can be loud and Arrowhead can also be loud," Williams said. "I don't think anyone means to slight them by saying that."
Chiefs fans did have a valid argument against the case that SEC stadiums are louder than Arrowhead though, as the stadium holds the record in the Guinness World Records for the "loudest crowd roar at a sports stadium." In a win in a 2014 Monday Night Football game against the New England Patriots, the crowd had a roar that reached 142.2 decibels. The loudest sports stadium is a record that Kansas City and their fans might be especially proud of as they had a back-and-forth with the Seattle Seahawks for the record in 2013, before finally taking it for good in 2014.
On the other hand, Burrow, and any other SEC fans who agreed with his claim, had a point too as Arrowhead's stadium capacity, officially at 76,416, is smaller than many SEC teams' stadiums. In his two years at LSU, Burrow played home games in Tiger Stadium, a stadium that has a stadium capacity of 102,321, which is more than Arrowhead by a little over 25,000 seats. Even for road match-ups like the one they had against Kansas City on Sunday, Burrow already had experience in places like Bryant Denny Stadium in Tuscaloosa, which has a stadium capacity of 101,821, and put up a solid performance there, much like he did in Kansas City.
The same experience on the road in the SEC can be said for Williams, who in his career at Alabama has played on the road against teams like Texas A&M, LSU, and Auburn, all of which have a larger stadium capacity than Arrowhead.
Along with Williams speaking on the comparison between SEC stadiums and Arrowhead Stadium before their game yesterday, Burrow seemed to have given a bit of credit to Arrowhead's loudness ahead of his game there, though he didn't backtrack his previous comments. "In the SEC, every single week it seems like every stadium is really loud, there's hundreds of thousands of people," Burrow said Wednesday. "This one is going to be similar."
In the game on Sunday against KC, the crowd took Burrow's comments personally and greeted him with extra intensity as the Bengals QB made his first appearance on the field. The crowd noise may have gotten to Burrow and the Bengals in the first half, as they went down 21-3 in the second quarter, before they were finally able to shake off some jitters and mount an 18-point comeback, which ties the record for the biggest comeback in AFC Championship history. Much like Burrow, Williams and the rest of the Bengals offensive line, who allowed nine sacks last week against Tennessee, shook off the crowd noise in Arrowhead and only allowed one sack the whole game.
The Bengals will play the Rams in the Super Bowl at SoFi Stadium in Inglewood, California on Sunday, February 13, at 5:30 p.m. CT on NBC.
The 10 Greatest College Football Rivalries
Sneak-Peek at this Exquisite Lake Tuscaloosa Home
Outlandish Myths About Tuscaloosa, Alabama That People Believe
Do Out-of-Towners ACTUALLY Believe these Myths About Alabama?