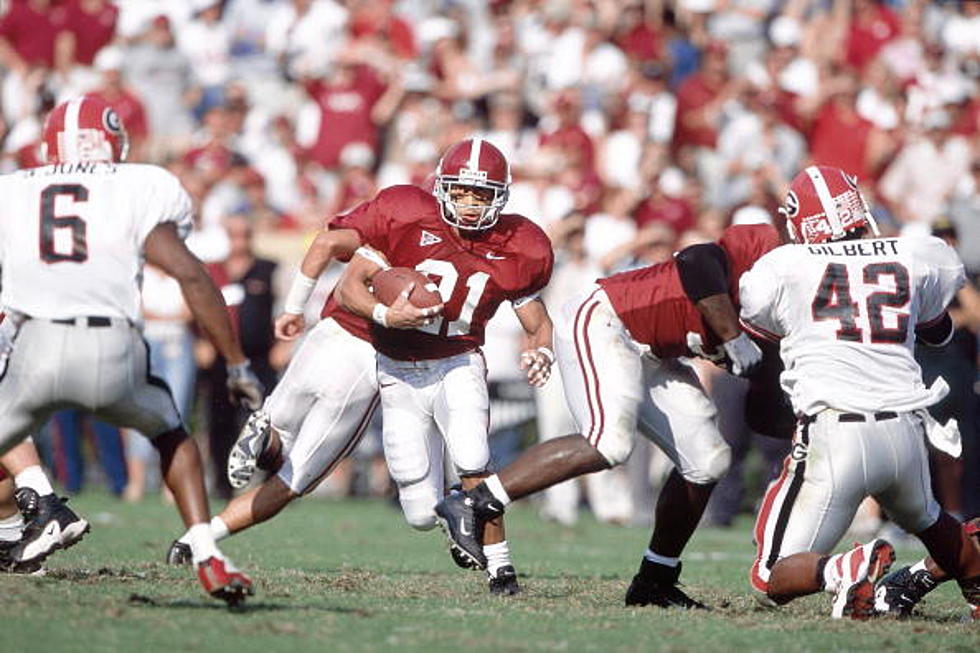 Former Alabama Running Back Shaud Williams Compares Josh Jacobs to Himself [Audio]
(Photo by Bob Rosato/Sports Illustrated/Getty Images)
Alabama's rich football history has always been capped off by the elite level of play from their plethora of top-notch running backs. One of those legends, Shaud Williams, joined Travis Reier and Aaron Suttles for Fridays at the Free to talk some Bama football and to preview Saturday's big match-up between the Tide and Aggies.
The former Tide back thinks this Alabama team is really talented, but he had especially high praise for freshman running back Josh Jacobs: praise that consisted of comparing the young tailback to himself back when Williams was toting the rock.
"Just his running style, I think the way he's built, I think he may be a little heavier than what I played at Alabama... I think he hits the hole pretty quick, he's got an explosive step... I haven't seen him in person, I haven't got to size him up, but just looking at him on TV I would say that my running style resembles [Josh] Jacobs."
When he was playing college football, Williams saw the field quite a bit as a freshman at Texas Tech, running for 658 yards and 7 touchdowns in a pass-happy system. However, he has been extremely impressed with how Jacobs has performed at such a young age, especially given that Jacobs is doing so with the top team in college football.
"It goes to show you how talented he is... It's crazy to think that this guy didn't have a lot of offers coming out [of high school], and here he is starting at an SEC school for the number one team in the nation."
You can catch the entire interview below, and don't miss Travis Reier inside Southern Fried Sports each weekday from 11AM-12PM and Aaron Suttles on The Suttles Approach each day from 12-2 PM.