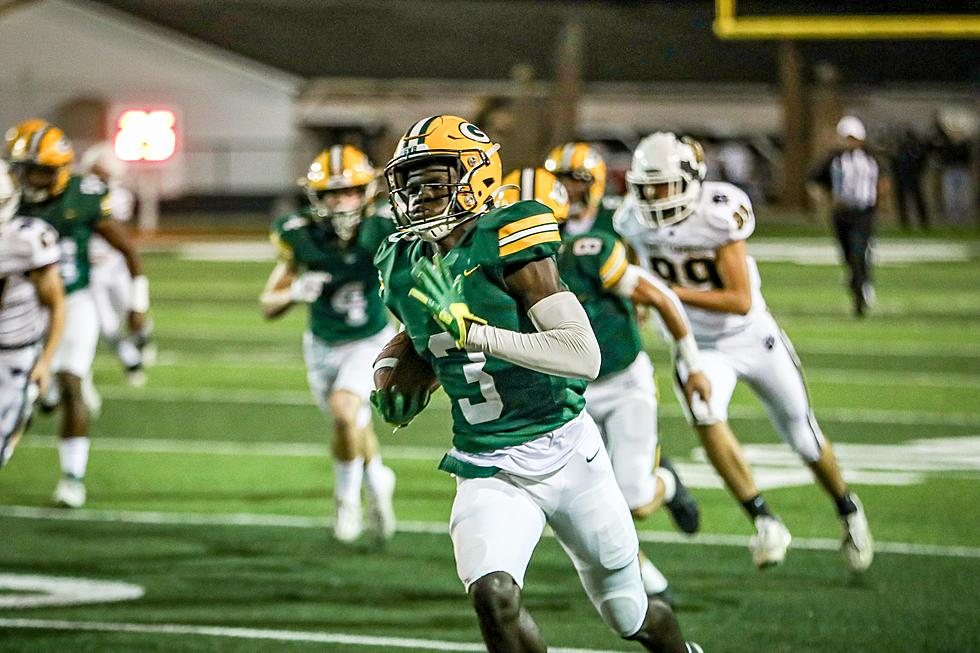 Gordo Destroys Phil-Campbell in 3A Playoffs
Chris Pearson
The Gordo Greenwave delivered a dominant performance in the first round of the AHSAA state playoffs against the Phil-Campbell Bobcats, crushing them 56-6. Despite the Bobcats having a longer time of possession, the game was never close as Gordo was firing on all cylinders on offense, defense, and special teams. The team wasted no time in scoring against Phil Campbell and showcased their strength in all areas of the game.
The Greenwave, led by Ethan Wilder, had an outstanding game with over 150 yards and four total touchdowns. Quarterback Jase Neel also played well, finishing with 99 passing yards for two touchdowns and 34 rushing yards. The defense was impressive, allowing only 130 yards overall, with just 18 passing yards and 112 rushing yards. They also forced four turnovers and 112 rushing yards.
In the first quarter, Gordo scored 27 points. Wilder began the game with an 84-yard kick return for a touchdown. Later, Neel threw a 51-yard pass to CJ Lark, followed by Wilder's six-yard touchdown run. Neel then connected with Lark again for a 25-yard pass. Wilder scored his third touchdown on the ground, this time for 25 yards. Collin Pate caught a shuttle pass from Neel and muscled his way to a five-yard touchdown. Finally, Wilder capped off the quarter with a 38-yard pick-six.
Lark scored the final touchdown in the third quarter with a 68-yard punt return. It was evident from the beginning that the game was one-sided, causing Gordo to bench their starters for the remainder of the game. Despite this, the younger players who replaced them displayed the same level of energy and enthusiasm, even though the game was already decided.
The Greenwave's main objective was not to underestimate their opponent. Gordo head coach Gus Smith stated at halftime that even though his team was confident heading into the game, the key was to remain focused. Based on the game, the Bobcats were simply not up to the Greenwave's level of talent and depth.
"This time of year is more about us," Smith said. "What are we doing to be better? What are you, in particular, doing to be better? It's not about who you are playing because everybody is pretty good in the playoff right now. It's just about how good are you, how much did you prepare from the year, how good of a summer did you had, how good of an offseason did you had is going to show right now. It's about getting ourselves ready not really against the opponent."
"We just have to stick to what our coaches are telling us," Wilder said. "Keep preparing, stick to the game plan, and just execute it."
Throughout his final season at Gordo, Wilder has been nothing short of spectacular. The 6-foot Memphis commit had caught the attention of many schools due to his commendable skills, and his versatility to play on offense, whether as a wide receiver or a running back, makes him a valuable player. Additionally, his defensive skills in the secondary add more value to his game. However, his value to the team goes beyond his on-field performance, as confirmed by his head coach.
"He's just a good dude," Smith said. "He's got a good heart, he cares about his teammates, coaches, and people, and he can fly. I had to lobby for him to get him in the North/South All-Star game, and they finally got him in today. I just called the coach and said, 'Hey man, he needs to be on that team. He's going to be the best player on that team.' He's special; he's a good person, and it's good to see good things happen to good people."
Gordo has the team to make a deep run in the playoffs. The energy for the team is high, the talent is there, and they have the right coaching to make sure to keep their heads on right and make it to Bryant-Denny Stadium for a chance at a state championship. The Greenwave will wait for the winner of the Geraldine and Susan Moore matchup. If Geraldine wins, then Gordo will host next Friday at 7 p.m.
Gordo vs Phil Campbell
Gallery Credit: Chris Pearson