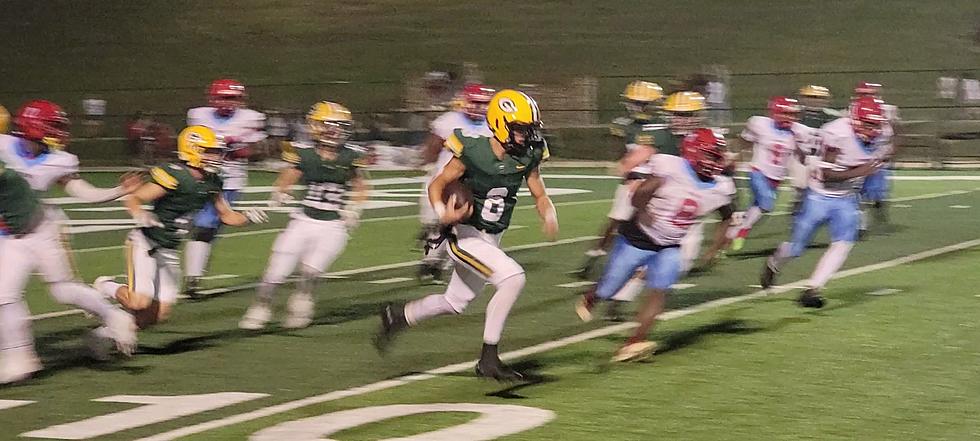 Jalen Prince
---
The Gordo Green Wave was victorious over the Midfield Patriots 42-0. The Green Wave was led by quarterback Jase Neel, running backs Jace Hathcock and CJ Lark, and wide receiver Ethan Wilder. Neel finished his night with three touchdowns, 162 yards passing, and went 8-of-12 attempts. The Gordo offense ran for a total of 232 yards and 91 of those yards belong to Lark. The defense held Midfield to a total of 155 yards with 41 of those being on the ground.
In the first half, Gordo started off sluggish even though they were having good drives down the field. On the Green Wave's first possession, Midfield forced a huge turnover-on-downs to get the ball back at the one-yard line. The Patriots were trying to utilize that momentum but it was taken back by Gordo after getting a tackle-for-loss inside the end zone, forcing a safety.
After the first quarter, Gordo started to hit the gas a little bit as they found success running the ball and in the short pass game. Neel connected on two touchdown passes in the first half, one to Hathcock for 21-yards and the other to Wilder for 35-yards.
Gordo took complete control in the second half and it did not take them long to establish its dominance. Wilder lit the fuse for Gordo on the first play of the third returning an 80-yard kick return touchdown. That touchdown went on to spark a run of 21 unanswered touchdowns. Neel got his third touchdown pass to Lark, then wide receiver Willie Fonville scored a 41-yard touchdown run, and Lark finished the night with a physical 27-yard touchdown.
Gordo head coach Gus Smith talked about how his team switched the flip in the second half.
"We came out flat," Smith said. "Not taking anything away from Midfield but we did not come out ready to play in the first half and I was super proud of our guys and how they came out in the second half."
The message in the second half was simple for the Green Wave and that was just to play harder.
"We were executing but we weren't playing as hard," Smith said. "I don't know if we underestimated our opponent but we weren't playing as hard. That kickoff lit a fire under us and we played harder in the second half."
Quarterback Jase Neel threw for three touchdowns and he talked about how the mindset changed in the second half.
"We knew what our standard was and we knew the first half was not Gordo football and that we needed to step it up big time," Neel said.
---
Tide 100.9's high school football coverage is brought to you by Freddy's Frozen Custard and Steakburgers.
Gordo over Midfield
Alabama vs. Middle Tennessee State
Gordo Earns Week 1 Road Win Over Sipsey Valley
FINAL: Greenwave 46, Bears 15