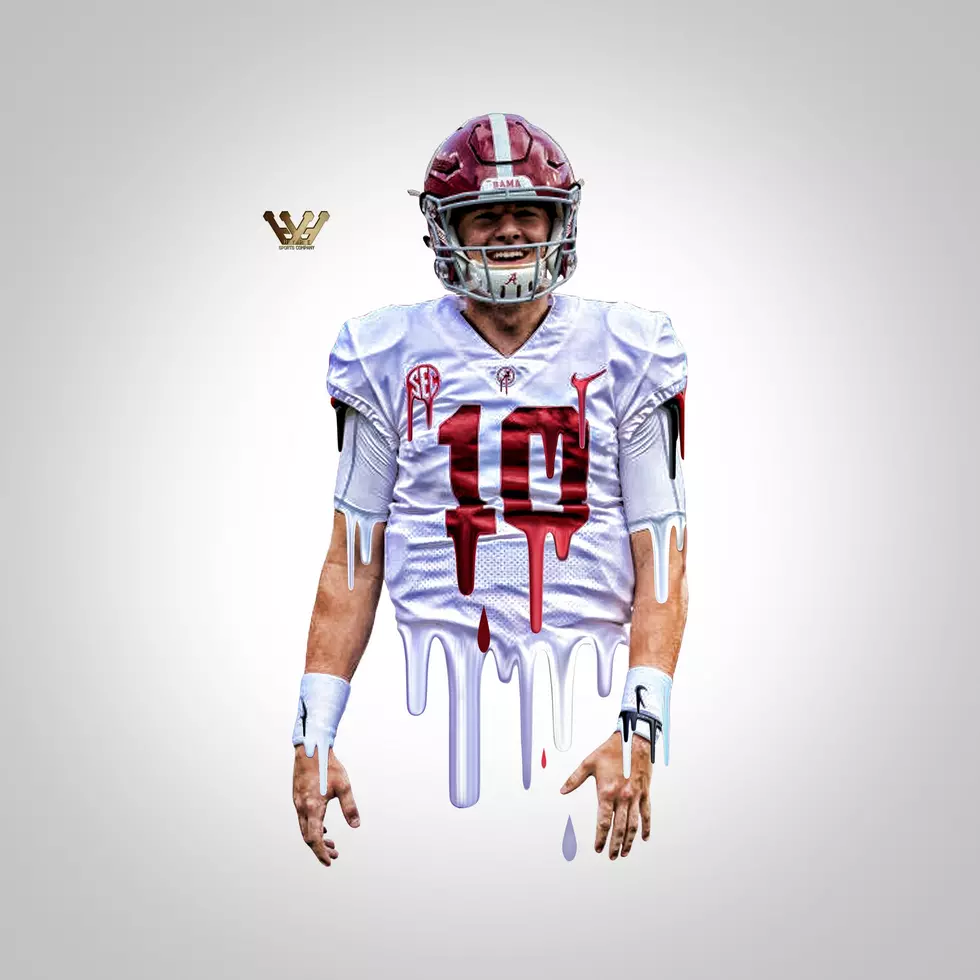 Photo Courtesy of @MacJones_10 on Twitter
The true mark of a champion is someone who sits back and quietly puts in work when nobody else is watching.
Someone who doesn't shy away from adversity when it comes knocking at their door in the darkest of hours.
Alabama starting quarterback, Mac Jones has never been able to garner much hype for his play on the field.
As a senior at The Bolles School, a private high school in Jacksonville, Florida, Jones threw for 1,532 yards, 24 touchdowns.
Despite those impressive numbers, not a lot of schools seemed  interested in Jones. 24/7 Sports Composite had him ranked as the No. 14 pro-style quarterback prospect, and 399th best player in the nation.
The list was fairly modest, 12 teams from Division I, but one school in particular was willing to take the chance on the 6-foot-3 210 pound prep school kid.
The University of Alabama and head coach Nick Saban had already added the nation's No. 1 dual-threat passer, Tua Tagovalioa to their 2017 class, but still lacked some depth at the position. So, Nick Saban and his staff decided to fly down to Florida and meet the pocket passer, in style.
Arriving to Tuscaloosa in the summer eager to learn, Jones decided to redshirt for 2017, and put his focus on 2018 season. 
When Alabama Football released their first depth chart on August of 2018, Jones was listed as third string. 
He saw some mop up action in the team's 51-14 blowout win against Louisville, going 0-1 passing with one single rushing yard. 
From 2018-2019 he would continue to come in late and get snaps when the game was essentially over.
Fast forward to Nov. 16, 2019, when Tua went down hard and broke his hip against Mississippi State.
Nobody knew what would happen to the Crimson Tide without the star QB, and fans shed tears for their sweet Hawaiian prince. 
Jones didn't say a word, he quietly accepted his role and prepared himself to grasp the reigns of Steve Sarkisian's offense.
In his first game as Alabama's starting quarterback, he went 10-for-12 for 275 yards and three touchdowns, solid numbers but to be expected against Western Carolina. 
The media didn't think anything of his performance, and Stephen A. Smith went on live TV to speak ill of Mac Jones and remind everyone that he was "No Tua". 
 His next test would be a true challenge, going to Jordan Hare and matching up against a loaded Kevin Steele defense, which featured defensive lineman Derrick Brown and Marlon Davidson. 
For which he passed that test with flying colors, throwing for 335 yards and four touchdowns. But, that still wasn't enough for the doubters who were quick to point out the two interceptions he had, even though one of them wasn't even his fault. 
In the Michigan bowl game, he continued to impress from start to finish against a top 10 defense in college football. His final stat line for that game read: 6-for-25 for 327 yards and three touchdowns, to put on a cap on an 11-2 season for the Crimson tide. 
Immediately following the season ending, people began to prepare for what would come in 2020. 
The season didn't go the way the team expected, and many began to wonder if Mac Jones was part of the problem. 
With the addition to 5-star Cali Cannon, Bryce Young, Jones's time as the starter was up in the air from a public perception. 
Nick Saban didn't care what anyone else had to say, and he stuck to his guns going forward with Mac as the starter for 2020. 
In his first game last weekend, Jones didn't let his coach down. 
More tests will certainly come for Jones this year, and the pressure of playing for the nation's top program won't be easy. 
Will he ever be as good as Tua? The jury is still out on that, but he doesn't have to be. All he needs to do is trust the process and handle the job at hand. 
Jones doesn't care if people doubt him, call him a game manager, or say he's "no Tua". He'll continue to spin the ball and be Michael McCorkle Jones. 
Enter your number to get our free mobile app