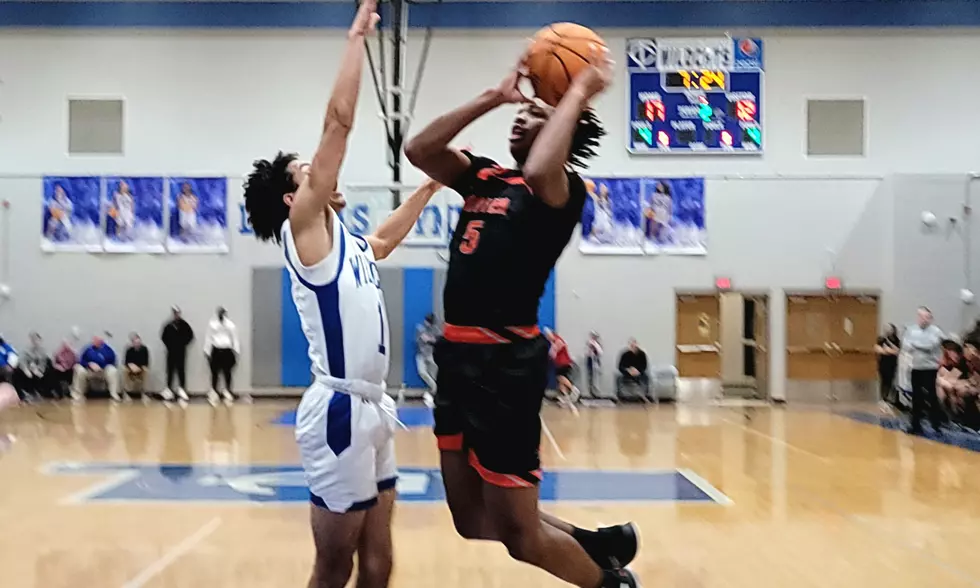 Hoover Victorious Over TCHS In Top 10 Matchup
Jalen Prince
The Tuscaloosa County Wildcats were defeated 83-62 by the Hoover Bucs on Friday night. The Bucs had five players reach double figures, led by sophomores Dewayne Brown II (20 points, 6 blocks), Salim London (13 points), Jarett Fairley (13 points), junior Elijah Thomas (12 points), and senior Elijah Herron (10 points). Senior Collin McDaniel and junior Andrew Winegarden led the Wildcats with 11 points each.
THE RECAP
Both sides came out with a lot of fire in the first half. Both coaches opted to apply full-court pressure on either side, thus neither team lacked energy.
TCHS is regarded as being a competitive basketball team that moves the ball well, plays solid defense, and hits three-pointers. In the first half, they had some early success shooting from the perimeter, making three 3-pointers. TCHS' defense was paying off as they were forcing turnovers that led to the Wildcats getting nice shots and easy layups at the basket. Early in the second quarter, though, Hoover found its groove and went on to dominate the game.
Brown, who stands 6-foot-9, was causing havoc on defense for the Wildcats in the second quarter. The Bucs' big man blocked five shots, which was crucial to Hoover's excellent defense. When Hoover was able to get stops, its offense followed. Brown is an old-school basketball player in that he is a back-to-the-basket scorer on offense, and being the tallest guy on the court made it easier for him to finish around the rim.
The Bucs were able to get to the basket at will. Whether it was feeding Brown in the paint, the guards' ability to go past opponents and to the hoop, or its ability to shoot the ball from deep as well as, if not better than, TCHS. Brown scored 11 points, and the team hit three 3-pointers. At the half, the Bucs led 35-24.
The second half belonged entirely to Hoover. As previously said, both teams were pressing each other on the full court. The only difference was that the Bucs did it better than the Wildcats. In the third quarter alone, Hoover forced six turnovers and made numerous defensive stops. Given its level of talent and team defense to go along with their explosive attack, it was easy to picture Hoover pulling away in the game.
TCHS had trouble keeping up with Hoover in terms of scoring. The Wildcats scored 10 points in the second quarter while the Bucs scored 23, and the Wildcats scored 16 points in the third quarter while the Bucs scored 28. Hoover had the largest margin in the game, leading by 26 points.
Hoover's defense was the game-changer in the third quarter because the number of stops the Bucs got made it easier to get into its attack. Its three-point shooting improved throughout the game, eventually putting the game out of reach.
TAKEAWAYS
TCHS has an excellent basketball team. Wildcats head coach Curt Weeks has established a mindset similar to that of the San Antonio Spurs in the early 2000s. The Wildcats enjoy passing the ball to one another and playing off one another, which they did on Friday.
The problem was that they were up against a much more talented team that negated all of that. With a 6-foot-9 245-pound big man who has already had offers from Alabama, Ole Miss, and other schools. Playing against them is difficult, and the Wildcats held its own, but when you can't put more points on the board or get stops when you need them, it's difficult to win. The Wildcats will still be a challenge in the Area Tournament in the coming months, and I believe they will bounce back and learn from this game.
As for Hoover, there isn't much to say about this club that hasn't already been written or discussed. Jarett Fairley's pure-scoring style of play made him entertaining to watch. He was hitting shots from the perimeter, the paint, and even the mid-range.
"He got cooking a little bit right there," said Hoover head coach Scott Ware on Fairley. "The guys did a good job, ran a couple of sets, they made a couple of good cuts to get him to that mid-range shot. That is his game; he enjoys shooting it, and we want him to shoot it when he's cooking."
London was another outstanding player who contributed much, as was junior Elijah Thomas. Both were disruptive on defense, particularly with their on-ball defense. London is a relentless driver to the basket offensively, and he made one 3-pointer in the game, but it is clear that it is not a part of his game. Thomas, on the other hand, has a nice-looking jump shot and was able to knock down a few shots.
"Salim is an incredible on-ball defender. Elijah Thomas is just a winner," Ware said of his two guards. "It's a team effort and we've been a really solid defensive team all year."
Dewayne Brown II gets the game's MVP Friday. Antoine Pettway, Alabama's assistant coach, was in attendance tonight to watch him play along with London. On the court Friday, the Hoover big man showed off a variety of skills. Blocking shots, scoring in the post, converting free throws with ease, and displaying good footwork for a player his size.
"He's got incredible skills and he hasn't come close to his potential," Ware on Brown. "Dewayne has incredible hands and feet for his size. Nobody on our team knows the game like he does. We can put him in any position on the court and he can run it, but he only plays one position, center."
Hoover is currently 21-2 and will return home on Monday, Jan. 16, to face Robert F. Munroe Day. TCHS is currently 20-3 and will return to action next Friday, Jan. 20, at 7 p.m. inside Landers Gymnasium against Vestavia Hills.
2022 Black History Makers of Alabama
Notable Bama Players to Play in the WNBA
Alabama Women's Basketball Photo Shoot 2022-23