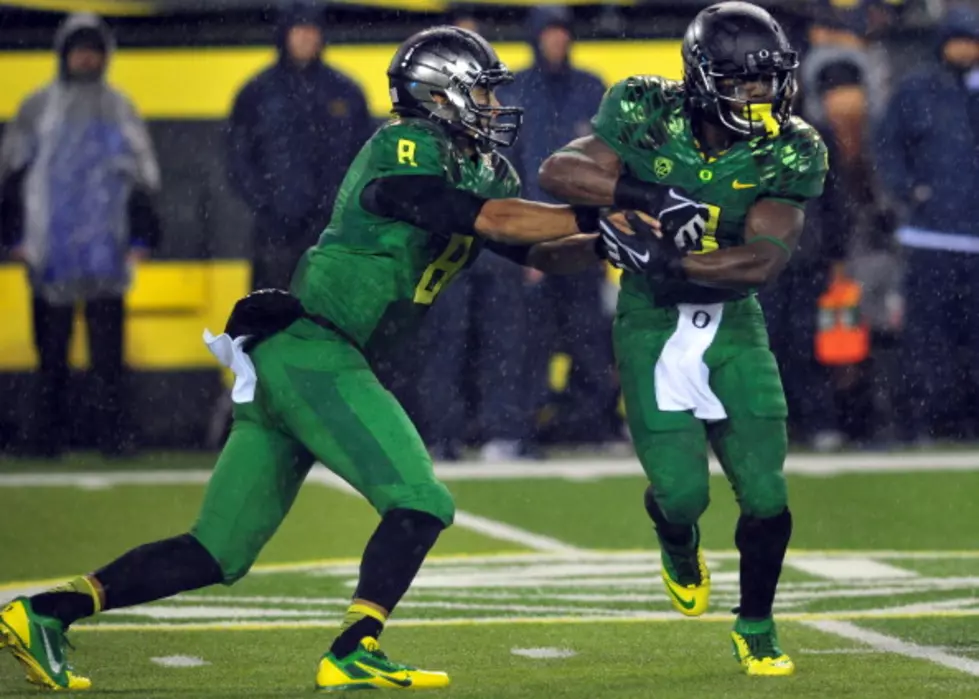 Is the Hurry Up/No Huddle Offense Really an Advantage?
(Photo by Steve Dykes/Getty Images)
It's the new "age-old" question: is the hurry-up/no huddle offense really advantageous to winning football games? There are more hurry up teams now than ever before, and it doesn't seem to be slowing down anytime soon (pun definitely intended), but is it really an improvement to the game of football? Are teams actually better by running a hurry-up/no huddle style?
Some may view the hurry-up/no huddle (HUNH) as a gimmick offense: trick plays, deception, and cheap magician illusions. The argument from some is that it has taken the physicality out of the game, the facet of football that most traditionalists know and love.
However, the reality is that each team that runs the HUNH has their own version of the system. Some prefer running the ball to the outside (Oregon), some like the power run game from the shotgun (Auburn), and some like to sling the ol' pigskin around thousands of times per game (Texas Tech). It's not a HUNH argument; it's more of a pace of play and time of possession issue.
After some studying and research, I decided to extract some information from the 2013 teams that ran these offenses versus the ones who played at a much slower pace (plays per game and time of possession). A little time consuming number crunching later, I cross-referenced teams in the top and bottom 30 of each category, plays per game and time of possession. The results were... interesting... to say the least.
To start off, I found the cumulative win percentage of the top and bottom 30 teams in "plays per game," which came to be 52.493% and 40.65% respectively, roughly a 12% differential. This doesn't really give us much data to analyze, so let's get to time of possession, because that was an important statistic for a long time in the game of football.
Again, taking the top and bottom 30 teams in time of possession, we find that the top teams won 60.156% of their games, while the bottom 30 won only 46.684% of theirs. This is becoming more and more significant, since the difference of these percentages is about 14%, very close to the differential of plays per game.
From here, I thought, "Okay, since these two are closely related, what if I cross-referenced all four sets of teams?" Well, I'm glad I did, because the results are intriguing.
When you look at the teams who were in the top 30 in time of possession and plays per game, you find four teams who, well, weren't exactly world beaters: Virginia, Nevada, Oregon State, and North Carolina State. Their combined records were 16-33. The only explanation I have for this is that these teams often times started losing individual games early, and then had terrible red zone statistics.
And my assumption was accurate.
Oregon State ranked 88th last year in red zone efficiency, Virginia at #74, Nevada slid in at 60th, and lowly North Carolina State was an atrocious 103rd. These teams could control the clock almost at will, but were unable to finish successful drives with points.
On to the next cross-reference: the bottom 30 time of possession teams and top 30 plays per game teams. In other words, these teams had the philosophy, "Forget time of possession, we want to run as many plays as possible."
There were 11 teams that cross-referenced, and only one of those teams had a terrible record (Hawaii at 1-11, although Wyoming and Indiana both finished 5-7). The other eight teams finished 8-5 or better, with four of them garnering at least a 10-4 record (Marshall, Baylor, Fresno State, and Clemson).
I thought these results were kind of random, but then I saw a correlation. The obvious thing here is that these teams didn't really care how long they had the ball, so how bad were their defensive statistics?
Wyoming: 5-7, 113th in total defense
Indiana: 5-7, 123rd in total defense
Hawaii: 1-11, 117th in total defense
Marshall: 10-4, 35th in total defense
Baylor: 11-2, 27th in total defense
Clemson: 11-2, 24th in total defense
BYU: 8-5, 48th in total defense
Fresno St.: 11-2, 95th in total defense
Boise St.: 8-5, 76th in total defense
Texas Tech: 8-5, 85th in total defense
Arizona: 8-5, 63rd in total defense
It seems to me that the successful teams who don't care for time of possession do, in fact, play decent defense (except for Fresno State. I guess they only fielded 7 players on defense at a time).
Now here is the set that I thought would have a vast multitude of teams, but I was proven wrong when I dug up the numbers. There are only seven teams that cross-referenced from being in the top 30 teams in terms of time of possession and bottom 30 in plays per game.
Florida 4-8
USC 10-4
Minnesota 8-5
New Mexico 3-9
UCF 12-1
Texas State 6-6
Stanford 11-3
These teams are the slowest of slow. They ran the ball a lot, and didn't snap the ball early in the play clock very often. Outside of the two conference champions in Stanford and UCF (two BCS bowl teams), these teams weren't impressive during the season (you could make a case for USC, however). Their gameplans involved extreme clock management and keeping the opposing teams' offenses off the field.
Apparently, that plan didn't work very well.
Florida, USC, Texas State and UCF all ranked below 63rd in the country in rushing yards per game. and only New Mexico and Stanford ranked better than 51st in yards per rush out of all seven teams.
So we see that the old school way of playing football doesn't always equate to success today, but as a fan, you really don't want your team to never have the ball on offense and not run many plays throughout the game.
The seven teams that ranked in the bottom 30 of both time of possession and plays per game were not successful at all.
Okay, that's not really fair, because Miami (FL) went 9-4, but the other six teams (Air Force, Purdue, Miami (OH), Georgia State, Kentucky, and South Florida) had a cumulative record of 7-65...
I think that's all that needs to be said on that topic.
So what have we learned? Some of the most dominant teams in the country didn't make any of these sets, of which includes Alabama, Oregon, Auburn, Florida State, Michigan State, and Oklahoma. That proves that finding a delicate balance of plays per game and time of possession is vastly important in today's game of football.
If your defense is stout enough, you can afford to leave them on the field a little bit longer than usual, thus chipping away at your time of possession and plays per game. Getting an early lead and letting your defense do its thing: that, oddly enough in this world of sexy offenses, seems to be the recipe for national success in college football.