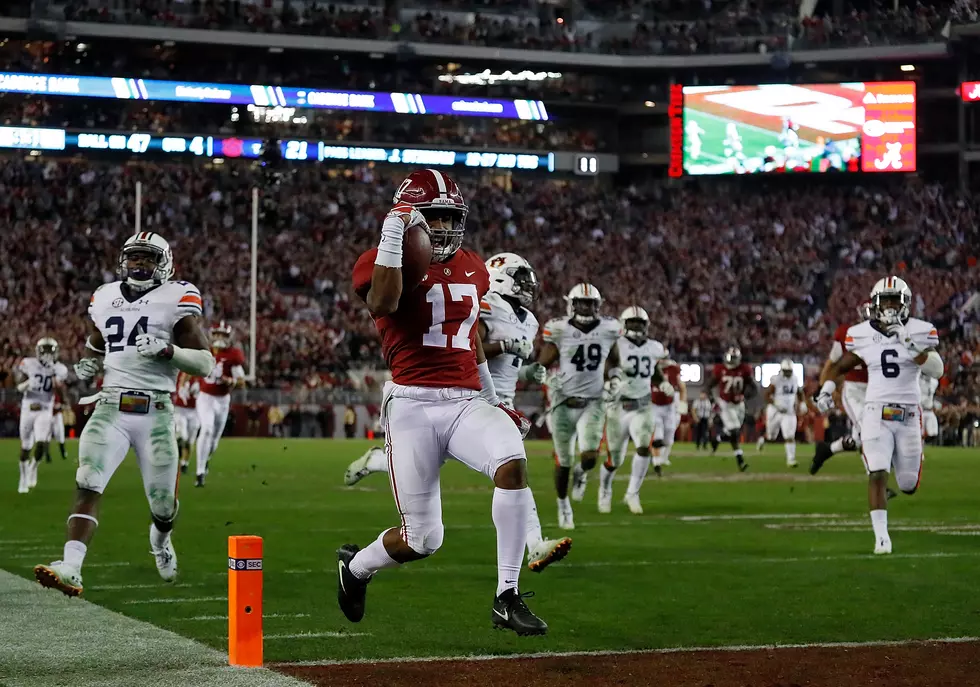 Jaylen Waddle: The Tide's Dark Horse Heisman Candidate
Getty Images
Alabama's offense has stomped out opponents this season, leaving opposing defenses helpless to not only the daunting ground attack from Najee Harris, but the all-out air assault brought on by Mac Jones and company.  While Mac Jones' play has been nothing short of stellar, one of his targets has been mesmerizing to watch.
Jaylen Waddle has torched SEC defenses with his elite combination of footwork and blazing speed, leading the way for the Tide with 557 yards on 25 catches and adding four touchdowns through four games.  Waddle has been somewhat of a secret to everyone but Alabama fans, as this is the first season he has been a full-time starter for Alabama.
In Waddle's time as a fourth and sometimes fifth option in the offense he still managed to showcase his incredible talents elsewhere.  Manning the punt and kick return duties has allowed Waddle to show a unique aspect to his game that is not found in many receivers.  In 2019, the first season in which he was a feature return man on punts and kickoffs, Waddle caught twenty punts for 487 yards and a touchdown and five kicks for 175 yards and touchdown.
The last wide receiver to take home the Heisman Trophy was Desmond Howard all the way back in 1991.  Much like Waddle, Howard was a return man as well as a receiver, with most of his most memorable plays coming off kick or punt return touchdowns. In his Heisman winning season, Desmond Howard caught twenty punts for 282 yards and a touchdown and fifteen kicks for 412 yards and a touchdown.  As a receiver, Howard put up 62 catches for 985 yards and 19 touchdowns, which, admittedly, is an insane stat line to match.  In a shortened season; however, Waddle is on track to put up over 400 more receiving yards than Howard.
To consider Jaylen Waddle as a real Heisman candidate is not crazy. A season where Waddle goes for over 1000 yards and reaches the 12-15 touchdown mark is not out of this world, and stats like that would surpass Desmond Howard's stats from his Heisman campaign when adjusted for the shortened year.
Now, let's address the elephant in the room: the punt and kick return stats.  Waddle, this season, has caught two punts for 13 yards and three kicks for 24 yards.  While those stats may seem mundane, all it shows is that teams are scared to give him a chance to return.  If Waddle is able to match and surpass his return numbers from years prior, there should be nothing holding him back from winning the Heisman Trophy.  The question that remains is: what teams will be bold enough to try him? With a guy that can do things like this, I would be scared to kick to him, too.
Enter your number to get our free mobile app
Preseason ALL SEC First Team